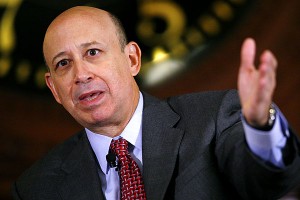 Loyd Blankfein, CEO of Goldman Sachs
If you ducked out of the office for a three day weekend and missed the news regarding Goldman Sachs (NYSE:GS) and Greece on Friday, you may be rolling up your sleeves to a few surprises that will cast a dark shadow on the April 19 week's market action.
Mainly, Goldman Sachs has been charged with fraud by the Securities and Exchange Commission (SEC), linked to a Credit Default Swap (CDS) mechanism known as "Abacus". Goldman teamed up with hedge fund manager John Paulson to sell Mortgage Backed Securities, which had been rated and packaged by the very individuals who would later profit from the CDS default insurance on those securities. Allegedly, Goldman never disclosed that Paulson was involved in packaging the debt and essentially profited from the woes of their clients by holding CDSs tied to the trashed mortgage backed securities.
Further cause for caution tiptoed beneath Goldman headlines Friday, as CDS securities tied to Greek debt neared year highs and suggested that the EU/IMF agreement to back the tarnished sovereign balance sheet fell short of investors' requirements. The Greece 10-year note yield rose to 7.41%, up 21 basis points (bps), as the 5-year Greek sovereign debt CDS rose to 439 bps (4.39%) from 418 bps(4.18%) a week prior.
Greece's ministers are said to have begun negotiations to tap the 45 billion Euro bailout package from the EU and IMF, essentially turning their back on the public credit markets for the cheaper 5% yield offered under the deal. Greece is required to raise 20 billion Euros by the end of April to meet debt payout requirements.
In terms of weekly economic news, this week will be crucial for both the MBA Mortgage Applications and EIA Petroleum Status reports on Wednesday and Jobless Claims on Thursday.
Last week mortgage applications fell by 10.5% in the second week after the expiration of the Fed's direct mortgage purchase program from Fannie (FNM) and Freddie (FRE). 30 year fixed rates averaged 5.17% as mortgages on purchases and refinances equally plummeted.
The EIA Petroleum status report will be watched for a continuation of last week's crude oil supply drop, where a reversion to the previous trend of bulging supply would definitely hurt oil prices.
Jobless claims spiked, supposedly due to Easter and Chavez holidays, as initial claims jumped 24,000 to 284,000 and the 4-week average rose to 457,700, just below the average in March. Should jobless claims continue to rise beyond the grasp of seasonal irregularities, investors will find the numbers difficult to excuse.
Monthly reports we'll be watching include Existing Home Sales on Thursday, then Durable Goods Orders and New Home Sales on Friday.
Durable goods edged slightly higher in February by 0.5%, while the yearly change has charged higher, given record weakness in the comps during spring 2009. The retail sales report last week showed a large increase in automotive sales over the period and the ISM report signaled increasing factory orders, which should allow the March durable orders to meet economists' 0.4% growth expectations.
Last week we saw positive numbers from the supply side of housing, where builders increased the annualized pace of new home construction in March. The market effects of the new and existing home sales reports may be magnified as a result of the increasing supply.
Annualized sales of existing homes in February stagnated near 5 million units, while new home sales fell 2.2% to 308,000 units. In March the existing homes number is expected to rise to 5.2 million units, while economists see the new homes statistic rising to 330,000 annual sales. Housing has been lagging expectations for much of 2010, as government programs aimed at keeping rates low and offering $10,000 tax credits to buyers have begun to expire, which land these two reports in our cross hairs this week.
Disclosure: Long SDS