Bill Redder is Vice President and Financial Advisor of Corning, NY based Burns Matteson Capital Management. He's a thirteen year veteran of the financial services industry.
Seeking Alpha recently had the opportunity to ask Bill about his highest conviction holding at present.

What is your highest conviction stock position in your fund - long or short?
At the moment, we have several "high conviction" equity ideas that we have shared with clients who have an interest in individual stocks. Chief among them, and one worth mentioning here, is Freeport McMoRan Copper & Gold. Freeport McMoRan trades on the NYSE under the symbol FCX.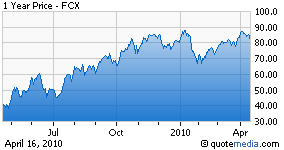 Freeport McMoRan, with its headquarters in Phoenix, Arizona, is one of the world's leading miners of metal ore and metals, including copper, gold, silver, molybdenum and to a lesser extent, cobalt. With mining operations on four continents, Freeport McMoRan has a geographically diverse portfolio of mines and mining assets.
While it is principally known for its copper operations, Freeport also holds the distinction of being the world's largest producer of molybdenum, a necessary ingredient in some steel-making operations.
Regarding purchasing shares of FCX, we prefer buying shares on dips and view such declines as opportunities to add shares, assuming our fundamental thesis on the shares has not changed.
For clients who own Freeport shares, we have periodically suggested selling call options against all or a portion of their shares to generate additional income for their respective portfolios. With a dividend yield of less than 1% on Freeport shares, selling call options against the shares can be an excellent way to create additional income, especially if share volatility is elevated.
For example, at the time of this writing, FCX August $100 call options were providing over $2.00 in call premium. While the sale of the call creates a "cap" on the potential for share price gains through expiration of the option, it also provides a means of enhancing yield in the meantime.
To what extent is this an industry pick as opposed to a pure bottom-up pick?
Freeport McMoRan is a constituent of the Basic Materials Sector and Copper Industry. It is as much a sector or industry play as it is an individual pick. Freeport is a de facto proxy for copper and more specifically copper's role in both the rebound of global developed economies and the ongoing growth of emerging global consumer economies such as China and India.
How is Freeport McMoRan positioned vis a vis its competitors?
Competitively, Freeport ranks high in terms of both scale of production and cost of production. Its Grasberg mine in Indonesia is the world's largest gold mine and is the world's third largest copper mine. The amount of copper mined there accounts for roughly one-third of the company's total annual production.
With copper having tripled in price since last year and recently trading near $3.60 per pound, the company stands to profit, despite rising input costs.
What are your thoughts on FCX's valuation?
The stock trades near its 52-week high reached back on January 11th but is well off the highs reached several years ago. Over the last five years Freeport has sported a P/E of between 3 and 45. Currently it trades at a P/E of over 14.
A better measure of valuation may be its price-to-sales ratio which currently stands at roughly 2. Among its competitors, Southern Copper (NYSE:SCCO) trades at a PE of 32 and a PS of over 6. Newmont Mining (NYSE:NEM) trades at a PE of 19 and a PS of 2.5.
What is the current sentiment on the stock?
Market sentiment for Freeport has been very positive, especially as the global economy has improved over the last year. The strength in emerging markets, particularly China, has also been a key driver for the shares of Freeport as well as other materials companies. As long as China's economy continues to expand and it seeks to continue to build reserve stockpiles of copper, Freeport should remain among the beneficiaries of that demand.
However, it should be noted, any significant tightening on the part of China's central bank could cause the economy in China to slow and could dampen the demand for copper and cool investor sentiment for shares of Freeport.
Does the company's management play a role in your position?
Management was not a key factor in our selection of Freeport, but did play a part in our decision. Industry experience and tenure were most important.
What catalysts do you see that could move the stock?
We think there are three things that could benefit the shares further: a recovery in US residential construction, a weak dollar, and sustained demand in China as well as other emerging markets. A fourth catalyst could be non-company related supply disruptions such as those that were experienced following the massive earthquake in Chile earlier this year.
What could go wrong with this stock pick?
The biggest potential negative catalysts would be a slowdown in demand from China and India and a double dip recession in the US and other developed countries. We believe the former is more likely than the latter as the US economy has been displaying greater strength.
Thank you very much, Bill.
Disclosure: Burns Matteson Capital Management is long FCX in client accounts.
Read more High Conviction Picks »
If you are a fund manager and interested in doing an interview with us on your highest conviction stock holding, please email Rebecca Barnett.