Apple (NASDAQ:AAPL) investors continue be overly bullish even though profit growth has decelerated meaningfully. We are amazed at the ongoing bullishness around AAPL shares, with Fan-boys everywhere continuing to pump up AAPL shares even though the story seems to have mostly run its course. We hear things like "Do not panic" or "Why AAPL is worth $1000." $1000 per share? Really? While AAPL had an amazing 2012 (+31% appreciation), the story and its financial growth parameters have not been "amazing" for some time, and with 2013 AAPL stock performance of only 2% meaningfully lagging the greater than 20% returns for the NASDAQ and S&P500 . Despite this, investors have had a hard time letting go of the story. We cannot understand this. Apple just reported calendar 4Q13 revenue growth of +6% YOY, while Google (NASDAQ:GOOG) just reported 4Q13 revenue growth of +17% YOY, and Facebook (NASDAQ:FB) just reported 4Q13 revenue growth of +63% YOY. AAPL bulls seem to be holding onto the past a little too tightly, in our view, and with too much emotion and wishful thinking, neither of which are conducive to picking winning stocks.
Apple shares punished due to surprisingly weak iPhone sales. Apple's shares fell roughly 8% after the firm reported worse than expected iPhone sales and slumping profit growth. Apple sold 51 million iPhone units during calendar 4Q13, roughly 9% below consensus of 56 million units. This is pretty surprising considering that Apple introduced two new iPhones in September - the 5S and the 5C - and finally signed a huge deal with China Mobile to sell iPhones to its almost 800 million subscribers. Indeed, the smartphone market is increasingly saturated, and we believe price, and not new features, is becoming the larger concern for a vast majority of purchasers. Moreover, the last several versions of the iPhone were not very innovative, and did not include significant new features, in our view. In short, we believe that Apple is essentially a hardware stock, and at 1.8x EV/Sales, is trading at a significant premium to peers.
Smartphone market is becoming saturated. We believe the smartphone market is becoming increasingly saturated; a negative for Apple given that 53% of 2013 sales came from the iPhone. Disappointing 1Q14 unit sales also suggest to us that the iPhone has little room to keep growing. Even Apple's largest competitor Samsung (OTC:SSNLF) reported lower than expected smartphone shipments last quarter. This slowdown in growth should not be surprising considering that nearly 1 billion smartphones were shipped in 2013 alone. Now smartphones are increasingly being sold to repeat customers looking for upgrades rather than new smartphone users. Taking everything into account, we believe Apple will have to rethink its approach if it wants to keep growing.
Hardware companies trade for 0.5x-1.0x EV/Sales; AAPL trades at 1.8x EV/Sales. How much should hardware stocks trade at? Well, historically many hardware stocks have rocketed higher due to business strength of one kind or another, but eventually they almost always come back to Earth. Indeed, we believe 0.5x-1.0x EV/Sales is the "right" valuation for a hardware firm to trade at. Some will argue that Apple is not a hardware company, but an ecosystem company. While some elements of that argument do ring true given the firm's iTunes exposure, potential to get into payment processing, and others, we note that roughly 90% of Apple's sales are derived from hardware including iPhones, iPads, an Mac PCs. With that type of exposure, we do believe AAPL is mostly a hardware stock. Below we see a valuation table that shows what different hardware stocks trade at on an EV/Sales basis, and what their operating margins are. We can see that AAPL does get outsized operating margins today, and has outsized EV/Sales valuations on its equity as well. Only two other firms on the hardware list below trade over 1x EV/Sales and those are Western Digital (NYSE:WDC) and Seagate (NASDAQ:STX), largely duopoly firms serving the hard disk drive market, and both stocks that have tripled over the past year (and themselves seemly at risk of falling due to outsized upside returns). The below valuation table confirms to us that 0.5x EV/Sales is about the right EV/Sales multiple for a hardware firm over the long-run.
Figure 1. AAPL Shares Trade at a Premium to Most Other Hardware Stocks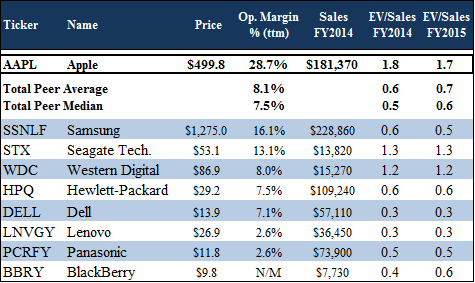 Source: Pinnacle One Research
This is how it looks today, but it should only get worse when gross margins compress further. While AAPL valuations are somewhat stretched today versus other hardware firms, Apple does enjoy relatively high gross and operating margins that many investors feel support the valuation. But can margins stay this high into perpetuity? We do not think they can. Indeed, with smartphones becoming more of a commodity device, with growth rates decelerating meaningfully, with new features few and far between, and with competition increasing (see Lenovo's (OTCPK:LNVGY) pending acquisition of Google's Motorola Mobility), we think Apple's iPhone gross margins can fall considerably closer to commodity hardware levels of 20%-25% in coming years.
With gross margins likely to trend down over time, how can the stock work? It makes no sense that AAPL shares will rally as gross margins continue to fall. Rarely do stocks EVER work higher as gross margins compress… it just does not happen! And we do not see any meaningful drivers that will allow corporate gross margins to rise in the face of falling iPhone margins. As such, we continue to think the bias on AAPL shares is lower simply due to falling hardware gross margins from outsized levels today to more traditional levels tomorrow.
iPhone sales drive Apple's stock price and growth here is decelerating. Since the original iPhone was introduced back in 2007, Apple's stock price has increased significantly. However, the primary driver of the firm's stock appreciation - namely iPhone unit growth - is now decelerating meaningfully. As is clear, the smartphone market is becoming increasingly saturated and price is becoming more of a concern for consumers, who are no longer willing to dish out $700 (unsubsidized) to get the latest iPhone. Below we see Apple's iPhone unit shipments on a year-over-year basis and what we see is that unit shipment comparisons likely peaked in 4Q11 with the launch of the iPhone 4S, had an intermediate (though much lower) peak in 4Q12 with the launch of the iPhone 5, and is now getting hardly any bump from the launch of new smartphones like the 5S and 5C in 2013. Indeed, Samsung sells many more smartphones per year than Apple does, has a broader product offering that fills in various market segments, and sells lower priced smartphones than does Apple. All of these issues are a negative for AAPL shares given that smartphone market growth is meaningfully decelerating.
Figure 2. iPhone Unit Sales Drive Apple's Shares.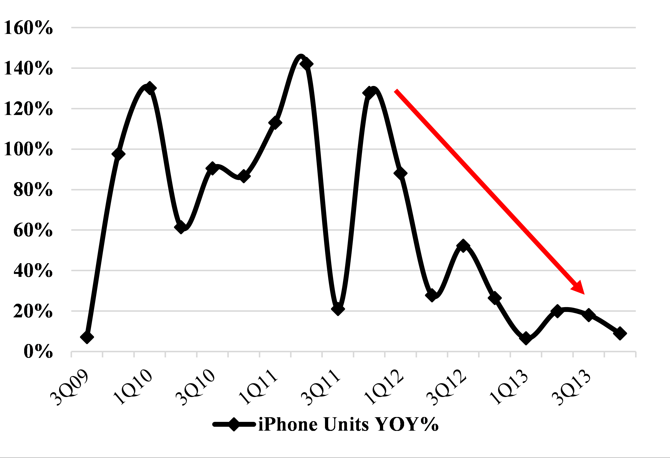 Source: Pinnacle One Research
China Mobile will likely not save Apple. Late last year Apple signed an agreement with China Mobile to sell iPhones to its more than 750 million subscribers. While this certainly is a big deal, we do not think it will save Apple from declining iPhone sales over the long-term as modestly growing unit shipments are more than fully offset by declining device ASPs. So far Apple has launched in 16 cities in China, out of a total of 340 largest cities in the country. However, it is important to point out that these 16 cities represent roughly one-third of China's urban population, and likely the majority of China Mobile's user base. While we are not "negative" on China Mobile's contribution to Apple (any growth is good growth), we do not think that there will be a ridiculous surge of sales that result from the China Mobile deal. Indeed, consumers in China likely to pay Apple's hefty iPhone price have likely already purchased an iPhone in the past, one that was jail-breaked to work on any of China's various networks. Further, we do not hear reports of soaring sales that would indicate a huge amount of pent up demand in China. Taking some of these factors into account, we conclude that China will be a solid incremental contributor for Apple, but not the massive unit growth driver that some investors had expected in the run up to Apple's China Mobile announcement.
Apple plans to enter new product categories to boost growth. Tim Cook has mentioned that Apple plans to launch some "great products" in product categories it has little presence in today. Most investors believe these new products will be the long-awaited iWatch and iTV. We also believe that Apple is gearing up to roll out its mobile payments service that could potentially take on competing services like PayPal (NASDAQ:EBAY), Google Wallet, and Square. While new products would be an investor positive, we have not yet seen these devices or services launch yet, and meaningful financial contribution is likely some time away, in our view.
We see less than a 50% chance of an iTV device launching in 2014. Investors have long speculated on the potential for an iTV launch from Apple, claiming that Apple has the content, relationships, and operational scale to pull off such a game changing device. After several years of such speculation, we see a less than 50% chance that an iTV device launches this year in 2014. We note that Apple already has a streaming set top box device called Apple TV. Second, gross margins on TV sets are well below the thresholds that Apple would find attractive, and would be quite gross margin dilutive to the firm's current efforts. We note the meaningful pain that TV makers have experienced in recent years as prices have firmly raced lower, and we are skeptical that Apple will want to risk its own gross margin model to participate in this line of business.
The iWatch could be released within 12 months. Wearable devices are a somewhat hot product category, as evidenced by the greater attention they received at CES this year, though their success in the market place is far from assured. We think Apple could launch its iWatch device late this year, a pseudo-handset device that allows users to see who is calling or text messaging them without digging their phone out of their pocket or purse. Further evidence that Apple is pursuing this exists, with Apple having acquired copyrights to the name "iWatch" in dozens of countries across the globe. While this could be an interesting market over time, we note that initial customer demand for these devices has been tepid. Samsung recently released its own wearable device, but sales have been quite disappointing. We believe the iWatch will be slow to ramp as well, with limited financial contribution to the bottom line, and we encourage investors not to set their hopes too high here.
Apple is looking to enter into a new service with mobile payments. We think Apple is planning to create an enhanced mobile payment service to compete against major payment services such as PayPal. This service would enable consumers to purchase physical products and services using their iTunes accounts, whereas the user can only buy the digital items such as music and movies at present. In order to gain market share, Apple will have to come up with innovative features that consumers like and will want to use. Considering the firm's recent track record with innovation, we do have our doubts here and prefer to wait for concrete evidence.
Net we conclude that AAPL shares are expensive for a hardware firm, that iPhone unit growth continues to decelerate as market saturation occurs, and with limited new device innovation for now. While Apple has been an incredibly successful firm over the past six years, and while some may disagree with us, we make the following conclusions: (1) AAPL shares are now essentially just an overvalued hardware stock trading at roughly 3x EV/Sales of most other hardware firms out there; (2) iPhone unit growth is decelerating, and is unlikely to begin accelerating again given market saturation; (3) consumer sensitivity to smartphone prices mean that Apple's device ASPs, and thus gross margins, may soon begin to fall, possibly precipitously, towards a more sustainable price level; and (4) innovation coming from Milpitas does seem to have waned in recent years, with new product launches unlikely to carry the firm's top- or bottom-line results. As such, we advise investors to avoid shares of AAPL until they get closer to 1X EV/Sales, or $375 per share.
Disclosure: I have no positions in any stocks mentioned, and no plans to initiate any positions within the next 72 hours. I wrote this article myself, and it expresses my own opinions. I am not receiving compensation for it (other than from Seeking Alpha). I have no business relationship with any company whose stock is mentioned in this article.
Additional disclosure: Business relationship disclosure: The article has been written by Pinnacle One Research, Director of Research. Pinnacle One Research is not receiving compensation for it (other than from Seeking Alpha). Pinnacle One Research has no business relationship with any company whose stock is mentioned in this article.