Real estate investment trusts had a remarkable rebound so far in 2014. This goes especially for mREITs which performed well in a downtrending stock market. American Capital Agency Corporation (NASDAQ:AGNC) returned 10% year-to-date, Annaly Capital Management (NYSE:NLY) 8%, American Capital Mortgage Investment Corporation (NASDAQ:MTGE) 11% and Armour Residential (NYSE:ARR) 5%. mREITs clearly didn't have an encouraging 2013 with ongoing sector-wide decreases in book value per share, compressed net spreads and highly volatile earnings.
So, is the recent mREIT recovery just a breather before share prices collapse once again or did we already see the bottom and valuations are poised to grow?
If AGNC's fourth quarter results are any indication, I would say the former:
In Q4 2013 AGNC achieved a comprehensive loss of $0.99 per share. The total per share loss consisted of a net loss of $0.28 per share and other comprehensive losses of $0.71 per share including net unrealized losses on investments. In the fourth quarter of 2012 AGNC achieved comprehensive income of $0.36 per share of which $2.37 can be attributed to net income per share and $(2.01) to other comprehensive income. AGNC continues to exhibit very high earnings volatility.
AGNC's net spread per common share came in at $0.75 which compares against $0.58 in the third quarter of 2013 and $0.89 in the year ago quarter. AGNC will need to show in coming quarters that the rebound in net spread is sustainable.
AGNC earned $0.65 in estimated taxable income per common share which compares to $0.29 in the third quarter of 2013 and $1.93 in the fourth quarter of 2012 (a y-o-y decline of 66%). AGNC's estimated taxable income per share just about covers its fourth quarter 2013 dividend payment of $0.65.
Estimated undistributed taxable income per common share stood at $0.59 vs. $0.57 in Q3 2013 (a q-o-q increase of 4%) and vs. $2.18 in Q4 2012 (a y-o-y decline of 73%).
One of the most important metrics for mREITs, the book value per share, was reported at $23.93 for the fourth quarter of 2013. Book values continue to erode and I see nothing that would suggest that the deterioration of book values is going to stop anytime soon: AGNC's book value per share declined a whopping 5.3% in the fourth quarter which comes after a 1% decline in book value the previous quarter. AGNC's book value also declined 24% from $31.64 reported in Q4 2012 and AGNC's book value has consistently declined every quarter in 2013 (see chart below).
As an immediate reflection of lower profitability and eroding book value, American Capital Agency has reduced its quarterly dividend once again: The mREIT now makes a quarterly distribution of $0.65 per share compared to $0.80 per share in the third quarter (sequential dividend cut of 19%). Distributions are now down 57% from their peak at $1.50 per share in the second quarter of 2009.
AGNC also repurchased 28.2 million common shares at an average price of $20.82 during the fourth quarter of 2013.
(Source: AGNC Q4 2013 Investor Presentation)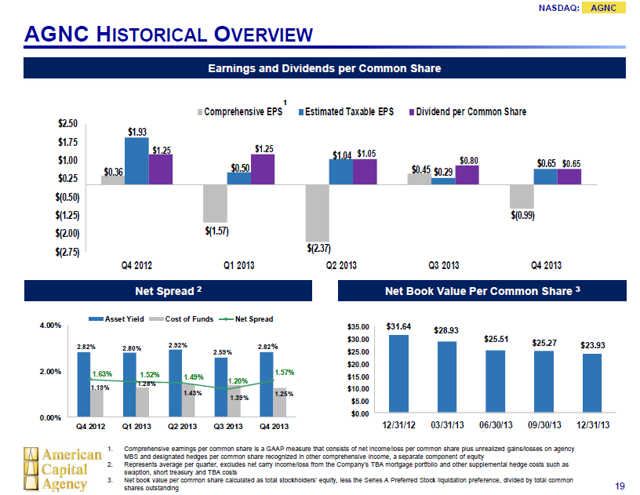 Leverage adjustments
mREITs are still in the process of adjusting their leverage ratios. While companies in the sector have made some noteworthy progress with respect to de-risking their balance sheets, I still think leverage ratios need to fall a bit further. mREITs rely on large amounts of debt in order to make their spread business worthwhile. With low interest rates for debt, this was a great business in the past five years and lucrative for shareholders as witnessed by the record distributions coming out of the mREIT sector. Increasing rates and higher rate volatility generally pose a threat to any leveraged company and might materially affect the profitability of mREITs. American Capital Agency's at-risk leverage still stands at a respectable 7.5x and actually has increased sequentially.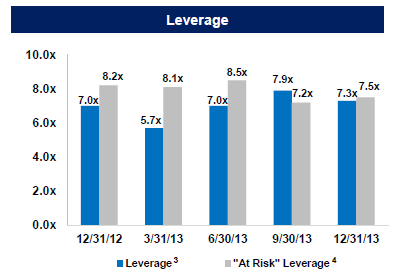 Full-year results
With respect to full-year figures, investors already expected weak 2013 results since the company reported disappointing quarterly performance figures throughout the year.
In terms of economic performance, 2013 was AGNC's worst year on public record: The mREIT delivered a negative economic return (dividends plus change in net book value) of 12.5% largely driven by the gradual decline in book value throughout the year.
AGNC reported a full-year comprehensive loss per share of $4.47 which consists of $3.28 in net income per share and $(7.75) in other comprehensive income.
AGNC issued 17.2 million common shares (net) in 2013.
Don't just focus on the dividends
mREITs basically follow one of the riskiest business models there is: They rely on short-term funding and use the proceeds to purchase long-term assets like mortgage backed securities. In addition, high leverage ratios insert substantial risk into the investment equation especially when markets fall into turmoil like they did in 2007 and 2008. Investors need to be aware of the risks stemming from companies that are highly leveraged and purchase long-term assets with short-term funds (maturity mismatching) and should not only concentrate on the high distribution yields mREITs exhibit.
The graph below compares the current dividend yields of the mREIT peer group consisting of American Capital Agency, Annaly Capital Management, American Capital Mortgage Investment and Chimera (NYSE:CIM). All companies exhibit annual distribution yields of at least 11% while the average yield stands at 12%. Investors should also keep in mind that the total returns, with the exception of Chimera, were negative for most mREITs in 2013.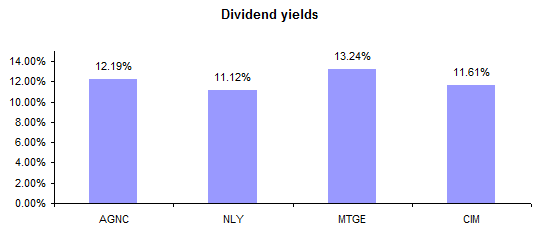 Share performance
As indicated in the introductory paragraph, mREITs have rebounded quite nicely so far in 2014. However, mREITs have caused substantial losses for shareholders in 2013 and a look at a two-year performance measurement period reveals that the rebound in 2014 is actually fairly insignificant. American Capital Agency lost 28% of its value over the last two years while Annaly Capital Management lost a massive 37% and American Capital Mortgage Investment is about flat.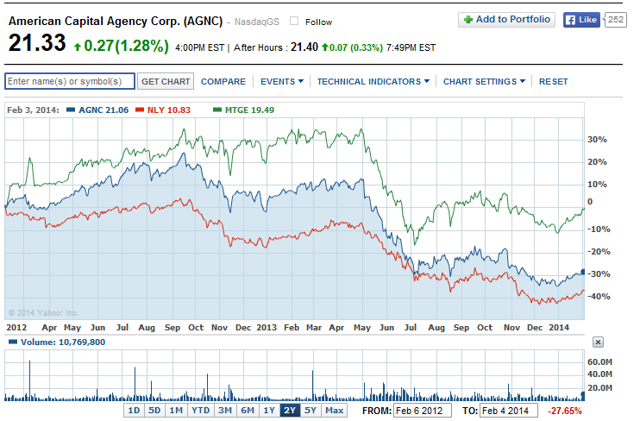 Conclusion
As long as the bleeding in terms of book value doesn't stop, investors have little reason to purchase American Capital Agency or any other mREIT in the sector. What was surprising about AGNC's fourth quarter results, was, that AGNC's book value deterioration actually accelerated: A 5% q-o-q decline is really substantial and shows that the mREIT is not on top of the situation yet. Sequential book value declines and high volatility in earnings per share signal that the mREIT business is not for the faint-hearted.
American Capital Agency will have to ramp up its defense and signal to the market that declining book values are under control. Reducing leverage and further de-risking the portfolio and balance sheet should be top priorities. mREITs, many of whom pay double-digit dividend yields, have caused massive shareholder value destruction in 2013 and dividends have been in a continued downward trend. Given the results presented by AGNC for the fourth quarter 2013, I think contrarian long positions are premature and mREITs have further downside potential.
Disclosure: I am short AGNC, NLY. I wrote this article myself, and it expresses my own opinions. I am not receiving compensation for it (other than from Seeking Alpha). I have no business relationship with any company whose stock is mentioned in this article.