In today's Oxen Group recap, we will be looking at J.C. Penney (NYSE:JCP) and Yum! Brands (NYSE:YUM). We want to update our coverage on both as 2014 is starting to take shape for both companies. The Oxen Group covers YUM year round, and we want to update our current pricing to reflect recent occurrences. We also discuss JCP on a regular basis and want to update our thoughts on the company. In our Company News section, we will focus on JCP with today's breaking news. We will examine YUM in our Deeper Outlook after the company's latest round of earnings. Additionally, as always, we will do our typical market overview and examine what's coming next for the market.
Market Overview
The market was able to rebound on Tuesday after Monday's disaster. A combination of decent headlines with selling relief was able to give way to a low volume gain in the markets, setting up for a very important Wednesday market session. To compare, Monday's sell-off saw 4.7B shares traded on the NYSE. As of 2:30PM, the NYSE (NYSE:NYX) had traded 2.5B shares, on pace for 3.25B shares. When we see numbers like this, we are not as trusting of the market action. Not a ton of buyers entered the market Tuesday. Rather, these were mostly traders or shorts buying back shares.
The main reason for gains was due to a better than expected Factory Orders at -1.5% for December versus expectations for a -1.8% reading. Additionally, the market was celebrating great earnings from Michael Kors (NYSE:KORS) and decent earnings from Yum! Brands.
Michael Kors killed it again with another terrific report that shows tremendous strength and global demand for this product line. The company crushed EPS and revenue estimates. Revenue in North America grew 51% with comp SSS up 24! Watches and accessories were the big winners. Europe grew 144% while licensing saw a 59% increase. The company guided in-line for Q4 but guided strongly for FY14.
Takeaway - KORS continues to outperform other retailers and is in an amazing period of strength. The main buyers, HENRYs - high earnings not rich yet, have money to spend and continue want to shop high quality at a price they can afford. Until that trend ends or KORS loses style, this company will remain very strong!
We are covering YUM in our Deeper Look, so we will examine them further in that report. On the day, the Dow Jones (NYSEARCA:DIA) gained back about 0.5% while the Nasdaq (NASDAQ:QQQ) neared 1%. The S&P 500 (NYSEARCA:SPY) was in between the two.
Company News
In today's company news section, we will look at J.C. Penney . We have been writing bullishly on JCP for several months now with the anticipation of a turnaround in shares. Since our last report, however, JCP has dipped further. The market trend has not helped a company that was already mired by the market, but the company was seeing unusual volume on some new breaking news. The company reported same-store sales and provided some insight into their current situation. In our last report, we wrote the following defending shares:
The reason is obvious because no one wants to own them right now. Their rebound plans for their new shopping experience blew up under former CEO Ron Johnson, and the company has had to restart their turnaround. There are two things, though, that we really like about this name at these levels, and that is the key - at these levels. First off, we like the company's digital approach, which is the future. According to Alexa, JCP's website (jcp.com) is the 368th most visited website in the USA. They have slipped since a big push in 2012, but the company is looking strong. The company was the number two online retailer for back-to-school shopping behind just Wal-Mart (NYSE:WMT) and above Macy's (NYSE:M). We believe that the middle-class shopper is becoming more and more a big part of the online marketplace, and JCP wants to be a part of it. Further the company is working on making it so that the online marketplace is congruent with the in-store merchandise and inventory. Here are comments from CEO Mike Ullman:

Well, obviously, dot-com's a big opportunity for us. We dropped about $0.5 billion in Internet sales last year by disconnecting the merchandize assortments from the online assortments, so the fact that they were not congruent made it very difficult for store associates to access online to get additional merchandize for their customer or to put that on order. By reconnecting and realigning the merchandize assortments, the business popped almost immediately. We expect it to get progressively better. We're encouraged by the trend and each week we're seeing more store referrals to the Internet, so that's what gives us the confidence. We most recently were just cited in a Wall Street Journal study I believe it was, we had the second best Back to School online business behind Wal-Mart that tells us we're back in the game and we expect to be in the game all the way through the rest of the year. What was the other part of your question?

Yesterday, the company noted that jcp.com is trending at double digits ahead of last year, and they expect positive same-store sales year/year.
We believed that sales were back on track, and that the company was bottoming out in same-store sale dips (comps are definitely easy…but progress is progress). Tuesday, the company reported that holiday same-store sales were up over 3% with total Q4 SSS up 2%. Jcp.com saw sales rise over 26% versus the prior year, and the company also announced they had move total liquidity to $2B. One of the biggest knocks on the company had been that they were going to have liquidity concerns moving forward, and that report is a welcome sight for those that believe JCP is at an incredible value. The SSS comp was slightly below most analyst expectations - ranging 2.0-3.0%. For us, the progress in the online store as well as liquidity number is the real story. Further, weather in Q4 was extremely negative for JCP given their quarter extends into the new year. We believe that most analysts underestimated the impact this storm had as CEO Mike Ullman noted:
"While 2013 brought a lot of change and challenges to J.C. Penney, the steady improvements in our business show that the Company's turnaround is on track. In spite of the significant headwinds facing all retailers this season, including unprecedented harsh weather conditions in many parts of the country, we delivered on our promise to generate positive comparable store sales growth in the fourth quarter."
So, if the story is improving…why did shares drop?
The cut in price target from Sterne Agee to $3 from $9 after the release as well as Deutsche Bank reiterating they were basically unimpressed did not help. For us, though, we believe that the value here still cannot be ignored. Further, we believe that the positive trends we have now seen in the holidays and back-to-school sales especially with their online presence is a big win that many are ignoring. They have not fared well outside of the major shopping areas, but neither have other retailers outside of a select few higher end names.
So, let's talk value and pricing. The company is currently pricing at 0.1x sales and 0.5x book value. The company is expected to see around 4-5% jump in revenue this year but still lose money. Short float is at 36%, and that high float is keeping shares in check. Further, share prices dropped on a recent addition of shares to help bring up liquidity. The company is closing 33 underperforming stores this year, which should help margins and brings some of the liquidity questions off the table. How to price the company? Let's say the stock can even get to a 0.2 price/sales ratio by the end of the year, which is still well below industry averages. With 12.6B in sale, it would put their market cap at 2.5B and share prices would be at roughly $8.50. If sales trends continue positive and margins even slightly improve, we believe that a jump in valuations will happen.
We like JCP at these levels especially after the recent pullback. A great way to play this one is to write options against the stock and add the stock long. We like going long and selling the May $3 puts for a potential 17% gain!
Position: JCP, Long and JCP, May2014, $3 Puts Sold
Entry Price: $5.10 and 0.40
Sell Price: $8.50 and 0.00
Potential Gain: 60%+ and 16%+
Deeper Look
Yum! Brands
In today's Deeper Look, we will be looking at Yum! after their latest round of earnings. We want to examine if the company is at a good place to buy or if today's pop was a sell point. Coming into the day, we had a 2013 price target for YUM at $88 and Buy-rating. We want to update our model for updated outlook and results. In this report, we will look at the company's main catalyst for 2014, price the company, and examine risk.
In conclusion, we will show why we are updating our 2014 price target to $100 and maintaining a Buy rating on the stock.
Main Catalyst
For YUM, the main catalyst for the company remains their ability to grow sales in international markets. Most of the growth of the company continues to come from international markets, and if we look at the company's plans moving forward, we will note that most of their work moving forward is to expand further in new markets as well as grow store counts where they are already located inside of these markets. The main countries that the company is looking for growth in is China and India. Yet, the company will also expand in other international markets with the expectation to open 1000 stores in international markets in 2014. The company wants to open another 700 new stores in China in 2014, and they will expand with another 150 stores in India.
The emerging market growth in China is where the foremost potential is for Yum! is as CEO David Novak notes:
Looking at China new unit development in total, we strengthened our category leading brand positions with 740 new restaurants in 2013 exceeding our target of at least 700 new units for the year. Going forward, we expect another strong year of development in 2014 with plans to open at least 700 units as we continue to deploy capital to these high return investments. Remember, Yum! currently has four restaurants per 1 million people in China, where the consuming class is expected to grow from 300 million to over 600 million people by 2020. This compares about 60 restaurants per million people in the United States with the consuming classes about 300 million people today. Clearly, we are in the early innings of growth.
What this means is that Yum! could likely double stores if not more in the next six years. The company had nearly 6,500 stores at 2013 end, and therefore, we should be able to see the company moving towards a significant expansion over the next six years. The company looks to like keeping growth stable and manageable around 700-800 stores per year, and we believe that rate of expansion should continue each year. We will discuss more about what exactly that will mean for their revenue in that section.
India is the second biggest market for the company to grow in moving forward with the success of KFC and Pizza Hut in those markets as well. Here is Novak commenting on what is occurring in India:
In India, we have made the contra strategic decision to invest ahead of the growth curve to best position KFC, Pizza Hut and Taco Bell so that we can expand even more rapidly as the country develops. We expect to open 150 new units in 2014 on top of the 157 new units we opened this year. There is no question India's macros and our 2013 results have not been as strong as we would like, but we are investing in the future of a country with well over 1 billion people and we know that investment will pay off over the long-term.
The rapid expansion of India is still a ways away for Yum! The company is investing there for the future. The idea here is that Yum! sees India as a place where fast food and discretionary income are coming and it's a question of when. Right now, they are placing KFC and Pizza Huts in popular areas, marketing, and placing the image of what these places stand for so that in the future it can pay off for the company. We believe that growth will stay around 100-200 stores for the next 2-4 years, but we can see a similar type of explosion of growth like China in India as well moving towards the end of the decade.
Finally, the company is also seeing growth in other markets like Russia, Latin America, Africa. The company entered four new markets in 2013: Tanzania, Ukraine, Argentina, and Mongolia. The company stated that they expect to expand at a rate of 1000 stores in 2014 in international markets, which will make quite a strong push in total stores to bring it to over 16K by the end of 2014. The company can definitely continue to see strong expansion in International markets:
Remember emerging market economies are expected to grow at almost three times the rate of developed market economies for the foreseeable future. So Yum!'s strongest business are located where the highest growth in the world is expected to occur. This obviously bodes well for Yum! brand. Importantly the bulk of our emerging market business will continue to be capitalized by franchisees. We now have about a 1000 international franchisees who are broadly enthusiastic about our business and passionate about our brands. As evident YRI opened a record 1055 new restaurants last year, 936 of which were developed by franchisees. Looking ahead our international franchises is in the pipeline is extremely robust as we expect to open at least 1000 international units in 2014 outside of China and India. And as you know the franchise business is about as high return as any business you can possible have.
Even the way that YUM will report sales from now on shows the changing face of this brand. They no longer will report results for the USA. They are going to combine US and International divisions to KFC, Pizza Hut, and Taco Bell. They will keep China and India separate. We can see from this that the focus on the international market is now stronger than ever before. One of the only remaining questions is whether or not these brands will be successful in these markets. The China chicken debacle is still being tackled, but the benefit is that comps are very easy moving forward.
The company reported same-store sales down 4% in China and 2% in the USA, but the company saw 2% growth in same-store sales in international markets. Overall, though, the brunt of fears in China appear to be over, and we believe that the company is on pace for a strong year of growth in same-store sales as well as a resurgence of demand. Additionally, the company may even benefit from the latest bird flu scare due to the fact that Chinese citizens cannot buy live chickens and may turn to KFC for chicken. Further, new concepts like Little Sheep and East Dawning in China are just starting to become big contributors.
Therefore, we are very bullish on the prospects for Yum! growth, and the question is whether or not this growth is already priced in or do shares have more upside in 2014.
Pricing/Valuation
Revenue -
For revenue, we are anticipating a continued, strong low-double digit growth for the stock. With the company likely to continue at an expansion of 700-800 stores in China, 150-200 stores per year in India, and 800-1000 in all other markets, Yum! is on pace for considerable sales growth from new stores and franchises. Further, the company should see some further SSS accretion from the combination of improving emerging market economies as well as a rebound in China after two tough years from poultry issues. Here is a snapshot of our analysis:

Tax Rate -
We are anticipating a consistent tax rate around 32%.
Margins -
We expect a bounce back in operating margin with the price of poultry declining in the USA but likely rising in some key emerging markets. The company saw a major dip in 2013 from expenses for new stores, more staff for new divisions, and expanding into new markets. Those expenses should taper this year, and we anticipate the company getting back to historically strong 15-16% operating margins from here. Gross margins are very stable around 28%.
Other -
For our model, we used a cap rate of 3%, which is a low discount rate that expresses strong growth potential. We believe Yum! is a growth name and should be priced like one. Using the above expectations in our DCF model, we analyze that the company is worth around $100 by the end of the year.
Charting The Markets
Examine today's market charts in the DIA, QQQ, SPY, Russell 2000 (NYSEARCA:IWM), Gold (NYSEARCA:GLD), and McClellan Oscillator (NYMO).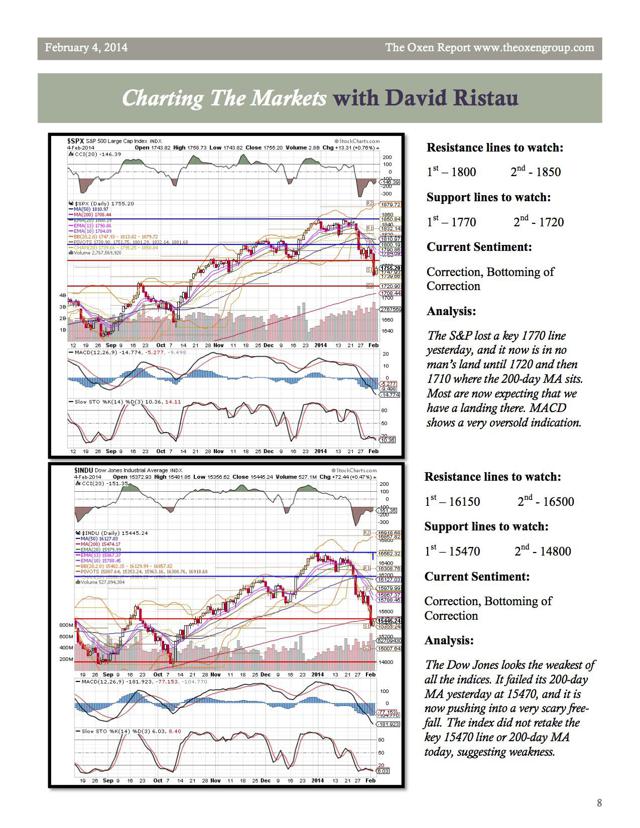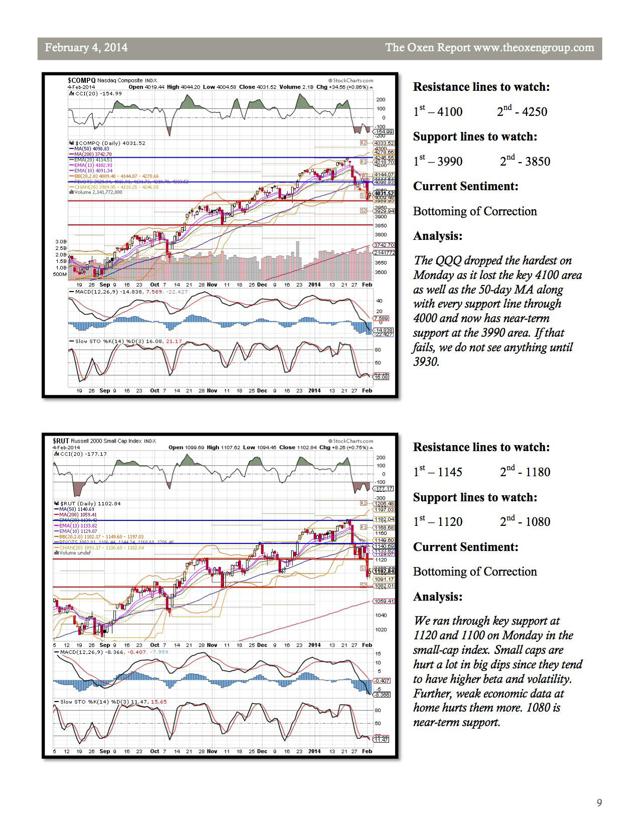 Wednesday's Outlook
Wednesday is a crucial day for the market as we had the drop on Monday and some recovery on Tuesday. Like we noted, the recovery was fairly low volume, so it's less convincing. The action on Wednesday will be based on significant amount of data, important earnings, and overseas data as well, so it should set us up for some important action. The data reports are highlighted first and foremost by the ADP Employment Change report that is expected to come in at 178K versus 238K in December. That number will be heavily watched. We are fearful that we could see a miss due to severe weather last month. Additionally, ISM Services will release. It is expected to grow in January to 53.8 from 53.0 in December. Finally, we get the MBA Mortgage Index. A nice number there could help what has started to appear as a weak housing industry.
As for earnings, we have important reports tomorrow from Level 3 (NASDAQ:LVLT), Merck (NYSE:MRK), Nasdaq (NASDAQ:NDAQ), Polo Ralph Lauren (NYSE:RL), and Time Warner (NYSE:TWX). None of these are show stoppers, but today's reports from KORS and YUM definitely did help the market. Finally, we are weary of China right now. Europe continues to look strong, and we get some key reports from European markets Wednesday that should have an impact. We will get Service PMIs from Italy, France, England, Germany, and the Euro-Zone Wednesday. Additionally, we get December's Euro-Zone Retail Sales. Those numbers could help to set the stage for Wednesday's open and daily action.
Overall, it's a crucial day for the markets. Pay attention!
Disclosure: I have no positions in any stocks mentioned, and no plans to initiate any positions within the next 72 hours.
Business relationship disclosure: I have no business relationship with any company whose stock is mentioned in this article. The Oxen Group is a team of analysts. This article was written by David Ristau, one of our writers. We did not receive compensation for this article (other than from Seeking Alpha), and we have no business relationship with any company whose stock is mentioned in this article.