Noble Corp (NYSE:NE) is a leading offshore driller with a fleet that includes drillships, jackups, semi-submersibles and more. This stock has experienced a significant decline due to the market pullback and a recent downgrade. There are a number of reasons why this stock is too cheap to ignore. It is also starting to show signs of having hit "rock-bottom" which means it could be getting ready for a strong rebound from oversold levels. Let's take a look at the chart which shows the speed and severity of the recent pullback, along with five reasons to buy the stock: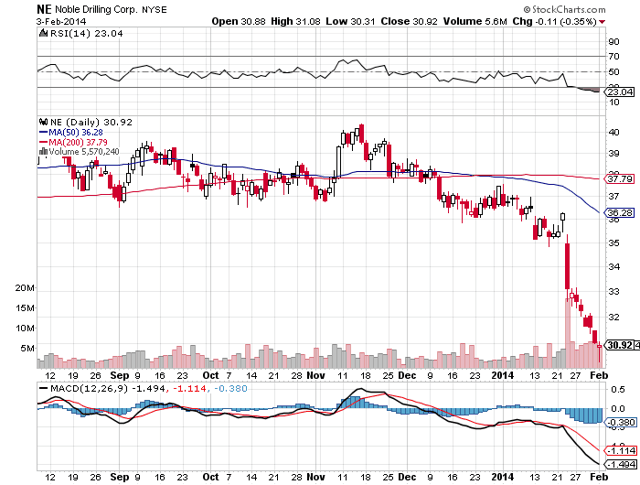 1) As the chart shows, this stock was trading for about $37 in early January, but has dropped to around $31, in just a matter of days. It now has a relative strength index or "RSI" of 23, which indicates extremely oversold conditions. Stocks with an RSI of 30 or less are considered to be oversold by many investors. When stocks hit oversold levels, it can be a contrarian indicator to buy, as the selling (in many cases) may have reached capitulation-like levels. Stocks in companies with solid fundamentals often rebound sharply as the wave of selling gets exhausted. Because it is so oversold, Noble Corp. shares appear due for a rebound that could retrace a significant portion of the recent decline in the coming days.
2) On Monday, February 3, 2014, a couple more signs emerged which indicate this stock may have already hit rock-bottom levels. The Dow Jones Index plunged about 326 points on this day and analysts at Raymond James decided to "pile on" by downgrading the already beaten down drilling sector. The analyst at Raymond James downgraded Noble Corp. shares from "outperform" to "market perform". That means Noble shares are expected to perform about as well as the market, which is not even much of a downgrade. What is notable is that on a day when the market plunged significantly and the stock was downgraded, Noble Corp. shares only closed down by 11 cents. That indicates this stock is starting to show strength which could be the first sign of an upcoming rebound.
3) Some analysts are less bullish on the drilling sector and that can be a great buying opportunity for investors with a longer-term view. I think certain offshore drilling stocks are incredibly cheap now which I recently wrote about in this article. (In that article I also pointed out that analysts are often wrong and gave my top stock pick for 2014.) In some cases I also believe that analysts have an agenda and that means investors should take "advice" with a grain of salt. The offshore drilling industry is expected to grow in the long-term so even if some analysts are correct about a temporary slow down for drillers, I view it as a buying opportunity. As of December 31, 2013, this company has a backlog worth roughly $15.4 billion. That is a major source of future revenues for this company. Recent moves by management at Noble Corp., could also be indicating that the future is very bright:
4) On January 30, 2014, the board of directors announced it raised the quarterly dividend from 25 cents per share to 37.5 cents per share. That is a 50% increase in the dividend and it shows significant confidence by management in the future. The dividend now offers a yield of nearly 5% which is very attractive for income investors. This company will pay the next dividend of 37.5 cents per share on February 20, 2014 to shareholders on record as of February 10. That means that investors who buy soon will be receiving the next dividend payment in just a short time.
5) Just a few months ago, an analyst at Goldman Sachs (NYSE:GS) released a list of the 40 cheapest stocks in the market. This list included Noble Corp. shares which were trading for around $40 per share at the time. Now, thanks to a significant market pullback and an analyst downgrade, the same stock can be purchased for about 30% less, at just around $31.
In summary, this stock is too cheap and it appears ready to rebound soon. With consensus earnings estimates at $3.72 per share in 2014, and $4.73 per share in 2015, this stock trades for less than 8 times earnings estimates. Aside from it being cheap as well as oversold, this stock has another upside catalyst. As Dan Strack explains in this Seeking Alpha article, Noble Corp. is planning a spin off later this year which could create more shareholder value. It's also worth noting that some analysts are very bullish on this stock. Just a few days ago, analysts at Cowen and Company issued a report giving Noble Corp. shares an outperform rating with a $44 price target. That implies significant upside from current levels and in the meanwhile, investors are paid a yield of nearly 5%. I believe the recent market pullback and negativity has created a classic "buy cheap" opportunity that level-headed investors should capitalize on now.
Here are some key points for Noble Corp.:
Current share price: $30.92
The 52 week range is $30.31 to $42.34
Earnings estimates for 2014: $3.72 per share
Earnings estimates for 2015: $4.73 per share
Annual dividend: $1.50 per share which yields 4.8%
Data is sourced from Yahoo Finance. No guarantees or representations
are made. Hawkinvest is not a registered investment advisor and does
not provide specific investment advice. The information is for
informational purposes only. You should always consult a financial
advisor.
Disclosure: I am long NE. I wrote this article myself, and it expresses my own opinions. I am not receiving compensation for it (other than from Seeking Alpha). I have no business relationship with any company whose stock is mentioned in this article.