This is a series of articles that will attempt to find the 'best in class' BDCs to include in my updated "Total Return Portfolio" for 2014. Please read "Part 1" for complete description of the portfolio but basically it is for investors that want dependable regular dividends and the potential for special dividends as well as long-term capital appreciation from increased stock values. The other five portfolios that I cover are: General, Risk Averse, High-Yield, Value, and Underdog. This article will discuss why considering the potential for net asset value ("NAV") per share growth is important and then combine with projected dividend yields to come up with projected and expected returns for each BDC.
Why is NAV per share growth important?
Many investors that are new to BDCs are attracted to dividend yield and do not fully understand why it is important to focus on the potential for growth in value as well. High-yield BDCs are not known for having NAV growth because they pay out most of their gains (recurring and one-time) through monthly or quarterly distributions. The table below compares the BDCs with higher cumulative NAV per share growth to ones with yields of 10% or higher. Many times having a declining NAV implies that the dividend is unsustainable such as with Fifth Street Finance (FSC) and KCAP Financial (NASDAQ:KCAP) that both cut dividends recently and MCG Capital (NASDAQ:MCGC) and BlackRock Kelso Capital (NASDAQ:BKCC) that cut dividends in the last two to three years. TICC Capital (TICC), Medley Capital (NYSE:MCC) and Prospect Capital (NASDAQ:PSEC) are a few of the high-yield BDCs that have not cut distributions in over the last three years (MCC never has). PennantPark Investment (NASDAQ:PNNT) is hovering around a 10% yield with slightly positive NAV growth and is one of four BDCs that did not cut dividends during the financial crisis.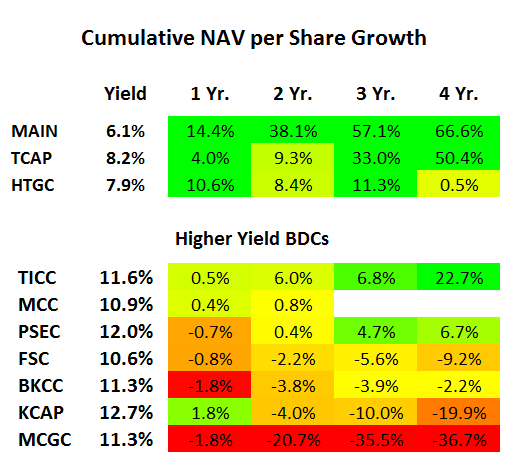 The following chart shows stock prices for some of the higher yielding BDCs compared to ones with higher NAV growth rates over the last two years. Obviously BDCs such as Main Street Capital (NYSE:MAIN), Triangle Capital (NYSE:TCAP), and Hercules Technology Growth Capital (NASDAQ:HTGC) that have the ability to grow value compared to having higher yields perform much better and is why investor should consider all types of return. It is also important to note that MAIN and TCAP did not cut dividends during the financial crisis either. American Capital (NASDAQ:ACAS) has performed much better but does not pay a dividend and shareholders are only rewarded through capital gains (usually at a better tax rate) and this will be taken into account later.

Projected and Expected Returns
The following table shows many types of returns including current dividend yield, projected dividend coverage, portfolio growth potential, special dividends and potential NAV growth to come up with total projected returns for each BDC. For this analysis I assumed that the BDCs with declining NAV per share find a way to stabilize and at least maintain 0% growth and BDCs with positive growth over the last 12 months I discount by 50% and assume they continue to grow at least half as fast as the previous year (except ACAS that does not pay a dividend and I assume the same amount of growth).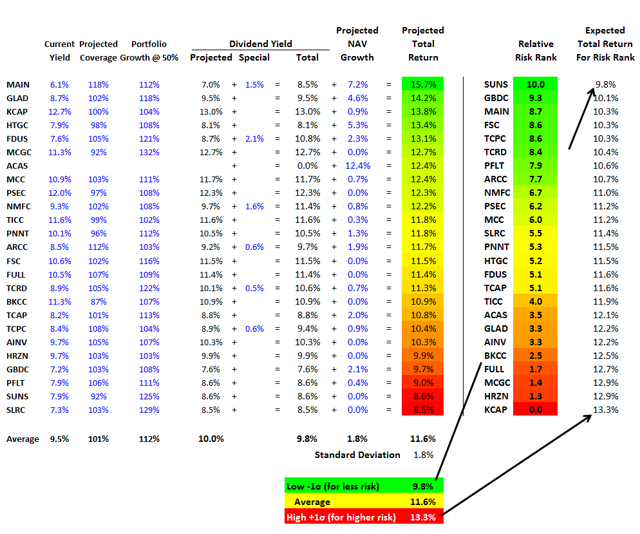 The average projected return for BDCs over the next 12 months is 11.6% with a standard deviation of around 1.8% that statistically measures the variation of returns compared to the average, with 68% of BDCs falling within one standard deviation from the average or between 9.8% and 13.3%. I believe this is an acceptable rate of return and maybe a little conservative because of the NAV per share growth discounts that may favor BDCs such as PSEC with a high dividend and little to no expected NAV per share growth. Investors expect higher rates of return for higher amounts of risk and using this range of returns along with my relative risk rank (see risk profile articles for more) of each I assign an expected total return.
Risk vs. Return Expectations
The following table simply ranks each BDC by the difference of projected vs. expected returns: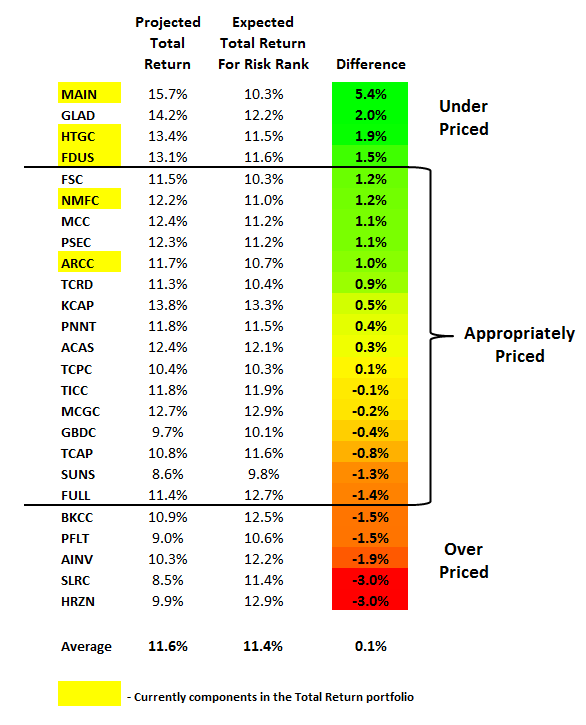 Obviously these results are subject to each investor's interpretation of risk and this uses mine but still I was pleased to see that most of the current total return components are near the top and providing investors with higher returns. Ares Capital (NASDAQ:ARCC) was the most appropriately priced component but is still a contender. Using this analysis I would not include BKCC, Apollo Investment (NASDAQ:AINV), Solar Capital (NASDAQ:SLRC) and Horizon Technology Finance (NASDAQ:HRZN) in this portfolio. Pricing has a lot to do with returns since the dividend yield has an inverse relation to pricing. This would suggest that all but four BDCs are priced within 2% of expected returns and will cover the exact pricing impacts in the next part.
The rest of this series will cover:
Relative valuations using returns
Summary of findings
At the end of this series I will integrate and update with the latest earnings releases/results and combine with these analyses to project total return to shareholders from distributions and price appreciation. Most likely I will split this into two portfolios with one being higher returns and the other more for the risk averse investor and I will most likely be investing in most of these BDCs personally. Investors should only use this information as a starting point for due diligence. See the following for more information:
Disclosure: I am long FSC, MAIN, TCPC, ARCC, FDUS, TCRD, PSEC, NMFC. I wrote this article myself, and it expresses my own opinions. I am not receiving compensation for it (other than from Seeking Alpha). I have no business relationship with any company whose stock is mentioned in this article.