Seeking Alpha editors published Part 1 of this series shortly after the New Year. In that article, I suggested three general equity investment strategies:
Understand the current phase of the business cycle and overweight stock sectors that historically outperform;
Identify and seek contrarian stock values; "the most hated names of 2013"
Maintain discipline when evaluating securities in a market that's run up 30%; don't chase hot tickets
In addition, I offered eight specific stocks that I believe were aligned with these strategies: Eaton Corp, PLC (NYSE:ETN), Union Pacific Corp (NYSE:UNP), International Paper (NYSE:IP), Apple Inc (NASDAQ:AAPL), Energy Transfer Equity (NYSE:ETE), Intel Corp (NASDAQ:INTC), Caterpillar (NYSE:CAT), and Annaly Capital Management (NYSE:NLY).
In subsequent installments, I covered the aforementioned equities:
In Part 5, we will review Caterpillar Inc., the long-standing manufacturer of construction equipment, industrial engines, and heavy mining machinery. CAT is an Industrial sector stock, however for purposes of the outlined 2014 strategies I consider the shares to be a contrarian pick. On January 27, Caterpillar reported fourth quarter and year-end 2013 earnings.
In 2013, CAT shares gained only 4% while the S&P 500 rose 31%, arguably making it one of the most "hated" stocks of the year.
Investment Thesis
Caterpillar operates in the highly cyclical mining and heavy machinery industries. The 2008 Bucyrus acquisition kept the company tethered to industries that ebb and flow with the economic business cycle. Unfortunately, the timing of the Bucyrus deal was bad; reaching closure nearly at the crest of the mining boom.
CAT management has attempted to weather the storm through expense management and manufacturing flexibility. In 2013, nearly 7% of the workforce was cut. Year-over-year results were generally poor, but with a wrinkle: a 16% drop in revenues, 33% drop in net income; however, record-breaking cash from operations nearly doubled.
Operating within volatile industries make Caterpillar stock prices difficult to project; hence the 1.8 beta.
Consequently, an ownership thesis may be premised upon three basics:
The stock is ruled by euphoria and despair. Buy when everyone "hates" the name.
Management's decision to raise the dividend and aggressively buy back shares indicate that while the business is down, the company is not. Caterpillar is a broken stock, not a broken business. Good cash flow and a solid balance sheet can carry Caterpillar until conditions improve.
CAT North America and EAME (Europe, Africa and Middle East) Construction Industries, Power Systems and Financial segments can rally the stock. These regions have been down so long, investors have become accustomed to weakness. In 2013, approximately 65% of the revenues generated by the Construction Industries, Power Equipment and Financial segments (meaning sans mining) originated from the NA and EAME regions. Over 77% of total sales were generated by the Construction, Power and Financial segments. Therefore, Caterpillar generated 50% of its total revenues from non-mining business segments located in North America, Europe, Africa and the Middle East.
Caterpillar by the Numbers
In Part 1 of this series, a number of financial metrics were offered to help identify whether or not a company is fairly valued.
Permit me to begin by stating that the numbers tell a story, but the numbers are not THE story. I point this out because it can become easy to get somewhat dogmatic about "the numbers." Let's review the metrics openly, but pragmatically; in light of the underlying corporate narrative and the investment thesis:
Price/Cash Flow: Year-end 2013 operating cash flow per share was $15.46. Based upon a recent closing price, this indicates ~6x Price-to-Cash Flow ratio. This is well below my general P/CF valuation target of 10x, and Caterpillar's long-term Price-to-Cash Flow ratio of 8.3x. One could argue that 2013 cash was up due largely to inventory swings: CAT manufacturing facilities and dealers both drastically drew down inventories. This had the effect of increasing cash flow, but depressing earnings. While true, so is the converse. Earnings will now rise on any increase in inventory. In any event, inventory change added about $4 a share to cash flow. Subtracting all of this from OCF results in an adjusted P/CF ratio of 8x, still below the average.
2-Year PEG ratio: Attempting to project earnings for cyclical stocks is difficult. Over a year, dramatic changes in forecast estimates can skew the PEG ratio. If the business is in a phase transition, it's even harder. Current forecasts for the next two years project Caterpillar operating EPS to be $5.85 and $6.87. This equates to a 1.7 PEG ratio. While higher than my stated <1.5x benchmark, I don't have a great deal of faith in these numbers.
Return-on-Equity: Premier companies sport RoE of 15% or greater. Despite a very poor earnings year, Caterpillar ended 2013 with 18% return-on-equity.
Revenue Growth: Cyclicals don't show revenue growth, particularly during down phases. CAT logged record sales in 2012. Last year, net sales tumbled. Flat revenue is forecast for 2014. Similar to the PEG ratio, this metric may not have much predictive effect.
Debt-to-Equity: Currently, Caterpillar's Machinery & Power Systems unit has a debt-to-equity ratio of 42%. This is acceptable for a large industrial firm. As a practical matter, CAT senior leadership measures Debt-to-Capital. The 29.7% figure stands at a 25-year low. This indicates good debt management. In either case, it may be argued Caterpillar fails to include Finance segment debt in these calculations, while total shareholder equity is included in the denominator of the equation (thereby assuming that the Finance segment has no equity value). While this opinion has academic merit, it's not how the investment community views the numbers. Furthermore, some strictly financial equities, like mREITs, rarely trade above net book, implying zero equity, too.
On balance, Caterpillar appears to have a reasonably-financed organization.
Margins: CAT operating margins fell precipitously in 2013, ending the year at 10.1%. Gross margins held up fairly well, easing to 23% from 25% a year earlier. These GMs are in-line with peers Cummins Inc. (NYSE:CMI) and a bit lower than Joy Global (NYSE:JOY) and Deere & Company (NYSE:DE). All four companies have comparable net margins. Since cyclical stocks often don't maintain ratable revenues, earnings or margins, extrapolating two years' margins can steer investors towards greed or panic. Interestingly enough, here's a table denoting Caterpillar gross margins for selected years:
| | |
| --- | --- |
| Year Ending | Gross Margin % |
| 2013 | 23 |
| 2012 | 25 |
| 2007 | 22 |
| 2006 | 24 |
| 2005 | 22 |
Pre-recession gross margins were about the same as 2013.
Price and Valuation
The correlation between a corporation's earnings and price is indisputable. Over time, investors price stocks for earnings and /or cash flow.
Utilizing two F.A.S.T. graphs, created by fellow S.A. contributor Chuck Carnevale, please find 15-year look backs. The first graph illustrates the relationship between price and historic operating earnings; the second chart between price and historic cash flows.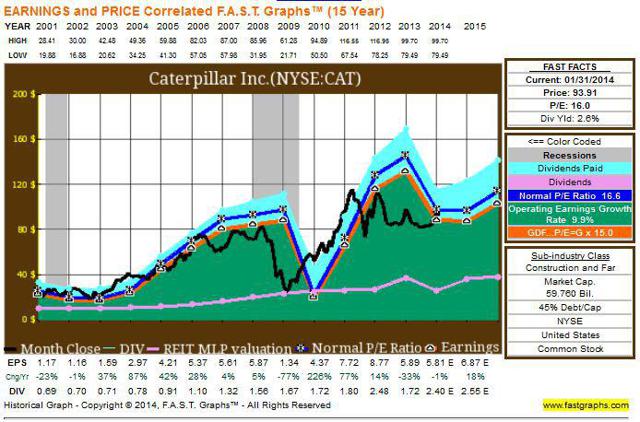 Here we see that over the past 15 years, the average normalized P/E ratio has been 16.6x (the blue line). The "expected" P/E is a 15 P/E (the orange line). CAT shares hold a 16x multiple now. Therefore, one may conclude that the shares trade today at approximate fair value. I beg to differ, since simply applying an "average" P/E to a cyclical stock like Caterpillar could mislead investors to the high side. So let's look at another chart.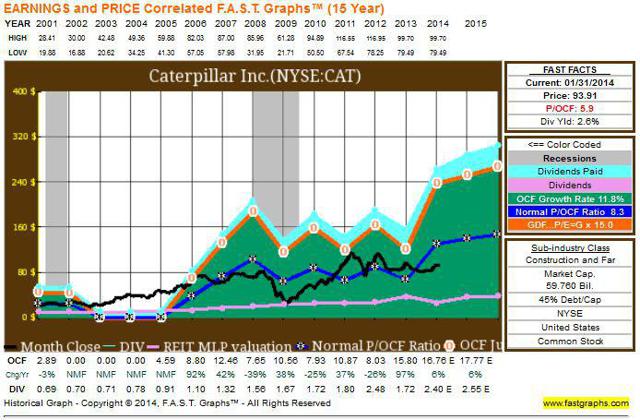 In this second graph, when viewing the relationship between price and cash flow, we see clear undervaluation. The black price line lies well below the normalized average P/CF multiple. Placing the 8.3x average Price-to-Cash Flow multiple on 2013 Operating Cash, we obtain a fair value of $131 per share. Viewed through this lens, even if Caterpillar operating cash flatlines this year, the stock currently trades 42% below fair value! Am I convinced this is "bankable" data? No. However, should prudent investors pause, think about the origin and destination of earnings, cash and valuation multiples, then noodle before making a quick judgment? Yes.
Readers: do these two charts help or call to question your own analysis?
Summary
I submit Caterpillar stock is a contrarian play. The media tends to dwell upon the downside: end of the commodities Super Cycle, management's inability to forecast performance, China's halting economy, and so forth.
On the other hand, CAT is arguably is the world's best-of-breed heavy machinery company. The balance sheet is sound, the company continues to spin off good cash, management just raised the dividend and enacted an aggressive share repurchase plan. Sometimes the best time to buy cyclical stocks is when sentiment is the worst. Such securities have a penchant for moving, and moving quickly, once sentiment turns.
Caterpillar has 3 large, world-wide divisions: Construction Industries, Resource Industries, and Power Systems. While all related to heavy machinery, these segments do not perform in lockstep; generally neither do the regional global economies in which the company does business. One could premise that a pickup in construction and industrial engine demand in North America, Europe and the Middle East could bolster earnings even if the entire mining business lays flat.
On a valuation basis, careful investors cannot dismiss record 2013 operating cash flows, though inventory movement mitigates the figure. Earnings were down, but this was likewise exacerbated by inventory drawdown at both the corporate and dealer level. The 2.6% dividend yield appears safe, and long-term shareholders should be heartened by the 15% payout boost declared in the middle of a very rough 2013 campaign. Debt levels are well-managed.
Importantly, price and volume action cannot be dismissed out-of-hand. For much of 2013, the shares bounced off an $80 low, only to return again later. However, in December the stock blasted off that marker on above-average volume before peaking at $94. Surprisingly, terrible 4Q and year-end earnings did not deter the advance. Since then, the stock has fallen back a bit, settling at $92.50.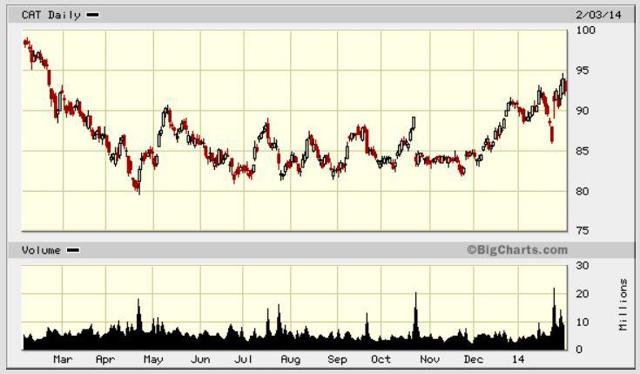 courtesy of bigcharts.com
What's more, CAT shares have held that same $80 share price all the way back to October 2010.
Please do your own careful due diligence before making any investment. This article should be used for information purposes only. It is not a recommendation to buy any stock. Good luck with all your 2014 investments.
Disclosure: I am long CAT. I wrote this article myself, and it expresses my own opinions. I am not receiving compensation for it (other than from Seeking Alpha). I have no business relationship with any company whose stock is mentioned in this article.