Investing in the aerospace industry is quite simple: invest in the engines that power aircraft!
Last month the aerospace industry was reviewed and the most important individual companies were researched in a series of articles. By systematic comparing these, there can be only one conclusion.
OVERVIEW OF THE AEROSPACE INDUSTRY1
Most companies in the aerospace industry are conglomerates and have a range of activities.
In general the aerospace industry can be divided in two main categories:
Military aerospace
Commercial aerospace.
The military aerospace industry is problematic to invest in at the moment. Military budgets are decreasing worldwide and this is likely to continue over the next years. Overseas deployments are (being) finished, which also affects defense spending. Only BAE Systems (OTCPK:BAESF)(OTCPK:BAESY) has been able to counter these cuts with foreign export markets.
In contrast to the military market, the commercial airliner market is growing. The largest manufacturers are Boeing (NYSE:BA) and Airbus Group (OTCPK:EADSF)(OTCPK:EADSY). Much smaller players are Bombardier (OTC:BOMBF)(OTCQX:BDRAF) and Embraer (NYSE:ERJ), but they will not become a threat to Boeing or Airbus in the next decades.
Boeing and Airbus divide the commercial airliner market, which provide the bulk of the civilian/commercial revenue. Both Boeing and Airbus have impressive order books as the battle for leadership shows and it ensures years of production.
Developing and manufacturing new aircraft types requires a lot of investments, is risky and time consuming. Both have had problems with new aircraft. Boeing with the Dreamliner and Airbus with the (military) A400M. In both cases this had a negative impact on the results.
There is also a high dependence on the performance of many subcontracted parts and components. Problems with manufacturing (timing or quality) will immediately affect Boeing or Airbus.
AIRCRAFT ENGINES
However, there is a category that isn't influenced a lot by decreasing military budgets or competition in commercial airliners. Customers of airliners demand a choice in engines and all military aircraft and helicopters also require an engine to fly.
Aerospace engine manufacturing is a high-tech manufacturing activity with no margin for errors. There are only a companies in the world that can do this:
Russia also produces engines for military aircraft, but the producer is not publicly listed. China isn't able [yet] to produce advanced aircraft engines on its own.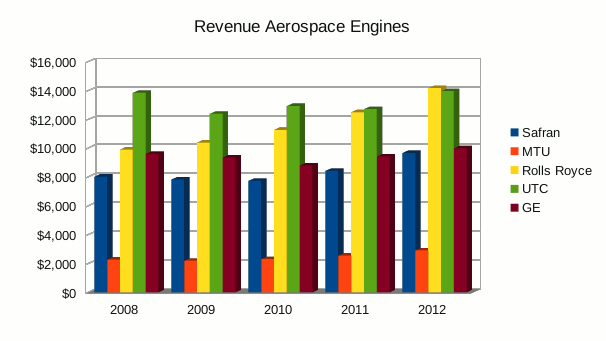 (Source: Confero)
Real revenue generated by engine manufacturing can be larger than reported by the specific engine divisions. For example the Rolls-Royce Trent 1000 engine that can power the Boeing 787 Dreamliner contains parts produced by the Aerospace Systems division of United Technologies.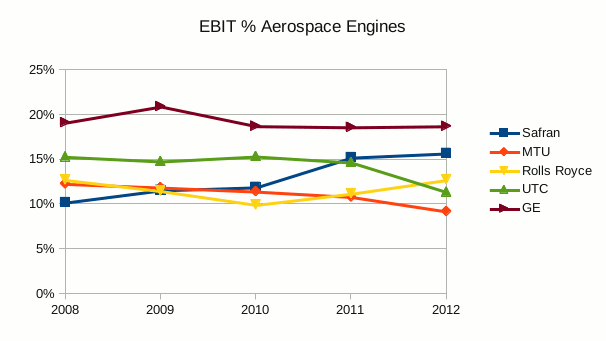 (Source: Confero)
Engine manufacturers develop engines together because of the costs and risks involved.
General Electric cooperates with Safran since the early 1970's in producing the CFM56 engine, which is one of the most successful aircraft engines in use.
United Technologies Corporation [Pratt & Whitney], MTU Aero Engines and the Japanese Aero Engine Corporation work together in Internation Aero Engines to produce the V2500 engine, which powers many Airbus airliners. Rolls-Royce was an original member, but sold its participation in the V2500 to the other members in 2011.
The increased participation is the main cause for the slight drop in EBIT% for UTC and MTU. The V2500 however, is a cash cow which will generate steady revenue over the next decade(s).
United Technologies Corporation and MTU Aero Engines are jointly developing the Pratt & Whitney PW1000 Geared Turbofan, which is a new fuel efficient aircraft engine chosen for several smaller airliners such as the Bombardier CSeries and Airbus A320neo.
For most manufacturers aerospace engine manufacturing (and maintenance) is not their core activity. The chart below shows the percentage of revenue that aerospace engines are part of the total.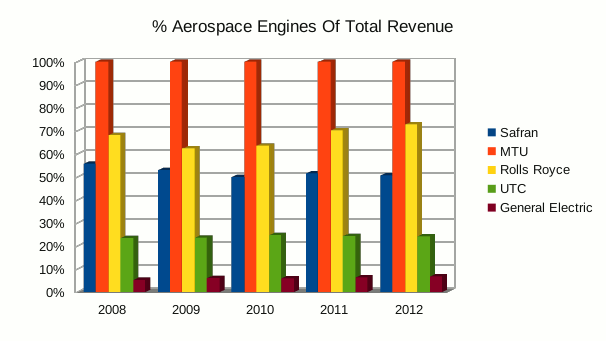 (Source: Confero)
Aircraft engines (manufacturing and production) are the core business of MTU Aero Engines and is only a small percentage for a giant such as General Electric.
INVESTING
Revenue and profit for aircraft engine manufacturing and maintenance is stable compared to other parts of the aerospace industry. In general the following applies:
European manufacturers are more dedicated to engine manufacturing (but are smaller and less profitable);
US manufacturers are more profitable (with regard to EBIT%), but constitute a smaller part of the total activities.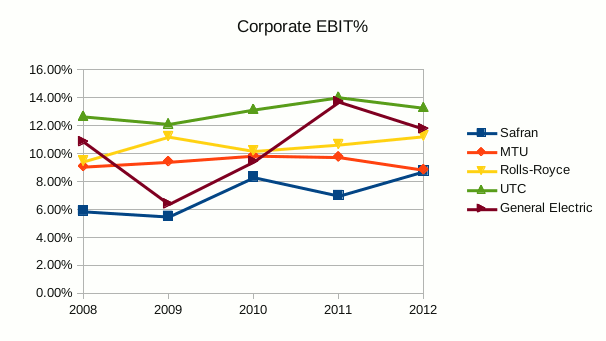 (Source: Confero)
The chart above is the EBIT% of all activities of individual companies producing aerospace engines.
Geographic location of the investor and profitability of the company are decisive in the investment choice.
Rolls-Royce is the most profitable in Europe and my favorite. Rolls-Royce specializes in power solutions (both aerospace and naval propulsion, but also energy) and has acquired a huge amount of expertise and knowledge. Rolls-Royce also is a well-known brand with a good reputation;
From the US both General Electric and UTC can be chosen. UTC is more specialized in aerospace in general;
MTU Aero Engines core business is 100% aviation engines. The dividend is a healthy 2%. Besides developing and manufacturing a large part of revenue is generated through MRO (maintenance, repair and overhaul). MRO has higher margins than producing new engines. A new joint venture in China is the largest MRO facility in China and will grow MTU Aero Engines.
Footnote
1. All financial data originates from annual reports or 10-K's published by the individual companies. All companies (with the exception of General Electric) are reviewed in more detail in earlier articles.
Disclosure: I have no positions in any stocks mentioned, and no plans to initiate any positions within the next 72 hours. I wrote this article myself, and it expresses my own opinions. I am not receiving compensation for it (other than from Seeking Alpha). I have no business relationship with any company whose stock is mentioned in this article.