The real drivers of sales in the smartphone and tablet business are brand, innovation, customer loyalty, and buyer satisfaction. Those are the crucial values that build up or wipe out the most significant companies while fierce competition becomes a key factor to take into account.
Apple (NASDAQ:AAPL) with a history of leading innovation is naturally handling this reality. But as a large company with a lack of recent innovative products, it may have a lot to lose, and serious obstacles to growth.
In a rapidly changing marketplace, margins are getting increasingly tight and global competition is gradually becoming more challenging than ever.
Google is preparing to sell off Motorola to China-based Lenovo (OTCPK:LNVGY) which is a dangerous operation for Apple. On one hand, this deal means that Google can go back to assist in leading Android-wide innovation to compete with Apple's iOS. On the other hand, Lenovo will be a global serious competitor (now also in the United States) especially at the low end.
As I see it, if a sudden change doesn't occur, Apple may be headed slowly towards losing ground and facing real problems. The company's dependence on iPhone sales (around 56% of revenue) is certainly to be avoided with the launch of new products. The weak guidance issued by Apple for Q2 2014 (with revenue between $42 billion and $44 billion) is also not a positive sign.
I believe that Apple will strive to increase sales, though it will be progressively difficult over the years as revenue growth has already fallen to single digits. Likewise, operating margins will tend to gradually be reduced. Thus, the company must be aware that hard times can arise unexpectedly, and last for a long time.
For these reasons and other aspects that I will mention below, I don't agree with extending the current $60B share repurchase program with an additional $50B.
But before that, it's essential to take a brief look at Apple's share price in the last three years.
Apple's chart shows an uptrend that has been in place since January 2009, and has been always supported by the EMA(50).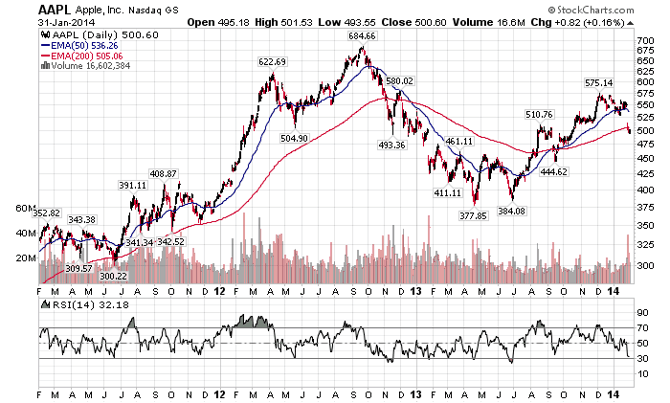 Chart courtesy of StockCharts.com
A top was reached in September 2012 at $685. After that, Apple shares started to drop strongly and continuously, and made a double bottom at the $380 region in the middle of 2013. Since then, prices have been rising, but with some periods of volatility. Finally, following the First Quarter earnings report, the price has plummeted and is trying to find some support close to the EMA(200).
As the $60B buyback program is ongoing, Carl Icahn decided to start a long position on Apple before last August. Thus, it is correct to think that the share price would be much lower if all this extraordinary demand had not occurred.
In fact, after market sentiment turned unquestionably against Apple in late 2012, Icahn's involvement in the company played a decisive role in the psychological side. In addition, his public endorsement for a wider buyback was followed with the increase of his shareholding position in the company to nearly 1%. This is highly relevant and I'll give my opinion on this subject.
A buyback program is a current practice by which a company buys back its own shares from the marketplace, reducing the number of outstanding shares. A share repurchase is usually an indication that the company's management thinks the shares are undervalued. With a lower share count, earnings per share increase.
However, if coming quarters show the current trend of consistent growth reduction, and a decrease in its operating margin, any buyback program will have no effect. Mathematically, it is undisputed that after the completion of a buyback each share will be entitled to a larger portion of the profits. But if the stock price does not go up or even come down, the buyback will be money thrown away.
Sure the opposite may happen: shares may go up on a buyback operation. But, in my opinion, shares like Apple with a large float will only go up consistently due to market reasons. The law of supply and demand will drive the price evolution, and nothing else.
Yet, another scenario could occur. Shares may rise without consistency through a buyback effect which would be short lived. It would represent a short-term play without any interest to Apple.
Apple share price will not rise because the company thinks the stock is undervalued. No. Even with a buyback program shares will fall if the company is no longer a growth play and starts to have problems with operating margin and market share.
To give me reason on this issue, there is the current buyback operation that has failed to show the desired results. In my view, even with a milder operation like the one that is ongoing, it is necessary to be very prudent. In fact, a company could, exceptionally, buy its own shares when the price is unusually low. Again, this is not the case of Apple.
Typically, retained earnings should be used to develop business and seek to purchase other operations that could help to reduce or avoid huge risks in the future. In addition, shareholders could have a higher return through dividends according to the company's success. In my opinion, what is wrong is the fact that Apple does not properly invest its own money. Spending it on questionable buybacks is not a solution while market problems and competitiveness can become extremely serious at any moment.
Conclusion
Buybacks do not create new revenue streams, and don't drive earnings. Furthermore, they don't return money to shareholders as P/E ratio may fall in the same proportion. It's an illusion.
Investors are used to seeing Apple like a case study on the generation of cash flow. And it is. However, Apple shouldn't be viewed as an idle piggy bank because although it may be fascinating it's certainly not wise or rational.
The projections show that if Apple continues this way it will surely have problems in the future. Without any outstanding new products, Apple will have significant difficulties with competition, and sales and margins will suffer deeply. I believe that Apple will be able to modify its attitude, and still may get back to the times when it created leading and innovative new products. If it doesn't happen, this severe market will bring a lot of dangerous situations to the company, and its share price may be hit hard.
Disclosure: I have no positions in any stocks mentioned, and no plans to initiate any positions within the next 72 hours. I wrote this article myself, and it expresses my own opinions. I am not receiving compensation for it (other than from Seeking Alpha). I have no business relationship with any company whose stock is mentioned in this article.
Disclaimer: The author of this article gives only his personal view and opinion, never making any investment advice to buy or sell specific securities. The information presented is from sources believed to be reliable, but its accuracy cannot be guaranteed. Before investing in financial assets, investors should do their own research, and consult a professional investment adviser.