It's been about two weeks now since Netflix (NASDAQ:NFLX) reported its fourth quarter results. While the company beat estimates handily and guidance was good, I stated that a better company didn't equal a better stock. I suggested shorting Netflix above $400, but recommended investors might want to wait until $425. There's been a lot of new information on Netflix recently with some numbers definitely worth discussing. Today, I'll explain why Netflix shares are pushing closer to the edge.
More debt now here:
In the Q4 investor letter, Netflix disclosed that the company would be looking to issue $400 million in new long-term debt during Q1. Well, the company recently got it. Netflix has priced $400 million in senior notes, due 2024, with an interest rate of 5.75%. In the table below, I've compiled the key statistics of this debt raise against the one from 2013. I also provided the 5 and 10 year US treasury rates around the time of each note's pricing.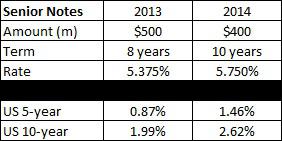 There are a few key takeaways here. First, Netflix took out 20% less money, but for 2 more years. Since rates have risen a bit since early 2013, Netflix had to pay a higher annual interest rate, 37.5 basis points more. The 2013 debt incurs annual expenses of $26.875 million, while the 2014 notes will incur $23 million in expenses. Hopefully, analysts have started to build these extra interest expenses into their models, because Netflix's net income for Q4 was just $48 million. $20 million or so in added interest for 2014 will take a chunk of Netflix's profits for the year.
At the end of Q4, Netflix had $1.2 billion in cash and equivalents against $500 million worth of debt. About $56 million of the company's cash position was located outside the US, and would face repatriation taxes if Netflix brought the money home.
Everyone's favorite content liabilities:
At every Netflix report, a question is always asked about content liabilities. These liabilities are growing fast as Netflix secures content deals, and the Netflix bear camp worries Netflix won't be able to pay for them. Now that the 10-K is out, we can look at the details. First, here is Netflix's contractual obligations from the 2012 10-K.

Now here is what the same table looks like in the 2013 10-K. Remember, the chart below will not include the $400 million in debt Netflix just took out.

Streaming content liabilities rose from $5.63 billion at the end of 2012 to $7.25 billion at the end of 2013. There is an important point that must be made here that many miss, or choose to ignore. This is not the amount of off-balance sheet liabilities. Just looking at the balance sheet shows more than $3.1 billion in content liabilities. Netflix said in the most recent 10-K that $4.2 billion in content liabilities were off-balance sheet, and that number is rounded. For those interested in examining the accounting behind all of this, please see the FAQ page on Netflix's IR site.
Rest of 2014 in doubt?
Netflix already stated that Q2 net domestic subscriber additions will be "typically less than the prior year". Since "Arrested Development" provided a boost to last year's Q2, Netflix is basically saying that Q2 2014 domestic sub adds will be low. Netflix added just 0.63 million domestic subs in Q2 last year, so you probably should expect under 0.5 million when Netflix guides for Q2. Additionally, Netflix has stated that a major European expansion will occur later this year.
For those reasons, along with the extra interest expenses, I worry about current analyst estimates. Analysts are looking for about $1.80 in first half 2014 earnings, and about $2.25 in the second half. I don't see how Netflix will continue to improve earnings that much with such a major expansion. I still think Netflix will end up with somewhere between $3.50 and $3.75 in EPS this year, but I think estimates have to come down, and that may provide a shock if guidance is light. Remember, with a stock now over $400, Netflix needs to be perfect every single quarter.
One last point about analysts. The median price target right now is $375, about $30 below where Netflix shares trade. A number of analysts hiked their targets after the latest report, but if Netflix shares creep closer to $425, I think we might see some downgrades on valuation. The analysts that had price targets in the low $400s may need to go from Buy to Neutral/Hold, and the ones that have mid to high $300s targets may need to go to Underperform/Sell if they believe shares are too rich.
A cold and stormy winter:
For many areas of the US, it's been extremely cold this winter and there has been well above average precipitation. It seems like every couple of days a new winter storm hits some part of the country. In several states, schools have been closed for multiple days, and I'm sure a ton of people have also missed work at times.
When people are stuck inside, watching Netflix seems like a good thing to do. This might provide some additional customers for Netflix in the first quarter of 2014. My greater question here is what does it do to Netflix DVD subscribers. If DVD subs can't get their DVDs or are slow to return them, it is logical to ask how many DVD subs will cancel or switch to streaming.
This is a key question because the DVD segment is the most profitable one for Netflix, in terms of contribution margin per subscriber. In Q4 2013, Netflix reported nearly $16 in contribution profits per DVD subscriber. Domestic streaming subs brought in just over $5 each in contribution profits. DVD subs are three times as profitable. DVD contribution profits will take a hit in Q1 thanks to the postage raise. However, if too many subs cancel or switch to streaming, it will have a sizable impact on Netflix's profitability. I stated in my Q4 wrap-up that DVD has been holding up better than expected. If a cold winter changes that, we might have to re-evaluate how this segment affects Netflix going forward. Netflix was under 7 million DVD subs at the end of 2013, down about 50% from Q3 2011 when Netflix broke out its reporting segments.
Competition - is it a killer?
There always are those that believe Netflix is one move away from being destroyed. I'll get to that in a bit. First, let me start with Netflix's main rival, Amazon (NASDAQ:AMZN). While we don't know exactly how many subscribers have Amazon Prime, Amazon has started to market Prime Instant Video. Additionally, as I mentioned in my Amazon earnings report, Amazon may be about to increase the price of Prime by $20 to $40 (it's currently $79 a year). A raise in the price of Prime could be a good and a bad thing for Netflix. The good news is that Prime subscriber growth will slow, especially if the price of Prime is hiked by more than 50%. However, more revenues coming in gives Amazon more money to spend on content. Prime Instant Video had more than 40,000 titles at the end of 2013, up from just about 5,000 at the start of the service in early 2011.
So let me get back to a potential Netflix killer, and I'm talking about Apple (NASDAQ:AAPL). Many believe that if Apple entered this space in a serious way, Netflix would be done for. Apple certainly has the capital to make a move, with more than $34 billion in cash inside the US alone. Netflix only has a market cap of $24 billion! Apple has another $120 billion plus parked overseas. So how does Apple play into this? Well, in my latest Apple article, I discussed how Apple is spending heavily now on research and development. Everyone has been looking for Apple to launch a TV for some time now. Should Apple launch a TV, it might seem logical to enter the streaming space as an add-on service for the TV. Apple has deep enough pockets to make this happen. For those worrying about Apple's sluggish revenue growth, this would certainly be a way to boost revenues, although it would be slow to start.
The key question is in terms of margins. Netflix's gross (not contribution) margins for domestic streaming were about 33.5% in Q4 2013. That number was up almost 500 basis points year over year. However, it's still a few hundred basis points under Apple's corporate average. For those worried about margins, a streaming segment would certainly lower Apple's margins. This is especially true at the beginning, where Apple would probably lose some money. Right now, this would seem like a panic move for Apple, but maybe with a TV down the road and Apple looking for revenues, it might be feasible. Were Apple to enter the space, I think Netflix shares would probably drop 10% overnight, just on emotion, and that might be a conservative estimate.
Short interest continues lower:
One of the reasons Netflix shares skyrocketed higher in the past year plus was that short interest was very high. More than 17 million shares were short at the peak, nearly 30% of Netflix's total share count. As results improved, shorts began to flee, as you can see in the chart below.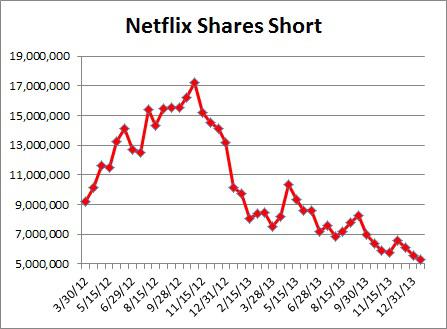 At the latest short interest update from mid January, less than 5.3 million shares were short Netflix. More than 12 million shares have been covered since the peak. I've been tracking this data for nearly two years, and this is the lowest short interest value that I have seen. One must wonder if shorts will start to come back, especially as shares have risen above $400. There is more potential for this short count to soar than plummet currently.
Final thoughts:
Netflix took out $400 million in debt as expected, to help fund some of those billions in rising content liabilities. With a major European expansion later this year plus added interest expenses, I think analyst estimates right now may be too high. With Netflix stock priced for perfection, a guidance miss may send this stock sharply lower, and short interest could spike again. Amazon's decision to raise the price of Prime may have mixed effects on Netflix, but would allow Amazon to add more content. A larger impact would be felt if a larger name like Apple were to enter the space. As you can see from the chart below, Netflix shares have rocketed higher again. They are getting to the point where a short position may be warranted.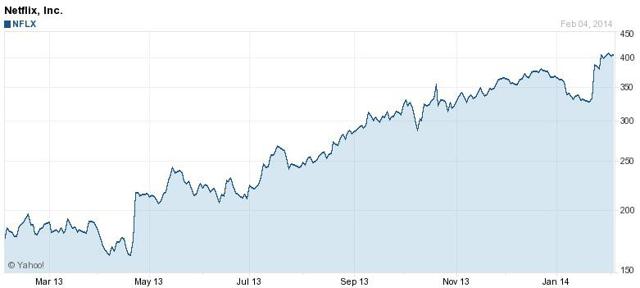 (Source: Yahoo! Finance)
Disclosure: I have no positions in any stocks mentioned, and no plans to initiate any positions within the next 72 hours. I wrote this article myself, and it expresses my own opinions. I am not receiving compensation for it (other than from Seeking Alpha). I have no business relationship with any company whose stock is mentioned in this article.
Additional disclosure: Investors are always reminded that before making any investment, you should do your own proper due diligence on any name directly or indirectly mentioned in this article. Investors should also consider seeking advice from a broker or financial adviser before making any investment decisions. Any material in this article should be considered general information, and not relied on as a formal investment recommendation.