[The excerpt below is from the AMM Dividend Letter released January 31, 2014.]
Dividend History
At first blush Apple (NASDAQ:AAPL) may appear an unusual choice for a strategy focused on dividend growth; however Apple is a great example of the "New Dividend Payer" concept discussed earlier. The company initiated a $2.65 quarterly dividend in 2012, in part due to pressure from shareholders who argued that the company should return a portion of their fast-growing cash hoard to shareholders. Last year Apple increased the quarterly payout by 15% to 3.02 per share. This represents a current yield of approximately 2.4% at current price levels. The payout ratio stands at 30%. Given the firm's leading position, rock-solid balance sheet, and an ever-growing activist shareholder base, we expect the dividend hikes to continue.

Chart from S&P Capital IQ.
Catalysts for Dividend Growth and Price Appreciation
Aspiration Brand:
"But the bottom Line is that there are people who can afford iPhones and iPads, and people who can't" - John Gruber of Daring Fireball
A lot of digital ink has been spilled lately about how Apple needs to introduce a cheaper iPhone or face market share loss to Android-based smart phones. Competing for market share with cheaper phones is a surefire way to destroy margins and free cash flow.
Apple is a luxury brand. Apple builds its smart phones and other hardware at relatively the same cost as its competitors, however because of its brand recognition and the quality it infers, Apple can charge a higher price. Think Rolexes not Timexes.
Apple is hyper focused on elegant designs and operating systems that are known for simplicity, intuitiveness, and reliability. Focusing on quality products for their customers is what drives Apple. Not market share. A market will build around highly-desirable high-quality products. As a luxury brand, Apple can charge more for its products, maintain higher operating margins, and generate excess cash per sale.
China
Over 80% of cell phones in China are still connecting to a 2G network. China is still in the early stages of growth for its 3G and 4G networks. It wasn't until faster and more robust wireless networks like 3G came along in the U.S. that smartphone use took off. We have a similar situation developing in China.
Smart phones sales in China have reached an all-time high. About 9 of every 10 handsets sold in China is a smartphone and the Chinese consumer tends to buy a new phone every 15 months.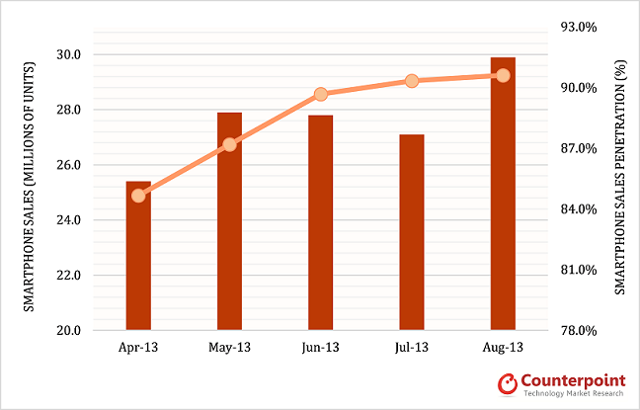 Chart courtesy of Counterpoint Technology Market Research.
While it was expected to happen, it was crucial that Apple gain a larger exposure to China. China Mobile (NYSE:CHL), the largest Chinese wireless network operator, started carrying the iPhone this year because they were losing subscribers to competitors who did. Apple now has access to China Mobile's 760+ million customers.
China has the largest growing group of people that can afford iPhones and iPads.
iTunes
In June 2013 Apple reached 575 million iTunes accounts. According to Horace Dediu of Asymco, that averages out to 500,000 new iTunes accounts per day. With year-over-year revenue growth of 38% and 25% for 2012 and 2013 respectively, iTunes is growing into another major source of revenue for Apple. With over $16 billion in sales in fiscal year 2013, iTunes accounts for 9.4% of total sales.
Per iTunes account, Apple generates more revenue per user than even Amazon (NASDAQ:AMZN).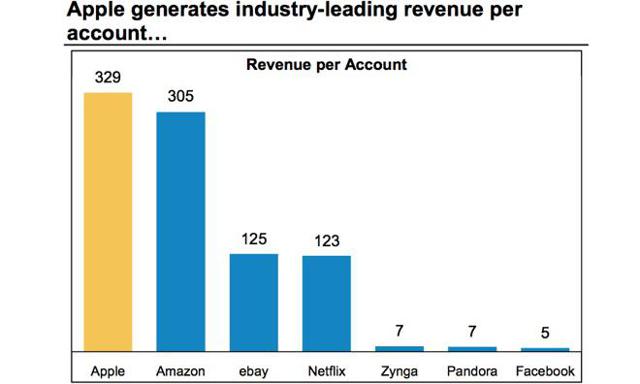 Chart courtesy of Morgan Stanley Research.
And not surprising, Apple produces more free cash flow per account than each company mentioned in the graph above.
There is a lot of leverage in iTunes. The more Apple devices in consumers' hands the more iTunes accounts. This leads to more purchases of apps, music, movies, books, software, and a lot more revenue and cash flow for Apple. Content purchases, like music and movies, also keeps people tied to Apple's ecosystem.
Looking to the future, every iTunes account is linked to a credit card or debit card and it's easy to see how Apple could lead the way in digital wallets.
Cash Flow
For the trailing twelve months Apple has generated about $40 billion in normalized free cash flow. Without factoring in any growth or margin expansion/contraction in 12 years, Apple could buy back all of its shares outstanding just using existing free cash flow. This is a very basic example and doesn't account for items like repatriation taxes on the large amount of cash that is being generated overseas. Nevertheless, it shows that Apple is a cash-flow machine. Apple's cash-flow yield, essentially what would be your cash return if investing today, is over 8%.
Return of Capital
Amidst the push by activist investors like David Einhorn of Greenlight Capital and Carl Icahn, Apple has initiated a $100 billion plan to return more capital to shareholders. $60 billion has been earmarked for share buybacks. As of Apple's most recent 10-K, $23 billion has been used, leaving $37 billion left to buy more shares. At Apple's current share price over 8% of their shares outstanding could be bought back under the plan.
Of the remaining $40 billion of capital to return to shareholders, $10 billion was used to increase Apple's quarterly dividend to $3.05, providing another $30 billion of capital to be returned to shareholders on top of the $37 billion in share buybacks.
Conclusion
Apple exists at the crossroads of technology and industrial design, two categories that are highly dependent on the changing tastes of its customer base. Due to this inherent risk in their business model, we use a higher discount rate (12.5%) than we would typically use for a company of this size and financial strength when valuing Apple. We also built out our cash-flow model using a 25% operating margin (below Apple's trailing-twelve-month operating margin of 28%), estimated growth over the next five years at 6% vs. the average analyst estimate of 16%, and excluded share buybacks. Even with our modest assumptions we arrive at a fair value of $605 per share for Apple.
Disclosure: I am long AAPL. I wrote this article myself, and it expresses my own opinions. I am not receiving compensation for it. I have no business relationship with any company whose stock is mentioned in this article.