FY 2013 Earnings and Conference Call Review
Tuesday Gilead (NASDAQ:GILD) reported strong non-GAAP 4Q13 earnings of $0.55 versus consensus expectations of $0.50 and full year 2013 EPS of $2.04. Full year 2013 total revenues were $11.20 billion, up 15 percent compared to $9.70 billion for 2012, while 4Q13 revenues of $3.12 billion grew 21% over 4Q12. For both SG&A and R&D, Gilead reported for 4Q13 $471 million and $511 million, an increase of 42% and 25% respectively from Q4 2012. Moreover, Gilead reached an important corporate milestone this year returning to its pre-acquisition non-GAAP debt/EBITDA ratio of only 1.5x.
For 2014, Gilead expects 6-8% in EPS growth ex-Sovaldi, with Gross Margins of 75-77% and an effective tax rate of 28-29%. Noting that congress has not extended the research and development tax credit, if extended it would add at least 1% to margins. For full 2014 guidance please see the excerpt below from their presentation: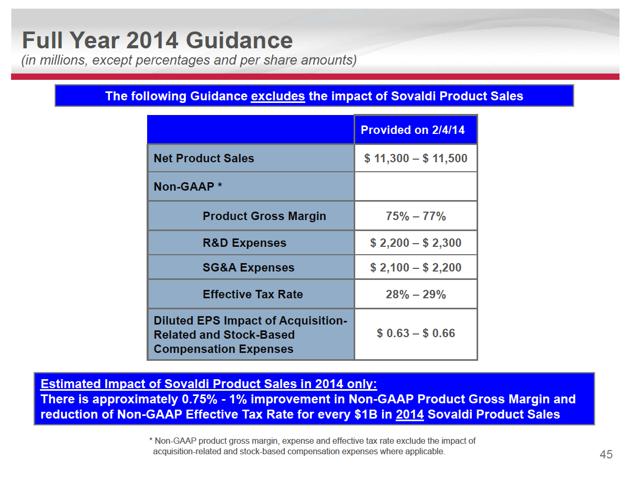 Prior to the earnings release I published some key topics that investors expected to be discussed during the conference call, this report will cover several of these topics of interest and provide an updated sales model for Sovaldi now that geographic pricing is available and guidance specified on how Sovaldi sales will impact margins.
Sovaldi has been launched in the U.S., Canada, Germany, U.K., and France and on the conference call management provided some important pricing information for these markets (see Table 1).
Table 1
Market

12-Week Sovaldi Price

Percentage Discount to U.S.

Comments

U.S.

$84,000

N/A

Germany

$66,000

-17%

N/A

U.K.

$57,000

-32 %

Gilead: "Best Price to

Benchmark EU pricing"

France

$76,000

-10%

Special Access Program
Additionally, they commented that the premium price for Sovaldi was comparable to the strong pricing it has received with HIV products in the EU and applies to the U.S. Thus far, management stated that the rapid Sovaldi uptake is consistent with their prelaunch research, and that the large drop in Peg-Interferon and protease inhibitor prescriptions was due to patient warehousing (Chart 1).
Chart 1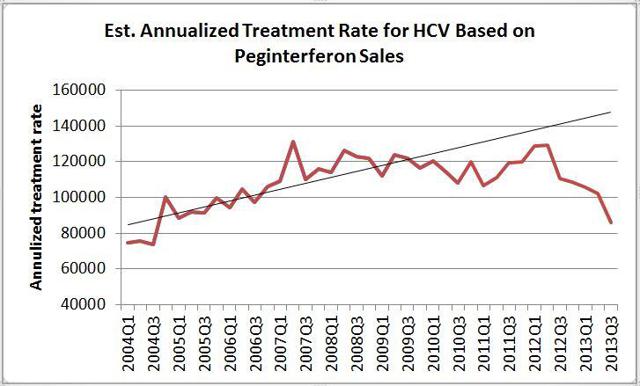 Gilead stated that 4Q13 sales for Sovaldi were $139.4 million primarily due to inventory stocking, and indicated that patient demand was around $50 million. $3 million came from France with 19 of 20 top hospitals in Paris, France having prescribed Sovaldi for F3-F4 cirrhotic patients. Surprising for many Abbvie (NYSE:ABBV) bulls, at least 70% of Sovaldi prescriptions were for GT1 patients and 17% and 12% for GT 2/3 patients, respectively. Thus far, treatment trends are representative of the HCV genotype distribution, which is encouraging as many of the Bears argue repeatedly that Sovaldi will not be readily used for many GT1 patients. Additionally, there was Bullish commentary dispelling the concern that patients would defer treatment until SOF/LDP fixed-dose combination is approved in 4Q14. Saying, "This is transformational medicine and physicians are energized by Sovaldi's approval."
Addressing analyst concerns about Sovaldi pricing and the prior authorization process with health plans, management said that it normally requires 3-6 months for full formulary listing. But stated that all HCV drugs require prior authorization to ensure that each medication is being prescribed in accordance with FDA approved labeling. Since Sovaldi's launch, Gilead clarified that the majority of prescriptions are being approved with private health plans, but have received reimbursement for various state Medicaid programs already, singling out New York, New Jersey, and the Department of Defense Tricare programs. Management was encouraged by the inclusion of Sovaldi in recommended guidelines with the AASLD.
Gilead expanded on this issue further by saying that the UK, Germany, and others are following suit and including Sovaldi into new treatment guidelines. This is indicative of wide adoption and reduces concerns that Sovaldi will have to overcome a lot of resistance with payers, and estimate that 30-50% of patients will use Gilead's copay assistance program.
When asked by an analyst during the Q&A, "how will this not impact gross margins?" They responded that they are marking their Sovaldi copay programs under "SG&A" and that this is responsible for over 50% of their increased SG&A guidance for 2014. Clarifying further, 2014 SG&A guidance includes worldwide Sovaldi launches and marketing, the full year ramp and launch of idealasib, as well as for a few emerging markets they are considering in 2014.
Speaking about competition from Abbvie and others, management believes that allowing the data to speak for itself delivers a compelling value proposition for physicians, payers, and patients. However, when competition eventually does emerge they have no intention on trying to compete on price. This leaves open a segment for Abbvie to try and underprice Sovaldi, although commentary from J.P. Morgan's (NYSE:JPM) Healthcare conference this year alluded that Abbvie does not intend on aggressively pricing their regimen below Sovaldi.
This is bullish for both Gilead and Abbvie in my humble opinion, and facilitates long-term strong pricing. Additional comments by Abbvie management supported these sentiments during the J.P. Morgan conference as well, commenting that Abbvie is entering the HCV market for the long-term and not looking to give away their drug.
R.W. Baird asked: "Would you favor Abbvie taking share with lower prices? Or is it a moot point?" Responding, "Gilead or any other pharmaceutical company doesn't really think this way, we present the profile of Sovaldi, and all the data, and ultimately the physician and payer make the choice, we believe Sovaldi and our SOF/LDP profile is very strong, and will give it a preeminent position with physicians and payers. Without RBV we have an extremely strong profile in GT1."
A major confounding variable for analysts' estimates going forward has to do with the fact that Sovaldi's intellectual property is domiciled in Ireland. Though Gilead offered no Sovaldi specific guidance, they did provide guidance that for every $1 billion in Sovaldi sales would increase Gross Margin by 0.75-1% and reduce their effective tax rate by 0.75-1%.
Robin L. Washington Senior Vice-President and Chief Financial Officer indicated that the more Striblid, Complera, and Sovaldi sales contributed to total revenues, the more it would positively impact Gross Margins. Collectively, these products represented $539M, $819M, and $135M respectively in 2013. For 2014, assuming only 20% growth for Striblid and Complera results in $750M, $979M, and $4B translates into net tax-efficient sales of $5.6B, which would equate to a at least a 5% increase in Gross Margins and 3.5-5% reduction in Gilead's corporate tax rate. Consequently, I anticipate that gross margins will improve by at least 4% to 79-81% with an effective tax rate of 25-27%.
Gilead acknowledged that they have a lot of work to do with patient education and targeting the Gastroenterology, which apparently have not been warehousing patients, demonstrating a lack of awareness about Sovaldi. Gilead intends to tackle this issue with aggressive marketing and education initiatives aimed at both gastroenterologists and patients. Gilead's marketing efforts will first prioritize educational campaigns addressing the 1.7 million patients currently diagnosed, then will focus on the 4 million undiagnosed HCV population. Qualifying their HCV prevalence estimates in the U.S., Gilead noted that they do include the VA population, but the sampling is much smaller than with their HIV market research, and it will take a few years to get more accuracy in HCV. But currently, these estimates are the best data sets Gilead has and believes they are accurately representative of the U.S. today.
Gilead's capital allocation activities in 2013 were share repurchases of 9,578,550 shares at an average price of $60.78. However, over $400 million of share repurchases, or 68% occurred during 4Q13 at an average price of $68.61. When asked about 2014 capital allocation plans, Ms. Washington expected "business as usual." Signaling their current plan is only intended to prevent shareholder dilution.
Additional highlights from the conference call presentation below:
Gilead intends to continue to shorten the HCV treatment regimen down to only 8 weeks based on early data with Sovaldi and Ledipasvir.
GS-5816 with Sovaldi will shorten treatment even further to only 6 weeks. Delivering a pan-genotypic regimen with one pill for only 6-8 weeks and cure rates of 95%
Received European Commission approval for Striblid, Tybost (cobicistat) and Vitekta (elvitegravir).
Broader label for Complera/Eviplera approved in the U.S. and Europe.
Submitted NDA for idelalisib in iNHL (PDUFA date September 11, 2014).
Received Breakthrough Therapy designation and priority review submitted MAA in Europe on October 28, 2013.
Submitted NDA for idelalisib in CLL on December 6, 2013 (PDUFA date August 6, 2014).
Following recommendation by independent Data Monitoring Committee, Phase 3 Study 116 stopped early due to positive risk-benefit.
Received Breakthrough Therapy designation and priority review.
Submitted MAA in Europe on October 28, 2013.
9 of 10 HIV patients are taking Gilead products.
Key Updates on HCV Developments:
Completed Phase 3 studies with LDV/SOF in GT 1 patients.
Anticipated filing for approval in the U.S. and Europe during 1Q14 for SOF/LDP in treatment-naïve and treatment-experienced GT 1 patients 8 or 12 weeks of therapy without RBV.
SOF/LDP was assigned breakthrough therapy statues based on Phase III ION data and could shorten approval by 2 months.
On January 17, 2014, received positive CHMP opinion and subsequently European Commission approval for Sovaldi, and shipped product on January 20, 2014.
Filed for approval in Turkey, Switzerland, Australia and New Zealand.
Agreement with the Japanese Regulatory Agency PMDA:
SOF Phase 3 in GT 2 (SOF + RBV dosed for 12-weeks) HCV infected patients.
Fully enrolled September 2013
Anticipated regulatory submission by mid-2014
New Sources of Upside Pressure to Expectations:
Launch of Sovaldi in 3Q14 in Japan, Switzerland, Turkey, and others.
This should help partially offset any "warehousing" for Gilead's SOF/LDP combination approval in the U.S.
Any surprisingly strong data from the Simtuzumab or HBV programs, would mark a momentous catalyst for Gilead.
Gilead Returned to pre-acquisition non-GAAP debt/EBITDA ratio of only 1.5x enabling large scale business development activities.
Received European Commission approval for Striblid, Tybost (cobicistat) and Vitekta (elvitegravir).
Broader label for Complera/Eviplera approved in the U.S. and Europe.
Submitted NDA for idelalisib in iNHL (PDUFA date September 11, 2014).
Received Breakthrough Therapy designation and priority review submitted MAA in Europe on October 28, 2013.
Submitted NDA for idelalisib in CLL on December 6, 2013 (PDUFA date August 6, 2014).
Updated Gilead Model
Based on emerging clarity on Gilead's HCV franchise with pricing and other dynamics with reimbursement my model changes led to an increase in 2014 EPS to $4.88 and $4.937 billion in Sovaldi sales, and total product sales of $16.24 billion. See the following pages for the detailed model for Gilead's 2014 sales and earnings potential taking into account all of the key line items previously covered in this report. Specifically, this model was updated in light of the fact that Gilead provided substantial clarity with regard to Sovaldi pricing ex-U.S., which obviously is a significant variable in any model.
Still, taking into account all of the evidence, this model remains conservative, irrespective of the fact that it led to a dramatic increase in Sovaldi sales estimates by 70% to $4.936 billion from $2.839 billion for 2014. There could be many forces applying upward pressure to these new estimates, as it ignores all GT3 patients ex-U.S. and assumes only a total of 4,400 patients (400 liver transplant) are treated outside the United States in 2014. Also, noteworthy assumptions are the fact that despite management's guidance on pricing, copay assistance programs, and reimbursement, this model still assumes discounts of 10% across markets. Moreover, supporting these estimates further is the upcoming Sovaldi approval in Japan in 2H14, and the FDA approval of idealasib in iNHL and CLL.
Patient Treatment Model (Updated)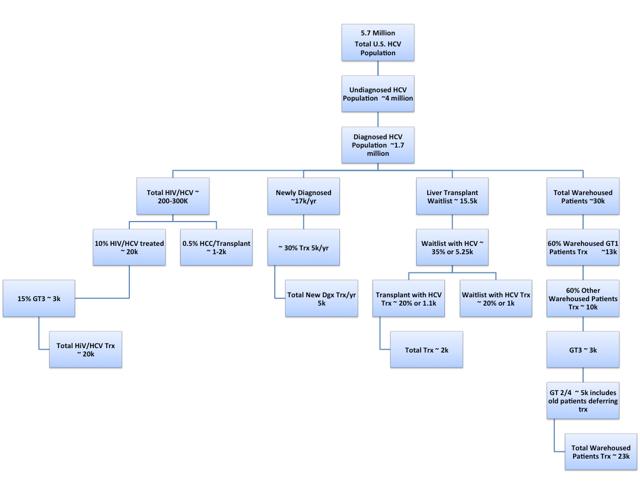 Sovaldi Sales Model (Updated)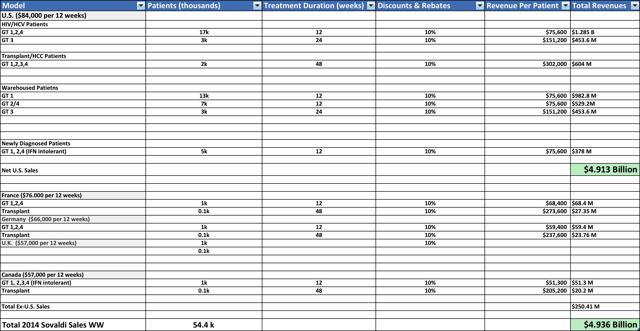 Consolidated 2014 Earnings Model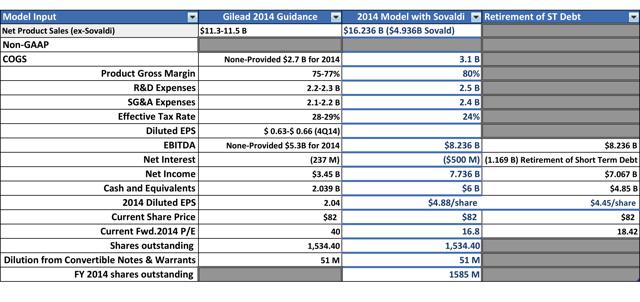 Gilead Event Calendar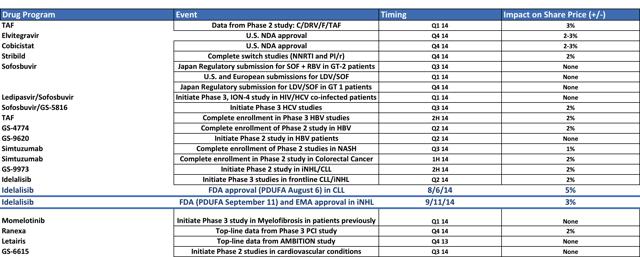 Disclosure: I am long GILD, ABBV. I wrote this article myself, and it expresses my own opinions. I am not receiving compensation for it (other than from Seeking Alpha). I have no business relationship with any company whose stock is mentioned in this article.