It does not seem that the correction is over with at this time. Yesterday's move higher was but a drop in the bucket when compared to the prior losses and certainly not possessing the strength to make us think that the latest trend downward has been broken. Our attention for the rest of the week is on the momentum names within social media as we have a good deal of information over the next two days that will be delivered to investors from those companies. Further analysis will begin flowing out of various research desks providing more insight into the reported results, but the main focus of many professionals in regards to these quarterly reports will be on how well the companies are monetizing their mobile business and ramping up their revenue generation.
Chart of the Day:
With employment being a major focus this week, pay attention to the numbers today and the claims data due out tomorrow. It appears that the claims data is going to be choppy moving forward, but the jobs numbers for the next two months is going to be important as the market needs to see that the latest disappointing results, along with the other disappointing data, was just a hiccup and nothing more.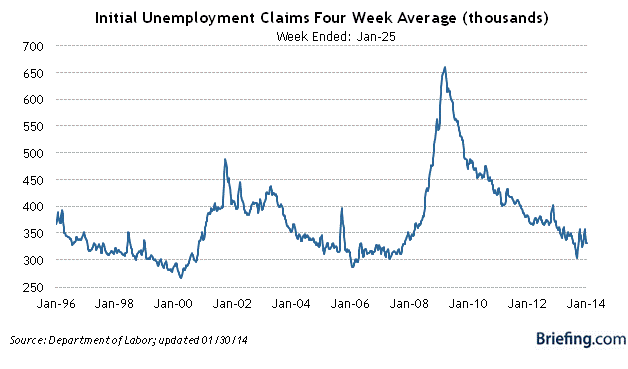 Source: Briefing
We have economic news today and it is as follows:
MBA Mortgage Index (7:00 a.m. EST): Est: N/A Act: 0.4%
ADP Employment Change (8:15 a.m. EST): Est: 178k Act: 175k
ISM Services (10:00 a.m. EST): Est: 53.8
Crude Inventories (10:30 a.m. EST): Est: N/A
Asian markets finished mostly higher today:
All Ordinaries -- down 0.52%
Shanghai Composite -- CLOSED
Nikkei 225 -- up 1.23%
NZSE 50 -- up 0.11%
Seoul Composite -- up 0.24%
In Europe, markets are trading mostly higher this morning:
CAC 40 -- up 0.10%
DAX -- down 0.18%
FTSE 100 -- up 0.25%
OSE -- up 0.94%
Today's Earnings Announcements To Watch
The market has been giving investors a rough go of it lately, however we like to use periods of market turmoil as opportunities to reevaluate our personal portfolios as well as our opinions on various companies and sectors. When these periods of volatility arise during earnings season one can conduct an awful lot of research at one time and also better direct that energy for research to names which deserve that energy.
It is easy to start with 25-30 companies in one day and quickly weed out half of the companies based off of their results. Conference calls, press releases and other information quickly cuts down on the other names to leave one with a handful of potential trades.
This is why we are watching the next two days. Both Facebook and Google have already reported results that pleased investors, which has our focus on some of these web 2.0/social media companies that report after the close today and tomorrow.
Today we are watching Twitter (NYSE:TWTR), Yelp (NYSE:YELP) and The Walt Disney Co (NYSE:DIS). Twitter is reporting its first quarterly results as a public company and our thinking is that this will be one of the most widely watched releases of the season. The stock has already had a monster run since the IPO, so Twitter will need to report results to support that move as well as show investors that they are continuing to make progress in mobile. We have read a few articles and research reports essentially stating that if Twitter is not making progress in mobile that they are simply falling further behind rival Facebook, and with Facebook's move to create more standalone apps this could spell trouble for Twitter long-term.
Twitter has been riding Facebook's coattails recently, if they do not show strong mobile ad growth and continued growth of their user base then we could see the party end.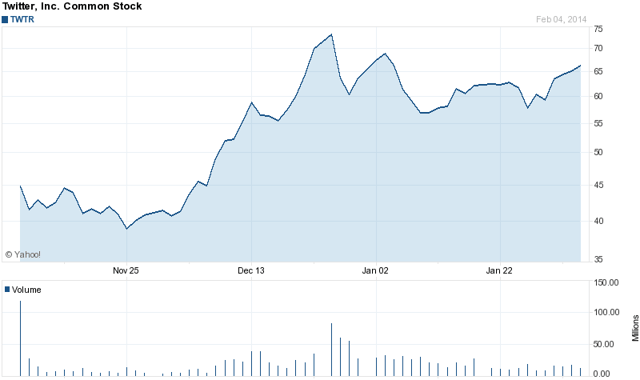 Source: Yahoo Finance
Mobile is becoming the key to the web, and simply having a mobile app is no longer enough. Having an app which is intriguing to consumers in its mobile form and most importantly useful is important and this is something that Yelp does very well. Sure one can look up review for restaurants and activities on their desktop when planning a night, but one can use the mobile version while out on the town with friends and quickly find places which are close and appealing to the entire group. Most importantly you can get reviews to differentiate the options. Whereas Twitter is trying to crack the code to mobile advertising across its platforms, Yelp seems to have found a way to monetize its content by enticing the companies which are being reviewed by consumers to take out ads on its sites (but because it is localized, it is expensive to acquire advertisers). As it pertains to Yelp we are watching the ad revenues and how well the company is penetrating the local ad market, rollout to new areas (along with the integration of its recent international acquisition) and anything that the company has to say regarding future growth plans.
Also for Wednesday we are watching Disney, which may seem a bit out of place in this article but is most definitely not. The vast majority of what Disney reports after the close today will have little if anything to do with the web and apps, but we are instead focusing on the news that the company will be cutting jobs at its Playdom division. For those who do not know, Playdom makes games/apps much like Zynga and is one of Disney's more recent purchases. Our readers know that we have been quite skeptical of the gaming app business as the barriers to entry are much lower than the gaming console video game makers. Our view is that this is going to be a very segmented business moving forward and that companies will find it very difficult to add scale in this sector. Disney might confirm our thinking here with what they have to say about the Playdom division and could affect other names that are already publicly traded as well as those looking to stage IPOs in the near future.
Thursday's Earnings To Watch
This quarter will be key for LinkedIn as the shares have been stuck in a downtrend as of late and could see shares move into the sub-$200/share area on any disappointment.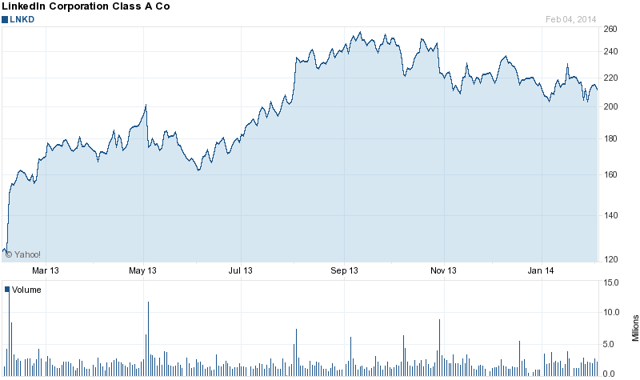 Source: Yahoo Finance
Thursday has both LinkedIn (LNKD) and OpenTable (NASDAQ:OPEN) set to report with investors far more interested in LinkedIn's results than those of OpenTable. With a job market which appears to be making some progress and some areas of the country seeing their local job market strong enough to provide leverage to workers to seek other employment, we think that the company might be able to give a strong outlook. As people look for employment actively, recruiters add staff to help recruit those individuals and every one of these professional recruiters or staffers has a premium LinkedIn account (so we are told by our friends in the business). Look for increasing membership, both on the free and pay sides, as well as the company's hiring and costs. If they are continuing to spend there may be significant future growth ahead and new added features to the site. We would also watch the continued development of the site's user generated and submitted content as that drives further use of the site and might be the company's best avenue of future revenue growth via ads or subscription service.
With OpenTable we are looking to simply match trends with what Yelp says during their conference call and earnings report from the day before. The two companies are not direct competitors, but do have businesses which are complementary. Like Disney, we are using OpenTable for insight into other names and underlying trends.
Disclosure: I have no positions in any stocks mentioned, and no plans to initiate any positions within the next 72 hours. I wrote this article myself, and it expresses my own opinions. I am not receiving compensation for it (other than from Seeking Alpha). I have no business relationship with any company whose stock is mentioned in this article.