By Keith Schoonmaker
All logistics firms stand to benefit from the present recovery in U.S. industrial production and global exchange. The recession punished these firms, resulting in revenue dropping 16%-27% last year. Since the fourth quarter of 2009, we've seen encouraging recovery in demand for all modes of shipping. We think logistics firms are well-positioned to capitalize on the resurgence in trade, given their attractive asset-light (or even non-asset) models that produce the most attractive returns on invested capital within the transportation universe.
In addition to our optimism concerning demand, many of the highest-quality logistics companies bear no debt, and hold record levels of cash. Thus we have little concern about liquidity of these firms. However, the attractiveness of logistics companies has not gone unnoticed by the market, so lot of their appeal is already baked in to their stock prices. In fact, several names in this sector normally trade at multiples sufficiently high to give pause even to growth stock lovers. These include C.H. Robinson (NASDAQ:CHRW) and Expeditors International of Washington (NASDAQ:EXPD), which hover in the mid- to high-30x P/E range. Here, we share some evidence for demand recovery, and briefly comment on our take on a pair of firms in each of three sub-sectors (freight forwarding, truck brokerage, and intermodal marketing) within the logistics industry.
Logistics providers benefit from globalization, and from the secular increase of outsourcing shipping functions. Shippers outsource traffic management to third party logistics providers (3PLs) to reduce transportation costs, decrease fixed assets, reduce inventory expenses, improve shipping accuracy, and, in general, eliminate distraction from performing their core competencies. We project 3PLs companies will grow revenue based not only on our expectation that a greater volume of goods will be shipped by expanding global production, but also due to our belief that 3PLs will gain a greater share of their customers' transportation wallets. Shippers surveyed in the 2009 Georgia Tech State of Logistics Outsourcing report project their expenditures on outsourcing as a portion of total logistics expense will increase around 8 percentage points by 2012-14 (growing from 47%-66% to 54%-74%, depending on geographic region).
The Freight Recovery is Underway.
The broad-based Cass Freight Index (compiled by Cass Information Systems--a freight billing processor--and representing 1,200 divisions of firms across the SIC classification spectrum) reveals shipments and shipping spend are on an upward trajectory. Shipments and expenditures passed through their nadirs in April 2009 and January 2009, but only crept slowly upward from trough values. (Click to enlarge)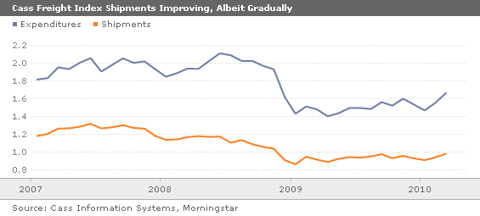 A more dramatic recovery is underway at West Coast ports. Exports began to climb during the fourth quarter of 2009, and imports accelerated in recent weeks. These phenomena bode well for international freight forwarders Expeditors and UTi Worldwide (NASDAQ:UTIW). We think of these 3PLs as international travel agents for freight. Forwarders arrange steamship and air shipment, and handle passage through customs. With hundreds of nodes around the globe, each firm facilitates shipments to most locations where global GDP is generated. It's hard not to love Expeditors for its steady growth, sky-high returns on capital, and fiercely independent management, but this stock rarely goes on sale. On the other hand, we have rated UTi as a five-star stock for some months now. UTi produces margins lower than those of Expeditors, in part due to its focus on contract logistics (such as warehouse management), which is less profitable than forwarding. We believe the firm will improve operations during the next few years, as it works to consolidate historical acquisitions into a single seamless machine. In deriving our fair value estimate, we grant only two percentage points of credit for improvement. The firm still looks undervalued to us, even if margins hold steady.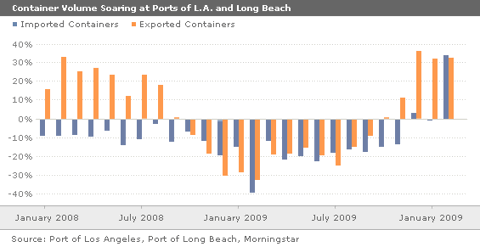 C.H. Robinson also performs some freight forwarding, but generates most of its revenue in North American truck brokerage. C.H. Robinson and Landstar (NASDAQ:LSTR) serve as matchmakers of North American trucking capacity, bringing together two parties who would otherwise struggle to come together: shippers who need trucks, and independent truckers who need loads. Both are well-run firms that have exhibited strong growth and generated high ROICs for years, but several differences between the firms lead to C.H. Robinson's earning 5-10 points greater returns on invested capital. Even though Landstar operates an asset light business model, the firm does own several thousand trailers, whereas C.H. Robinson owns no trucking assets. Owning trailers allows Landstar to park these assets in queue for clients who value the ability to load a large number of trailers prior to initiating pickup. Landstar pays its contracted agents approximately 8% commission on invoices they generate, whereas Robinson's salespeople are employees earning a salary plus bonus. Landstar's agent model ties sales expenses directly to revenue and encourages an entrepreneurial culture, but we believe the firm sacrifices some margin to gain this linkage, particularly during good times, when variable cost offers less benefit from operating leverage. Landstar's Business Capacity Owner (BCO) carriers are dedicated to hauling exclusively for Landstar, operating under the Landstar banner. BCOs are paid only when they haul revenue-generating shipments, so they do not add fixed costs. Landstar uses these "internal" carriers for high-risk shipments such as plasma televisions and Department of Defense munitions. Some shippers mandate using this type of more controlled carrier, which C.H. Robinson lacks. Much of their business is comparable, but Landstar has greater focus on flatbed (heavy and large dimension) hauling, and C.H. Robinson moves more foodstuffs (about 10% of revenue). Government hauling is a larger portion of Landstar's business, particularly in the years after Hurricane Katrina. C.H. Robinson acquired a small Minnesota-based flatbed broker a couple of years ago, but shies away from much time-consuming government service bids.
Trucking Volume: Gaining New Traction After 2009 Lows
Landstar reported that first-quarter 2010 loads hauled grew 20% year over year. As visible below, the American Trucking Association's seasonally adjusted truck tonnage index has risen from 100.9 in April 2009 to 108.8 in February 2010.
We expect this increase to continue. On the pricing side, asset-based trucking has suffered due to capacity exceeding demand, which drove down rates during the past 18 months. However, the tide may be turning. On two early earnings calls this season, we heard positive remarks concerning firming truck rates from both Landstar and CSX (NYSE:CSX) railroad management, but we will not be surprised if it takes a couple of quarters for pricing to recover.
That said, brokers are more insulated from this phenomenon, since their net revenue is merely the spread on whatever rate truckers charge. Rising volume will benefit all transport players, including brokers.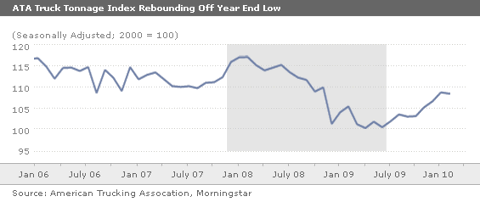 C.H. Robinson and Landstar both supply primarily road-based transportation, but both have indicated interest in growing their intermodal businesses. C.H. Robinson has a team that specializes in arranging intermodal shipping, and Landstar plans to emphasize intermodal shipping by training its non-employee agents to sell this valuable service.
Intermodal Volume Makes a Meteoric Comeback.
Year-to-date U.S. intermodal volume is up 9% from the prior year level, including double-digit gains in seven of the past eight weeks. We expect intermodal marketing companies such as Hub Group (NASDAQ:HUBG) and Pacer (NASDAQ:PACR) to capture a portion of this growth. Hub Group has performed well throughout the downturn, and Pacer survived it. Pacer neglected to grow its retail intermodal product (shipping for cargo owners), instead relying on a favorable pricing contract with Union Pacific (NYSE:UNP) to offer other intermodal marketing companies attractive wholesale rates. During tough times last year, Pacer essentially sold its rights to this pricing in exchange for much-needed cash to pay down debt. We consider Pacer's early liquidation of its legacy favorable contract to be a prudent move, but Pacer now faces the task of building a retail intermodal marketing firm without the subsidy it enjoyed for years. For months, we stuck with our fair value estimate that was well over the market price--at times 4 times the market price--and our long-term focus recently paid off. At this point, neither firm looks particularly cheap to us. We maintain our opinion that Hub is a top-quality operator that Pacer should emulate. Hub faced a crisis of its own within the past decade, but investment in information technology that enabled evaluating profitability of individual loads, and centralization of pricing, fueled its more than doubling operating margins.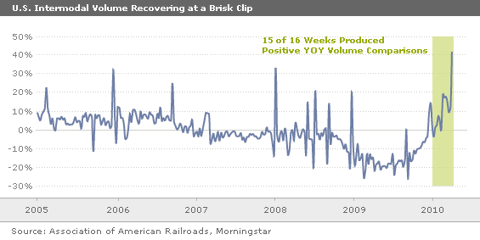 Debt levels among 3PLs are not excessive. In fact, the highest-quality name in each subsector (Expeditors, C.H. Robinson, and Hub Group) is debt-free. Cash reserves are also at record levels for a handful of 3PLs. Expeditors balance sheet bears a mountainous $926 million in cash, C.H. Robinson holds $337 million, Hub maintains $127 million, and UTi boasts $351 million. When demand is decent, 3PLs generate ample cash to cover credit obligations, so we foresee no problems on the horizon for these firms, particularly since the near-term demand picture is rosy compared to 2009. C.H. Robinson, Landstar, and Expeditors produced strong free cash flow at 6%-7% of sales, and Hub Group and UTi converted over 2.5% of sales into free cash, even during a trying 2009. Pacer produced meager cash during its most trying year, and while we expect this to turn around during 2010, the cone of uncertainty surrounding our estimates for Pacer is wider than at other firms in this sector.
We believe intermodal shipping will expand in the future, stealing share from other modes. In the near term, diesel pricing may drive defection from trucking due to intermodal's superior fuel efficiency, and pricing that's lower than that of trucking. In mid-April, the Department of Energy reported that diesel prices rose for the second straight week, and for the seventh time in eight weeks, increasing 5.4 cents to $3.069 per gallon. We consider this pricey, and we note that this is only the fourth time diesel has tripped the $3 per gallon threshold (in nominal terms). We think the overcapacity in the trucking market has slowed the modal shift to rail due to trucking's desperately low price bids last year. However, from a long-run perspective, we think rail/intermodal will take share from trucking. We also believe asset-based truckers will continue to run their own small brokerage operations, except trucking purist Heartland Express (NASDAQ:HTLD). Further, integrated titan FedEx (NYSE:FDX) has expanded freight forwarding operations from about a dozen to over thirty offices during the past year, and we believe the firm will leverage its brand name and existing client relationships to become a leader in this space.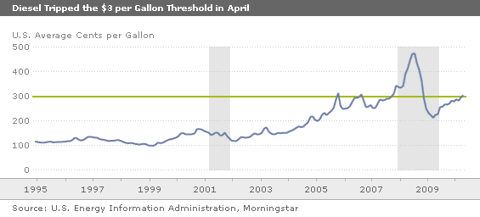 At the time of publication, only Landstar and UTi were trading below our fair value estimates, but we encourage investors to keep an eye on these high-return firms, given their potential to advance as freight recovers. While our valuation model contains our best estimates of what we think will occur in the market, sudden good news may spark a rally that could benefit holders of these names, many of which we consider to be among the highest quality in the industrial universe.
Disclosure: Morningstar licenses its indexes to certain ETF and ETN providers, including Barclays Global Investors (BGI), First Trust, and ELEMENTS, for use in exchange-traded funds and notes. These ETFs and ETNs are not sponsored, issued, or sold by Morningstar. Morningstar does not make any representation regarding the advisability of investing in ETFs or ETNs that are based on Morningstar indexes.