Inovio Pharmaceuticals, Inc. (NYSEMKT:INO) is a biopharmaceutical company that holds promising candidates in its pipeline for the treatment of cancer and infectious diseases. It is also carrying out research in proprietary technologies to develop new methods of vaccine delivery, design and formulation. The approach of Inovio is to stimulate the body's immune system to fight cancer cells through DNA manipulation.
Technologies
Inovio's SynCon vaccine is designed to provide a powerful immunity response by not only preventing the disease but also treating it. The vaccine is created by selecting important common antigens (that the body recognizes as foreign) and by analyzing important multiple strains of a target virus/cancer. Researchers then use extensive genetic data and sophisticated algorithms that aid them to synthetically create optimal gene sequences for the selected antigen, which is then inserted into the DNA plasmid. The SynCon vaccine's design exceeds the limitations of conventional vaccines, which is focused on creating one particular vaccine for one particular virus strain. SynCon's goal is to achieve protection from a disease that changes rapidly and evolves into many different strains. Hence, by incorporating multiple strains into the vaccine, the immune system will be able to recognize the same pathogen and antigen but different strain and, therefore, will mobilize its soldiers to prevent or fight an infection.
The Electroporation Delivery technology is a safe and effective method for the delivery of DNA-based vaccines. This is done via a syringe that contains synthetic DNA vaccine, which is injected directly into the muscle or skin tissue, followed by highly-controlled milli-second electrical pulses applied to the needle electrodes that form an electric field. These electric fields create temporary openings in the cell that enable the DNA vaccine to enter, allowing for greater amounts of vaccine inside the cell. The cell then seals itself and the vaccine causes it to produce the antigen coded by the DNA. Afterwards, the antigen-presenting cells move to lymph nodes where they (and other immune cells) form antibodies that can prevent future infections or become killer T-cells that can clear already infected cells.
Most of the current products and candidates are focusing on cells to carry specific or multiple antigens, which are only partially effective as the cell membrane resists the entry of foreign material. However, we believe that the SynCon vaccine, with its electroporation delivery, bypasses the cell membrane by creating pores that allow the synthetic DNA to settle in the cell, where the coded DNA dictates the cell to create antibodies, resulting in a much safer, faster and effective treatment.
Products
Inovio has a large number of candidates in its pipeline, some of which are internally funded and others by partners or sponsors. The company is developing products for the treatment of cancer and infectious diseases such as hepatitis, HIV, influenza and malaria. Following are Inovio's leading candidates that are contributing to its valuations.
VGX-3100
Inovio's leading candidate in the pipeline is the VGX-3100 vaccine used to treat cervical intraepithelial neoplasia (CIN), a disease leading to the abnormal growth of squamous cells on the surface of the cervix. CIN is not a cancer and is usually curable, however a small percentage of cases progress to become cervical cancer if left untreated. The candidate is in its Phase 2 trials and topline data of these trials is expected in mid-2014. The Phase 1 trials were proven to be successful, as the vaccine produced killer T-cells and demonstrated a strong immune system. VGX-3100 was also recognized by the Vaccine Industry Excellence Awards for "Best Therapeutic Vaccine". With such favorable results in the past, this candidate looks capable of providing Inovio with positive results in the future as well. The other INO 3112 candidates are in Phase 1 for cervical cancer and for head & neck cancer. All these candidates are internally funded.
As CIN at an early stage (CIN 1) does not progress and is usually treated by the host's own immune system, VGX-3100 is designed for patients that are diagnosed with CIN 2/3, which eventually leads to cervical cancer if left untreated. According to Inovio, there is a great need for such a vaccine, with around 210,000 patients in the US diagnosed with CIN 2/3. VGX-3100 has a significant market to target with conventional treatments, such as surgery, being associated with a high risk of infertility.
INO-1400
A candidate which has bright prospects and is internally funded by Inovio is INO-1400, a vaccine which is being developed to target a specific antigen present in cancer patients known as hTERT (Human Telomerase Transcriptase). Telomerase is a natural enzyme that regulates the length of the telomere. This length decides the division of the cell. In a normal human being, the telomere length shortens as the cell divides and a time comes when the length of the telomere reduces to a very small size and it is detached from the Telomerase, hence stopping the division of cells. However, in patients that are suffering from cancer, high levels of hTERT expression (in around 85% of all cancer patients) are detected. With such an abnormality, the Telomerase prevents the telomere length from shortening, contradicting the biology of cell division and increasing the division of cells in an abnormal fashion leading to cancer.
The vaccine is currently in its clinical phase and will initiate its first trial in mid-2014. It can be used potentially as a universal cancer vaccine, but its success depends on the results of its trials and approval on its NDA.
INO-5150
Another cancer vaccine in Inovio's pipeline is the INO-5150, which is in its preclinical phase. The vaccine is being developed through collaboration with Roche (OTCQX:RHHBY). It is being designed to treat prostate cancer by targeting the prostate-specific membrane antigen (PSMA) and prostate-specific antigen (PSA). Research on monkeys showed that vaccination with INO-5150 generated strong and robust T-cell immune responses that were the highest generated by a PSA-based immunotherapy in animal studies. Inovio will initiate its Phase 1 trials in mid-2014 after successful preclinical tests.
In the US, around 218,000 new cases of prostate cancer are reported every year and around 32,000 deaths each year are attributed to prostate cancer. Even though there are many treatments that are partially effective and a few candidates in trials that have shown promising results, we expect Inovio's vaccines to outperform others in terms of safety and efficacy because they target cancer through DNA manipulation, whereas competing candidates are being developed through specific antigens or compounds to target cells and not the DNA.
Hepatitis
The company has candidates for the treatment of Hepatitis B & Hepatitis C in the pipeline. INO-1800 is a Hepatitis B vaccine, a disease which leads to inflammation of the liver. The virus is extremely dangerous and accounts for around 1 million deaths worldwide each year. Inovio has reported preclinical data showing its Hepatitis B vaccine producing strong T-cells and antibody responses leading to the elimination of targeted liver cells in mice. This vaccine is partially funded by Roche.
INO-8000 is being developed for the treatment of Hepatitis C. This vaccine is partially funded by VGX International, Inc. Inovio has recently initiated Phase 1 clinical tests for the vaccine in Hepatitis C patients at different sites in Korea. The results for the Phase 1 trials are expected in 2015. The vaccine, however, has performed exceedingly well in its preclinical tests. Around 5 million people in the US and 200 million people worldwide are diagnosed with the Hepatitis C virus (HCV). There are FDA-approved drugs available that cure hepatitis but INO-8000 has the ability to cure as well as prevent the disease, giving Inovio an edge over big generic pharmaceuticals and indicating that the candidate has the potential to dominate the hepatitis market.
Inovio's HIV Vaccines in the Pipeline
Candidate

Geographic focus

Collaborator

Phase

Results

Pennvax®-B

North America,

Western Europe

Vaccine Trials Network

Phase 2

Observed T-cells responses in 89% of subjects in Phase 1

Pennvax®-G

Africa & Asia

USMHRP/NIAID

Phase 1

Completed Enrollment in Phase 1 & 100% antigen-specific T cells response

Pennvax®-GP

Africa & Asia

NIH/NIAID/HVTN

Preclinical

Produced robust antigen-specific T-cell response.
Malaria and Influenza
Influenza is a big market with generic and patent-protected drugs available; however, these products are limited to treating existing flu only. Inovio, on the other hand, is taking one step ahead by developing a vaccine that both cures and prevents flu, even if the flu tries to change (subtype changes), by incorporating every subtype/strain in the vaccine that can fight against existing as well as future unknown influenza viruses. Around 3 to 5 million cases of influenza are reported, and the market is growing each year. This is because of the emergence of unknown influenza viruses that are more dangerous and even fatal (such as bird flu and swine flu resulting in deaths). This shows an unmet need for a vaccine, and we believe that Inovio can generate billion-dollar sales if it is able to develop a product that can cure and prevent influenza. As of now, the vaccine is in its preclinical phase and has shown promising results as vaccinated animals displayed a 100% protection from the virus.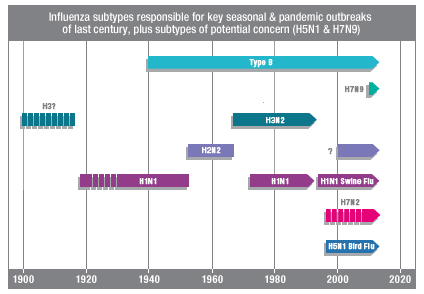 Diagram: Influenza subtypes
Inovio is also carrying out research in producing vaccines related to malaria. Malaria affects around 219 million people worldwide and results in 660,000 deaths annually. The malaria vaccine is in its preclinical phase, and Inovio intends to initiate a Phase 1 clinical study in 2014.
Partnerships
Inovio has collaborations with different pharmaceutical companies, government agencies and academic institutions for the development of its vaccines.
Roche
In 2013, Roche and Inovio signed an agreement in which Roche was given an exclusive license to develop and commercialize Inovio INO-5150 (prostate cancer vaccine) and INO-1800 (Hepatitis B vaccine), and the rights to any candidates related to these two diseases in the future.
The agreement included an upfront payment of $10 million to Inovio. Roche will also provide payments for:
Preclinical R&D support
Regulatory milestones
Commercial milestones
Royalty payments on sales of both vaccines
University of Pennsylvania (UPenn)
The company's partnership with UPenn resulted in the development of the SynCon vaccine, and the university continues to research new SynCon variants for cancer and infectious diseases. In 2011, Inovio took a more farsighted step by signing an agreement with UPenn that involved exclusive worldwide licenses for the technology and intellectual property of DNA vaccines.
Merck & Co.
In 2004, Inovio signed an agreement with Merck & Co. (NYSE:MRK), in which Merck & Co. holds the non-exclusive rights for the use of electroporation technology for certain DNA vaccines. The agreement stated certain benefits to Inovio such as:
Milestone payments
Development fees
Royalties on product
The company is also working side by side with VGX International, HIV Vaccine Trial Network (HVTN), National Institute of Allergy and Infectious Disease (NIAID), National Cancer Institute and U.S. Military HIV Research Program (MHRP) to promote and develop HIV vaccines.
Upcoming Catalysts
Topline data from Phase 2 study of VGX-3100 for cervical dysplasia in mid-2014
Will initiate Phase 1/2a of INO-3112 in mid-2014
Will initiate Phase 1/2a of INO-5150 in the first half of 2014
Phase 1 clinical trial of Pennvax®-GP vaccine (HIV vaccine) in the first half of 2014
With the influenza vaccine seeking a grant, one can foresee a future partnership
Will initiate Phase 1/2a for the malaria vaccine
Even though every upcoming catalyst will affect the share price, we expect that topline data from the Phase 2 study of VGX-3100 is important for investors as it will decide whether the candidate will reach its efficacy endpoints and approved for Phase 3 clinical trials by the FDA. VGX-3100 is Inovio's leading candidate, and any failure related to the drug can sabotage the company's survival.
Financial Performance and Potential Risks
Inovio's main sources of revenue are license fees and milestone revenues. Its research focus on synthetic vaccines is in its early stages, and the assurance of safety and subsequent approval of these vaccines will need extensive and continual research in the future. Furthermore, the future of these vaccines is still in doubt because they could be found unsafe, ineffective or not commercially viable for mass production.
The company has cash and cash equivalents of $46.3 million. As the candidates progress further into clinical trials, the company's expenses are also increasing. Inovio spent around $16 million during the first 9 months of 2013. At this rate, the company has enough cash in hand to survive till the end of 2015. However, it should also be taken into account that as more candidates advance into Phase 2 and Phase 3, the expenses will increase further and Inovio will have to raise more capital.
In its previous share offering on March 2013, Inovio announced a $15.1 million offering of common stock and warrants. The stock was set at a price of $0.55 for investors to purchase. We expect that the next dilution can be expected soon due to a higher cash burn (from clinical trials). Biotechnology companies offer shares at discount during share offerings, which is the primary reason behind price decline on offering news. While it is fairly certain that any offering will be priced below the market price, we expect there to be no under-subscription problems due to good performance of candidates in clinical trials.
Most of Inovio's candidates are being developed in collaboration with different organizations, and in case of any collaborator either backing off or not providing sufficient resources, the product's development and potential success may be compromised.
Conclusion
Inovio Pharmaceuticals is a company still in its development stage, and has candidates and licensed technologies that have the potential to be big revenue generators. The continued support from Roche and other institutional partners is a testament to the potential of these products.
The growing list of funding agencies and collaborators, such as Roche & Merck Co., that have chosen to support Inovio's candidates and technology provides evidence to the company's potential. The company's candidates are promising and showing positive results, but most of them are in their initial or preclinical phase and the continuation of their positive results is not guaranteed. Overall, we recommend this company as a 'Buy' for long-term investors, but in the short term the share price can be volatile. We have also listed a number of catalysts which present a good opportunity for option play and short-term money making.
Disclosure: I have no positions in any stocks mentioned, and no plans to initiate any positions within the next 72 hours. I wrote this article myself, and it expresses my own opinions. I am not receiving compensation for it (other than from Seeking Alpha). I have no business relationship with any company whose stock is mentioned in this article.
Additional disclosure: Equity Flux is a team of analysts. This article was written by our Healthcare analyst. We did not receive compensation for this article (other than from Seeking Alpha), and we have no business relationship with any company whose stock is mentioned in this article.