Direxion, one of the leaders in the rapidly-expanding leveraged ETF space, has filed for approval on 36 new ETFs, including two non-leveraged products. The Direxion Auto Shares would seek to match the performance of the Indus Global Auto & Auto Suppliers Index, a benchmark that consists of approximately 30 companies engaged in the manufacturing, maintenance, or retailing of automobiles. This index is global in nature, and includes companies based in the U.S., Germany, India, Japan, and Sweden. If the proposed auto fund ultimately makes it to market, it would be the first ETF to focus exclusively on the automotive industry, eliminating one of the most glaring holes in the ETF coverage map (see Who Else Wants An Auto ETF?)
The company also filed for the Direxion Airline Shares, an ETF that would track the Indus Global Airline & Airline Suppliers Index. This benchmark consists of 30 companies involved in the manufacturing, maintenance, or retailing of aircraft or the broader airline industry, and would also maintain a global scope; companies from the U.S., Brazil, Chile, Ireland, the Netherlands, and Panama are among the components.
The airline industry has been in focus in recent days as a cloud of volcanic ash originating in Iceland continues to ground flights around the world, resulting in upwards of $250 million in lost revenues daily. Direxion's proposed airline ETF could compete with the Claymore/NYSE Arca Airline ETF (NYSEARCA:FAA), which invests in both domestic and international passenger airline companies.
Both the automotive and airline ETFs from Direxion would charge an expense ratio of 0.35%.
More Leveraged ETFs Too
Along with the automotive and airline ETFs, Direxion filed for 17 pairs of daily 3x and -3x leveraged ETFs. Eight of the proposed ETF pairs would target international equities, including Brazil, Canada, Indonesia, Malaysia, Russia, South Korea, Taiwan, and Thailand. In addition, Direxion filed for nine pairs of sector-specific ETFs targeting agribusiness, commodity producers, infrastructure, gold miners, home construction, natural gas, regional banks, water, and wind energy.
Each of the proposed leveraged ETFs lines up with at least one existing traditional beta ETF that has significant assets and trading volume, suggesting that there is some degree of investor interest in these regions and sectors (see the below table for a detailed breakdown).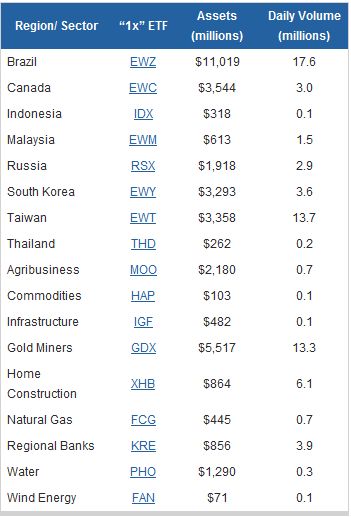 Direxion has been one of the most active ETF issuers so far in 2010, responding to strong demand for leveraged products by issuing several new products. Recent leveraged product launches from Direxion include short-term Treasuries, 2x ETFs India, and 3x ETFs focusing on semiconductors. Direxion has also begun sampling demand for leveraged ETFs in Europe, cross-listing six leveraged ETFs on the Amsterdam market of the NYSE Euronext.
Direxion has also filed for approval on a line of ETFs offering monthly exposure to certain benchmarks, but SEC approval of those products may be withheld until the investigation into derivatives-based ETFs is completed (see all of the Most Anticipated New ETFs of 2010).
Disclosure: No positions at time of writing.