For investors looking to add a speculative competent to their portfolio, Chesapeake Energy (NYSE:CHK) is an Oil and Gas E&P company that is undervalued, focusing on fundamental improvement and looking to capitalize on the future of natural gas.
Valuation
EV/EBITDA = Enterprise Value/Earnings Before Interest, Taxes, Depreciation and Amortization
In the next section, I will use the EBITDA to calculate the EV/EBITDA. The EV/EBITDA ratio is one of the most commonly used valuation metrics as EBITDA is commonly used as a proxy for cash flow available to the firm. Oil and Gas E&P stocks typically have an EV/EBITDA ratio that trades in the 12x to 14x trading range.
Enterprise Value or EV = Market Capitalization + Total Debt - Cash and Cash Equivalents.
EV - $17.799 billion + $12.736 billion - $987 million = $29.548 billion
EV = $29.548 billion
EBITDA = $5.477
EV/EBITDA = 5.39
As companies in the Oil and Gas E&P often trade in the 12.95 trading range, an EV/EBITDA ratio of 5.39 indicates at current levels the stock is trading well under fair value compared to other companies in its sector.
Numerical Indicators
Some of the numerical indicators are less than attractive. According to MSN Chesapeake has a debt/equity ratio of 0.97 which is very high compared to the industry average of 0.39. The amount of debt the company has severely detracted the value of the company. In my recent article: Chesapeake Energy: Net Debt Gutting Shareholder Value, I show how much value is lost due to the debt. Co-existing with the debt issues Chesapeake has a current ratio at 0.7. A current ratio of .7 indicates that the company would not be able to pay off its obligations if they came due at this point. According to the S&P rating guide, the "BB-" rating is - "less vulnerable in the near-term but faces major ongoing uncertainties to adverse business, financial and economic conditions." All of these numerical indicators display the potential risk to the shareholder.
Marco View
Natural Gas
Even though the price of oil is expected to on average to remain relatively flat over the next few years, there is a different story for the price on natural gas. The EIA (pdf) believes the demand is growing for natural gas. In its Annual Energy Outlook 2013, the EIA notes that exports will be a driving factor in the increased demand for natural gas over the long term:
"Exports (will) continue to grow at a rate of about 17.7% per year from 2020 to 2040. Net exports in 2020 are less than 1 percent of total consumption; in 2040 they are 12 percent of consumption."
In the chart below, the EIA displays five different scenarios regarding the price increase of natural gas. These scenarios are based on a multitude of events. They range from a shortage of natural gas where the price increases very quickly, to a glut of resources where the price acceleration is much slower.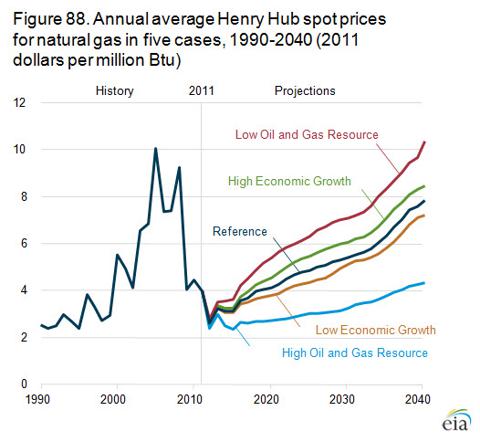 Chesapeake Energy is a major supplier of natural gas. In fact, they are currently ranked as the second largest supplier of this critical fuel in the United States and this should provide a bullish stance for the stock price. As natural gas prices rise, the value of this company's stock should also rise. As the chart below shows there is a co-relation between Chesapeake Energy's stock price and the Henry Hub Nat. Gas spot price.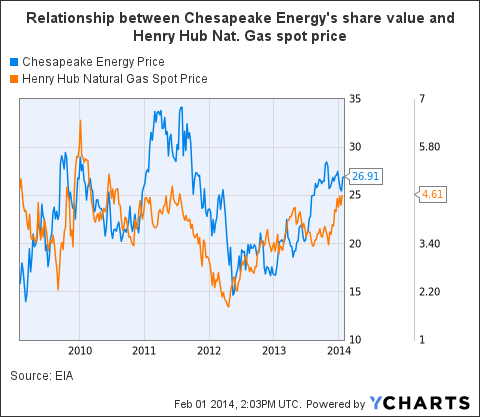 Seasonality for Nat Gas
As there is a co-relation between nat gas and Chesapeake's stock price the chart supplied by equity clock indicates that the seasonal strength for Nat Gas is in the fall months.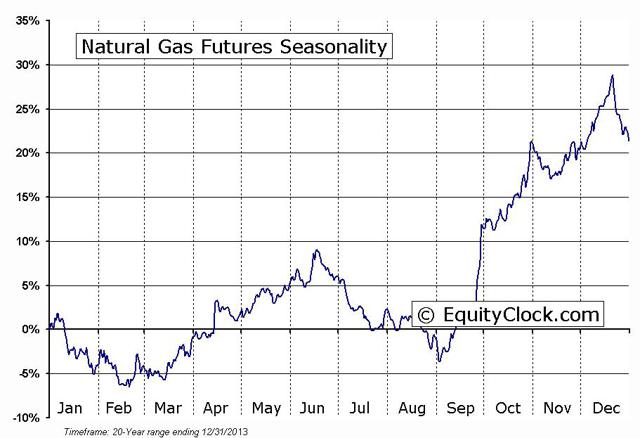 Company Strategy
"If you clean this company up and ... natural gas prices go higher, which I think they will," the company will remain valuable. Carl Icahn
New CEO Douglas Lawler has a large task of "cleaning up the company" ahead. To do so Mr. Lawler has introduced two fundamental tenets: first, financial discipline, and second, profitable and efficient growth from captured resources.
As stated in a recent interview, "This strategy, combined with our world-class assets and talented employees, provides the foundational elements for Chesapeake to achieve our goal of delivering top-quartile performance. The company has now aligned its structure to deliver differential value to our shareholders through disciplined cash flow growth rather than an activity-focused, land-driven capital program."
Forward P/E To Create A Target
To create a target price for Chesapeake Energy I will use Chesapeake's forward P/E ratios with estimated earnings to find a target. Currently, Chesapeake has a forward P/E of 12.42 and FY 2016 earnings projected at $2.95. These two metrics lead to a target price of $36.36.
As of January 31st, Chesapeake's stock was trading at $26.91. Using the forward P/E model, this indicates that the stock has a 35.11% potential upside from this point.
Conclusion
Since mid August, Chesapeake's stock has been relatively flat trading between $25.00 and $27.00. Looking into 2014 there are a couple of catalysts for the stock price to accelerate. They are: The price of nat gas is expected to increase and Mr. Lawler is expected to improve fundamentals. Both of these catalysts should have a positive effect on the stock price but as the second catalyst will be a monumental and slow process this will take time to develop. A negative against price acceleration is, if the market does not agree with something that the company is doing there is a lot of downside risk. According to the DCF model, I have the value of the stock at $11.41. Personally, I do not believe the stock price will get that low but it is an indicator of risk. Currently, I believe the shareholder will have time to wait and assess the company further. In spite of some positive catalysts, I believe Chesapeake Energy still holds significant risk and believe the stock at this time to be a hold.
Disclosure: I have no positions in any stocks mentioned, and no plans to initiate any positions within the next 72 hours. I wrote this article myself, and it expresses my own opinions. I am not receiving compensation for it (other than from Seeking Alpha). I have no business relationship with any company whose stock is mentioned in this article.