The month of January has a very important significance in the financial world. It's the month when traders who had a good past year look forward to big bonuses, while traders who performed poorly get to wipe their slate clean and start afresh (if they are lucky enough to still have a job). Asset managers like mutual funds and pension funds analyze their portfolios from the previous year and make fresh allocations and redemptions from not just different asset classes but also into new strategies and new managers.
The belief in the market is that these large annual allocations have an impact on not just January, but also set the tone for the rest of the year. This belief has resulted in the lore, "As goes January, so goes the year". We decided to examine this claim and determine if there was any scientific truth to it or if it was just another urban legend.
Correlation Analysis
We took the monthly and annual returns of the S&P 500 price index from 1952-2013 and ran a correlation matrix between January's returns and the returns for the rest of the year. We found that there was a 55% correlation between the two. Then out of curiosity we expanded the study to cover the other months as well, to see if any other month's returns presented a high correlation to the year's returns as well. We found that September actually had the highest correlation, at 62%. But from a practical standpoint, September does not really help, because if we waited till the end of September to see how the year would unfold, it would be too late to take advantage of that signal.
Correlation of Monthly Returns to the Annual Returns, S&P 500 (1952-2013)

(Source: MA Capital Management, Yahoo Finance)
Two Factor Analysis
A 55% correlation between January and the rest of the year was encouraging enough for us to take a deeper look into the relationship. The next step was to conduct a 2 factor analysis. The 2 factors would be the direction of January returns and the size of those returns and to see if they would give us more information on the annual returns. We broke out January returns ranging from -10% to +13% in 1% increments and tallied the corresponding average annual returns as well as the percentage of positive years for each period.
Size of January returns versus annual returns and percentage of positive years, S&P 500 (1952-2013)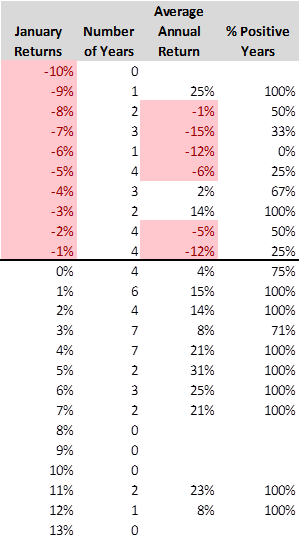 The way to read the above table is as follows:
1. There was 1 year when January returns were between -8% and -9% and that year the annual returns were +25%.
2. There were 2 years when January returns were between -7% and -8% and the average annual returns during those 2 years were -1% and 1 year was positive while 1 year was negative.
Here is a summary of the results from our finding:
1. 24 out of 62 or 39% of the years had negative January returns, but out of those 24 years, only 13 years or roughly 54% of the years were negative as well. This is not a strong indicator as it is a pretty much 50/50 split whether a negative January will lead to a negative year as well.
2. But what if January was positive? This is where it gets interesting. 38 years, January was positive and during those years, 35 or 92% of the years were also positive.
Conclusion 1: A positive January has in the past, 92% of the time led to a positive year as well, but a negative January does not tell us much about whether the year will be positive or not.
Conclusion 2: A negative January has overall led to weak annual returns, averaging -3.82%. But a positive January has led to on average +15.84% annual returns.
January 2014
So what does our statistical analysis of the January effect tell us about the expectation for 2014? January at first glance is not looking good for the rest of 2014. The S&P 500 fell 3.52% but more importantly, volatility spiked.
Both the daily volatility of the S&P 500 returns as well as the range of the daily move was higher in January than in Q4 2013.
So, what does this say about the rest of 2014?
Year Return Worst Month Worst Consecutive Month Loss
2010 +14% -8% -13%
1962 -11% -8.5% -24%
1956 +3% -6.7% -8%
(Source: MA Capital Management, Yahoo Finance)
- Since 1952 there have been 3 years when January returns fell between -3% and -4%.
- 2 out of those 3 years turned out to be positive.
- The first year was 2010, when January was -3.7% but the year was +14%.
- The second was 1962, when January was -3.8%, but the year was -11%.
- The third was 1956 when January was -3.7%, but the year was +3%.
Conclusion: While there is not enough statistical significance to say if we will have a positive year or not, one thing is significant. In all those 3 years volatility was very high, with large loss periods. As anticipated, it looks like the party of the last few years is over and it is time to re-allocate assets out of long only assets into risk managed, actively traded assets.
Disclosure: I have no positions in any stocks mentioned, and no plans to initiate any positions within the next 72 hours. I wrote this article myself, and it expresses my own opinions. I am not receiving compensation for it (other than from Seeking Alpha). I have no business relationship with any company whose stock is mentioned in this article.