With an unexpected surge in production from shale and hard rock deposits, the natural gas price is getting cheaper and cheaper compared to oil. However, natural gas might be bottoming, or at least have more upside potential than downward potential for the following 3 reasons:
1. Rising Inventory Discourages Production
Lower demand and higher production resulted in storage injections. Last week the inventory level was 16.3% above the five-year average of about 1.51 trillion cubic feet, according to the U.S. government's Energy Information Administration. However, sustained low prices could reduce drilling activity over time. Gas prices might rise along with demand once production starts to decline.
The following chart from the EIA shows gas prices could increase by 20% in 2011. The Henry Hub spot price forecast averages $4.44 per MMBtu in 2010 and $5.33 per MMBtu in 2011.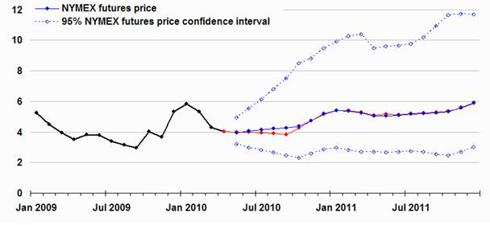 2. Increasing Usage for NG
Natural gas is an almost perfect energy source. Shale gas can be brought into production at a much faster pace. Lower-priced natural gas will once again compete with coal for the electricity supply. Growing concerns about the environment also make it more attractive than coal. In addition, natural gas fired plants are much cheaper to build than nuclear plants.
Gas now competes with diesel fuel for trucks and vans. In Asian countries, gas is being used by a growing number of regular cars. LNG solves some problems such as storage and transport.
3. Vote of Confidence By Exxon Mobil
Last December, Exxon Mobil (NYSE:XOM) announced it struck a $41 billion deal to buy Houston-based XTO Energy (XTO), placing a big bet on the future of natural gas market. The acquisition, Exxon Mobil's biggest in a decade, could be seen as a vote of confidence in natural gas.
Main Natural Gas Related Companies with Positive P/E
I went through Oil and Gas operation companies and found 9 companies with a market cap of more than $10 billion, and positive trailing P/E:
| | | | |
| --- | --- | --- | --- |
| Name (Symbol) | Mkt cap | P/E | Forward P/E |
| Canadian Natural (NYSE:CNQ) | 40.81B | 14 | 10 |
| CNOOC Limited (NYSE:CEO) | 77.70B | 18 | 11 |
| Ecopetrol S.A. (NYSE:EC) | 55.61B | 13 | 16 |
| EnCana Corporation (NYSE:ECA) | 23.20B | 13 | 17 |
| EOG Resources, Inc. (NYSE:EOG) | 27.16B | 50 | 17 |
| Murphy Oil Corp (NYSE:MUR) | 11.37B | 15 | 9 |
| Nexen Inc. (NXY) | 13.27B | 27 | 9 |
| Occidental Petroleum (NYSE:OXY) | 68.02B | 23 | 11 |
| Williams Companies (NYSE:WMB) | 13.64B | 32 | 14 |
EnCana is one of the largest pure natural gas companies. 95% of its revenue is from NG. Last 12 months its operating cash was $7.8B, higher than its total debt. Its Levered Free Cash / Debt ratio is 53%.
For Canadian Natural, 44% of its revenue is from NG. Its Levered Free Cash / Debt ratio is 17%. Both ECA and CNQ have a lower P/E than other competitors. The above list doesn't include integrated oil & gas giants such as Exxon Mobil.
Main Natural Gas Related ETFs (by Net Assets)
| | |
| --- | --- |
| Fund Name (Ticker) | Expense Ratio |
| Energy Select Sector SPDR (NYSEARCA:XLE) | 0.22% |
| United States Natural Gas (NYSEARCA:UNG) | 0.97% |
| First Trust ISE-Revere Natural Gas (NYSEARCA:FCG) | 0.60% |
| Ultra Oil & Gas ProShares (NYSEARCA:DIG) | 0.95% |
| SPDR S&P Oil & Gas Exploration & Prod (NYSEARCA:XOP) | 0.35% |
| iShares Dow Jones US Oil & Gas Ex Ind (BATS:IEO) | 0.48% |
| SPDR S&P Oil & Gas Equip & Services (NYSEARCA:XES) | 0.35% |
| iPath DJ-UBS Nat Gas TR Sub-Idx ETN (NYSEARCA:GAZ) | 0.75% |
| PowerShares Dynamic Oil & Gas Ser (NYSEARCA:PXJ) | 0.62% |
On the other hand, if you want to short the oil and gas sector, you might use UltraShort Oil & Gas ProShares (NYSEARCA:DUG).
Derivative based commodity ETFs such as UNG have some limitations and are best used for short term bets from time to time. For example, the extreme contango in the natural gas futures market could make UNG lose money when it rolls over its contracts for the next month. Some of them structure themselves as partnerships for tax purposes and issue K-1 tax forms. In addition, the Commodity Futures Trading Commission has indicated it may put stricter position limits in futures markets that could impact some commodity ETFs.
Conclusion
Prices of natural gas might remain low for the next several months due to the rapid ramping up of shale gas production and low demand. However, as a cheap, clean, abundant and domestic available energy choice, it's hard to imagine the price of gas will not go up eventually.
Most investors might have the correct direction, but most times timing is off. Volatility in the futures and options markets trended higher as natural gas spot prices fell to $4 per MMBtu. That's why my core holdings for energy are in financially sound established companies.
Data are from Google and Yahoo Finance and is valid as of April 19, 2010.
Disclosure: Long UNG and ECA