Editors' Note: This article covers a stock trading at less than $1 per share and/or with less than a $100 million market cap. Please be aware of the risks associated with these stocks.
It is worthwhile analyzing the marijuana stock market, including the recent run-up in share prices. I have identified three tiers in this market: Tier 1: large companies (3), Tier 2: medium companies (9), Tier 3: small companies (13). My analysis indicates that Growlife, Inc. (OTCPK:PHOT) ($0.3450) is the best short-term and long-term investment of the 25 current publicly traded marijuana stocks. According to an article on Benzinga.com, Growlife is a favorite among marijuana investors in a recent survey: 48 percent expect Growlife to gain the most value in 2014. My analysis concludes the same. Significant near-term and intermediate-term industry announcements will drive share prices higher than today's marijuana stock market.
The Green Rush is here to stay. It is the real deal. The CNN/ORC International survey released on Jan. 6, 2014, indicated that the number of people who say smoking pot is morally wrong has plunged. Fifty-five percent of those questioned nationally said marijuana should be made legal, with 44% disagreeing.
When the Volstad Act was repealed in 1933, it created today's $180 billion worldwide alcohol market. Estimates for the U.S. marijuana market are $40-$45 billion. Worldwide marijuana market projections are about $115 billion, or two-thirds the size of the worldwide alcohol market. Traders and investors need to differentiate between value and hype. This marijuana market is an historical stock market event, somewhat similar to the beginning of the Internet industry's stock market. Navigating through this volatile market without understanding or analyzing how it works today and what it will look like in the near term and long term can be confusing for the average investor. This article clears up certain confusion.
Marijuana stock prices react to news and press releases and will continue to do so with volatility. There have been plenty of these and the trend will continue. The idea is this: Keep your eye on the ball and study the fundamentals of each potential investment, and at the same time, understand how the marijuana stock market works. The following is your guideline.
The table below will help you understand that the listed cannabis companies can be broadly classified into three-tier groups. This list will grow as other companies enter the industry.
1. Tier 1: Companies with a market capitalization larger than $500.0 million (3)
2. Tier 2: Companies with a market capitalization larger than $50.0 million -- less than $500.0 million (9)
3. Tier 3: Companies with a market capitalization of less than $50.0 million (13)
Click to enlarge images.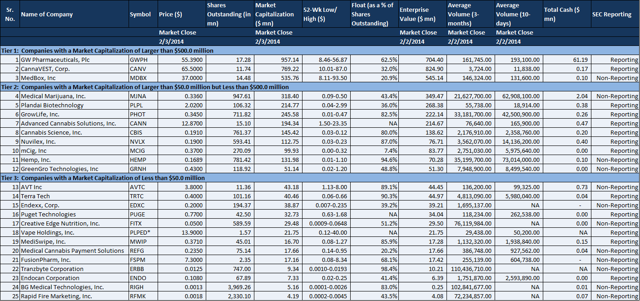 Market capitalization is an intelligent way to value a volatile industry. While price targets are normally calculated using discounted cash flow analysis (DCFs), forecasting a business for at least five years, this industry carries a speculative premium on share prices. This premium will continue and possibly expand. A good way to compare marijuana stocks is to view their market caps and prices in relation to one another as seen in the above table.
While a lower market cap might be attractive, if the share price is too high it might be better for an investor to wait until both metrics fall in line. Most of the companies in Tier 2 and Tier 3 have little or no revenues and cannot be valued via price to book, price to earnings, price to cash flow and other ratios. They can and should be valued by discounted cash flow over longer periods of forecasting. Those companies that are able to raise cash should survive. Others that cannot will either go out of business or disappear. Some have quality assets that can be sold to stronger companies such as Growlife.
In Tier 1, there are three companies with a market capitalization of over $500.0 million: CannaVEST Corp. (CANV), $65.05; GW Pharmaceuticals Plc (NASDAQ:GWPH), $55.39; and MedBox, Inc. (MDBX), $37.00. Of these three, GWPH is the most attractive opportunity as it is well funded (over $65.0 million is cash) and has made significant progress in developing a product portfolio of cannabinoid prescription medicines. However, this stock has experienced a sharp rise in its share price from $8.50 to close at $50.00 in the past few months. While the potential is still there, we do not see double- or triple-digit growth in the company's share price in the current year.
CannaVEST, related to Medical Marijuana (OTCPK:MJNA), is suspect. It is grossly overpriced with a market cap of $769 million. MedBox, Inc. with a market cap of $535.8 million has come down in price and might be interesting. At the bottom of the three Tiers there are 13 companies that have market capitalizations of less than $50.0 million. Investment in most of these stocks appears to be a risky proposition because:
Some are priced less than a cent (Sub-penny)
Non-reporting (No SEC Filings)
Minimal or Zero Sales (Pre-Commercialization)
Very Low Cash Reserves (Limited Growth Potential)
I believe that in general, Tier 2 companies with a market capitalization of larger than $50.0 million but less than $500.0 million are the best choices for investment in this current Green Rush. There are nine companies in this group. Growlife is the company of choice in all three groups including Tier 2. Few of them are well-capitalized. Some have a sound business model. Most of them do not have adequate management teams, a top notch board of directors or access to capital. Management is key for any private or public company. While all of these companies are listed on the over-the-counter markets (where listing standards are minimal), most of these companies have seen their share prices soar since the Colorado Phenomenon. It appears that some companies from this segment provide the most prudent investment opportunities. Key components for your analysis should include:
Business model and revenue potential
Management quality and Board of Director expertise.
Sophisticated legal advise
Product positioning within the "sweet spot" of recent DOJ regulations
Leverage, benefits and participation for upcoming industry announcements
Capitalization and availability of capital for growth
Trading volumes to ensure liquidity
Disclosure, reporting and SEC Filings
Growlife is the only company in this industry that fits all the above required criteria, including its acquisition-oriented business model. Growlife's core holdings are multiple divisions targeted at the indoor and outdoor marijuana markets including gardening and specialty markets. Indoor growing will be huge. Any medical marijuana prescription can be met by growing indoors. Indoor growing is preferred for recreational use due to cold weather. This also includes users who will grow indoors because they do not want to have outdoor plants stolen. The company develops, markets and deploys products and services addressing the needs of legal cannabis growing and retail operations, including hydroponic growing equipment, retail support software, infrastructure financing, nationwide retail network, as well as online sites. Growlife also operates a political and social forum.
Growlife has seven hydroponic stores projected to generate about $1 million per store. In two to three years, the company can build out its national Home Depot type of footprint to 30-40 stores, or about $35 million of sales in its bricks and mortar businesses. Growlife can buy and roll up other hydroponic stores. The company is ideally positioned within the DOJ's guidelines of medical and recreational marijuana. Growlife can also become an attractive acquisition target for companies such as Reynolds American (NYSE:RAI) ($47.00) or Phillip Morris International (NYSE:PM) ($76.00).
Last week, Growlife announced two blockbuster deals. The first deal with RXNB locks in substantial international distribution in drug formulation, manufacturing and distribution in the pharmaceutical and nutraceutical markets including patents for THC research and development. RXNB has a portfolio valuation of $110 million dollars and approximately $27.5 million dollars in annual revenue. Growlife subsidiary Organic Growth International LLC ("OGI") is a joint venture with CANX USA LLC. The deal allows Growlife to purchase a 40% equity stake in RXNB. GrowLife owns a 45% ownership interest in OGI and can increase its position to a majority interest.
The second deal locks in access to production and product sales with CEN Biotech, a Canadian manufacturing facility. CEN will begin construction on a state of the art medical marijuana facility in the City of Lakeshore, Ontario, Canada. This production facility is targeted to produce 1.3 million pounds of dried medical marijuana annually. The total may include capacity that is set aside for import and export. Growlife and its affiliates will serve as CEN Biotech's exclusive supplier of legal cannabis growing equipment for the entire term of the shared ownership, subject to certain limitations.
According to management, Growlife can generate sales of around $11 million in 2014, up from about $4 million in 2013. However, 2014 should increase revenue estimates as both of these announced deals mature. The company's increase in authorized shares will allow it to issue new outstanding shares to finance both deals including future acquisitions and partnerships. This increase in authorized shares is a must for an acquisition company. It is a decided benefit.
While this industry currently lacks sources of financing, Growlife is the only company in this group that has raised $40 million of capital. They can acquire or take advantage of the best opportunities that become available in the industry. Those opportunities are certain to present themselves. The company is fully SEC reporting. Growlife has the best management team in the industry including the recent hire of new president, Marco Hegyi, an ex-Yahoo (NASDAQ:YHOO) and Microsoft (NASDAQ:MSFT) senior key executive. CEO Sterling Scott is a regulation attorney, an excellent operating officer. The company's impressive acquisition-oriented board of directors is the best in the industry.
Growlife common stock has risen from 1 cent to a high of 47 cents while generating an amazingly high share volume trading on the OTC. Average daily volume for the last three months has been over 30 million shares with close to 1.5 billion shares traded during this time period; 3 billion-plus shares traded over the past year. This massive volume is a highly valuable and remarkable asset for Growlife's exposure to investors.
In the 35-cent price range, Growlife common stock is an opportune entry point for purchase. Medical Marijuana, Inc., a non-reporting company under SEC investigation, has risen from $0.10 to a high of $0.50. It trades at $0.336 today. By way of comparison, Medical Marijuana's market cap is $318.4 million vs. Growlife's market cap of only $245.58 million. Medical Marijuana's accounting statements and reported revenues are in question. Growlife's are not. Clearly, Growlife is the undervalued and preferred investment of the two stocks.
Growlife's business model spreads its operational risk through multiple divisions. A Growlife investor's primary risk is the company's ability to manage a multi-division corporation that includes industry regulatory issues. General company risks in the marijuana industry include lack of capital, inferior management, adverse regulations, inability to execute on a business plan, poor investor information by non-reporting and reporting companies and stock market volatility. Growlife's business model is likely to benefit significantly following the legal regulations of the DOJ including anticipated reversal of banking industry sanctions.
In addition, Growlife is not completely dependent on marijuana and the marijuana plant due to its general gardening business. In the marijuana business, the company does not touch the plant. This diversification through multiple sources of revenue will allow Growlife to continue to grow its revenues and cash flows regardless of the industry's regulatory environment. That said, I expect that future industry announcements will help the entire industry including Growlife.
Looking at the three Tier index, we can see some companies of interest where their share prices and market caps are reasonable. HEMP, Inc. (OTCPK:HEMP) at $0.17, a hemp company, is interesting because the company has a marijuana subsidiary, Marijuana Inc. that can be resuscitated and directed into both the recreational and medical marijuana industries. Also, the U.S. House of Representatives recently legalized the cultivation of hemp in the U.S. GreenGrow Technologies (OTCPK:GRNH) at $0.43 is well positioned in the industry, has a reasonable market cap of $51.14 million, but its price is too high at this time. In Tier 3, Terra Tech (OTCQX:TRTC) $0.40, has a reasonable market cap of $40.16 million but its share price is also too high. A very interesting Tier 3 stock is Endocan Corporation (OTCPK:ENDO) at $0.108 with a market cap of $7.33 million. The three Tier market segment is a valuable guideline to relative and comparable value. Investors should do their own research to pick their favorite stocks, rather than speculate on volatile price swings in the marijuana industry.
Conclusion

The Green Rush is here to stay. It is likely to be one of the most continuing powerful and volatile events in the history of the U.S. stock market. Investors and speculators have jumped on this bandwagon. No one wants to be left behind. The marijuana stock market is the real deal. Share prices will continue to explode. There are eight and probably more major near-term and intermediate-term events that should drive the marijuana stock market to higher levels:
1. Allowing banks to finance the industry. By law, banks have been forbidden to lend to the industry. U.S. Attorney General Holder has announced a proposed reversal of this law proposing that banks can both receive deposits and provide banking services including lending to the marijuana industry. The industry is flush with cash with no place to deposit it. Share prices explode.
2. Credit card acceptance of marijuana purchases. If and when banking restrictions are removed and reversed, the major credit card companies should fall in line. Share prices explode.
3. HR 1523: The Pro Federal Government Hands off Bill. The possible passage of the Marijuana Laws Act of 2013. This bill would prevent the federal government from continuing to prosecute residents who are acting in accordance with their state's marijuana laws. The bill would legalize marijuana at the federal level to the extent it is legal at the state level. If passed, share prices will explode.
4. Federal taxation of the marijuana industry. There is no reason why the Federal Government would also not want to step in and tax the industry as they do with alcohol, other commodities and products. About $0.29 on the dollar in Colorado go to the state. Why should the Federal Government not collect? Share prices explode.
5. Washington begins recreational sales. This event with substantial media coverage should explode share prices similar to Colorado. The target date is this spring or summer.
6. Other states fall in line. As other states fall in line with major announcements and media coverage with both medical and recreational marijuana, this market will continue its powerful long term volatile increase in share prices and market capitalizations.
7. N.Y. goes medical and recreational. If N.Y. throws its hat in the ring, share prices explode.
8. California goes recreational. This event may happen in 2016. Share prices explode.
We envision a steady series of major industry announcements. Most are inevitable. All will continue to fuel the marijuana stock market. Growlife, Inc. is the best company for investment the marijuana industry because it is the outstanding value by every measurement of my analysis in this industry. At a price of $0.345, or a market capitalization of $245.58 million, the stock in today's marijuana market is worth about $0.49, or a market capitalization of around $348 million. Looking out intermediate term, with significant company and industry announcements as Growlife builds out its business model, the company should be able to carry a market cap of $500 million, or about $0.70 cents a share, possibly more if the industry premium holds.
Disclosure: I have no positions in any stocks mentioned, and no plans to initiate any positions within the next 72 hours. I wrote this article myself, and it expresses my own opinions. I am not receiving compensation for it. I have no business relationship with any company whose stock is mentioned in this article.