Editors' Note: This article covers stocks trading at less than $1 per share and/or with less than a $100 million market cap. Please be aware of the risks associated with these stocks.
I have been carefully scouring the resource markets at the end of 2013 for exceptional opportunities in the junior mining sector while the masses have chased blue chip stocks such as the Dow (NYSEARCA:DIA), Nasdaq (NASDAQ:QQQ) and S&P 500 (NYSEARCA:SPY) to nosebleed levels. I indicated numerous times about the potential rebound and breakout in the junior resource sector which is still trading near a historic low and warned of a major correction of possibly 30-50% in the general equity market. I highlighted a rare holiday discount sale in gold (NYSEARCA:GDX), silver (NYSEARCA:SIL) and uranium miners (NYSEARCA:URA). I also tried to steer clear of the overvalued social media, real estate, bank, pharmaceutical and tech stocks.
At the end of October, I said to watch for a rebound in uranium as major volume accumulated shares of Uranium Participation Corp (OTCPK:URPTF) which has now just broken out into new nine month highs and made a bullish golden crossover of the 50 and 200 day moving average. Incidentally, the entire junior resource sector highlighted by the TSX Venture Index is making a golden crossover. Look for the junior miners (NYSEARCA:GDXJ) to power higher. The Dow and TSX Venture divergence over the past three years which favored the blue chips may be reversing the other way. There are always reversions to the mean in the markets and this reversion could benefit junior resource investors. The junior miners are outperforming the blue chips for the first time in many years this January. As January goes that's usually how the rest of the year follows.
In addition to uranium, keep a close eye on the rare earths and graphite sector. I told you about increased M&A in the rare earths and graphite sector. Recently Molycorp (MCP) broke out on huge volume as even this giant could be a takeout target of Molymet as it trades below book value. It has pulled back to support which may make it even more of a bargain.
In addition, I highlighted a few months ago to buy NYSE graphite bellwether Graftech (GTI) and some of the high quality junior graphite miners. I wrote in this article published back in November about getting ready for a rebound in graphite. "I recently highlighted Graftech in early October and believed the stock was about to make a major move as it was trading below book value. (At that time), Graftech's market cap was below its revenue which signaled an excellent value play. Since that time Graftech has soared over 40% while the S&P 500 has gained under 7%…Some of the more advanced junior graphite miners which may benefit from this upturn is Flinders Resources (OTCPK:FLNXF), Focus Graphite (OTCQX:OTCQX:OTCQB:FCSMF) and Northern Graphite (OTCQX:OTCQX:OTCQX:NGPHF)." Please note these are all risky junior graphite miners with no revenue and will need lots of capital to get into production. However, if they find financial supporters then it is game on.
This is why the news with Focus Graphite is so important. All these graphite stocks mentioned above have been breaking out on major volume recently as predicted. The catalyst may have been the Chinese off-take announced with Focus Graphite on its Quebec Lac Knife Deposit. This is the first major off-take agreement in the graphite sector and it comes from China, the largest exporter of graphite. This indicates to the markets what I have been saying for years - that China is looking to import graphite over the longer term and Western graphite assets are in demand.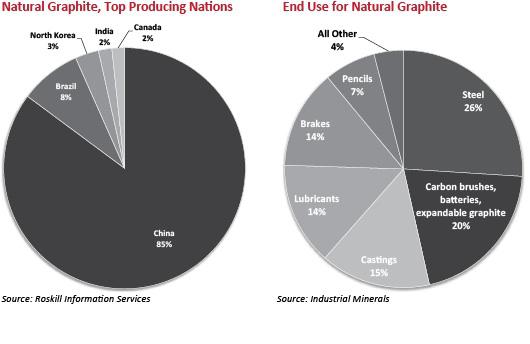 I told you to monitor the graphite bellwethers and issued a buy alert on Graftech in late October as I believed it was on the verge of a bullish reversal and I was right.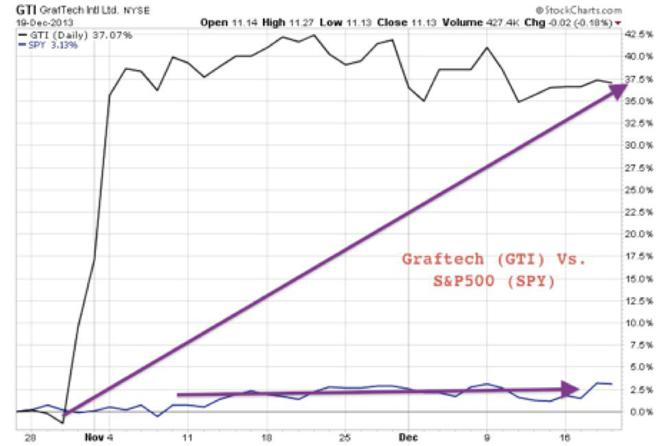 The stock has made a significant rebound posting gains for my subscribers during a tough year in the resource markets.
For a couple of years now, I have been writing about the critical supply of minerals which are crucial for North America's basic industrial manufacturers. The EU and the US have named graphite a critical material as demand is rising in the use of green energy. China produces over 70% of the world's graphite and has been tightening exports of the vital mineral for years. Prices have soared exponentially. Manufacturers are worried about supply as Li-Ion batteries actually require more graphite than lithium. Maybe they should be called Li-Graphite Batteries. There is a race to be able to supply these critical materials in North America and I believe investors who get in early may witness major moves in 2014.
Disclosure: I have no positions in any stocks mentioned, and no plans to initiate any positions within the next 72 hours. I wrote this article myself, and it expresses my own opinions. I am not receiving compensation for it (other than from Seeking Alpha). I have no business relationship with any company whose stock is mentioned in this article.