By Dee Gill
A lot of retailers blamed weak consumer spending for their lousy holiday earnings reports, and at least some shareholders bought the excuse. But accepting that rationale now looks particularly naïve. Investors who haven't already dumped the weaklings in their retail sector holdings might want to get right on that task. From the trend in the SPDR S&P Retail ETF (XRT), it looks like many investors have already started.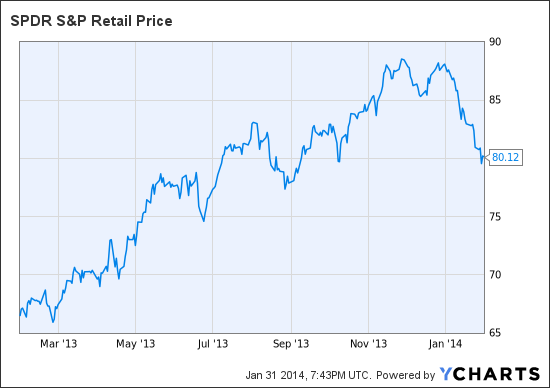 The whiners vs. the doers seems to be an early earnings season theme. Culling retail investments seems particularly wise following last week's business news. Turns out that consumer spending has been healthy enough lately. It's certain individual retailers that should worry investors.
Consider the report from the U.S. Commerce Department on Thursday. Consumer spending was up 3.3% in the fourth quarter, which was the best performance in three years. Moreover, the pace of spending seems to be picking up. December spending was up twice as much as analysts had predicted, and November's numbers were revised upward.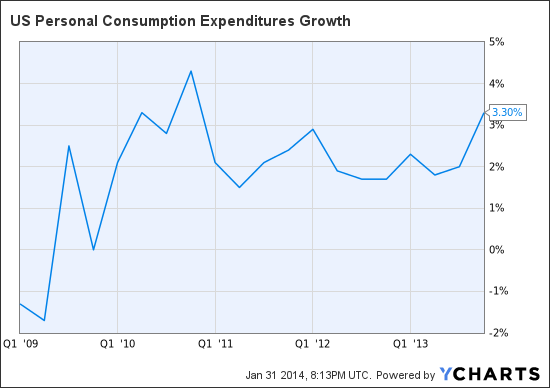 US Personal Consumption Expenditures Growth data by YCharts
Amazon's (NASDAQ:AMZN) earnings report Thursday reflected this upbeat trend, though investors were focused on the online retailer's specific growth rate rather than on what its results said about the U.S. consumer. United Parcel Service, (NYSE:UPS) too, got dinged for company-specific issues (delivery lapses) but its results offer enormous encouragement about the overall economy.
To wit: Amazon reported that it had to limit sales of Amazon Prime subscriptions at certain times because so many consumers were lining up to buy it. So much stuff was being shipped during peak times that it (and UPS) couldn't keep up with demand, leading it to spend some of its profits on gift cards and refunds for disgruntled customers.
UPS provided similar evidence of healthy consumer spending with a 20% uptick in December deliveries. It, too, was overwhelmed by demand. The result was good news for UPS stock, long-term, YCharts argued, despite short-term issues.
Abercrombie & Fitch (NYSE:ANF), Macy's (NYSE:M), Urban Outfitters (NASDAQ:URBN) and Stein Mart (NASDAQ:SMRT) were happy enough with consumer spending in their stores over the holidays to raise or at least reaffirm upbeat guidance. Consumer spending at these stores wasn't weak.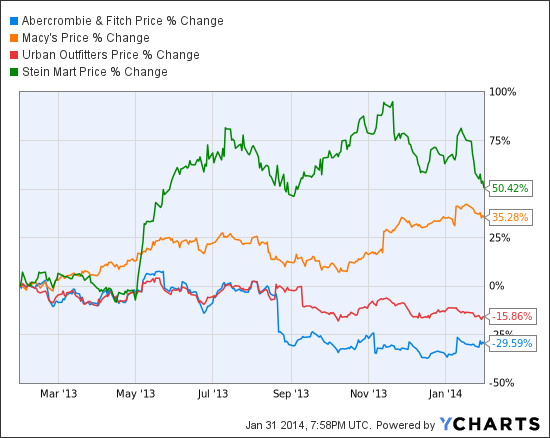 Best Buy (NYSE:BBY), L Brands (NYSE:LB), American Eagle Outfitters (NYSE:AEO), Family Dollar (NYSE:FDO), Five Below (NASDAQ:FIVE) and Bed Bath & Beyond (NASDAQ:BBBY) each disappointed investors with some version of the "weak consumer spending" explanation. Most of them said that more of their customers were waiting for discounts to buy their products. Their share prices are down between 7% and 41% in the past month.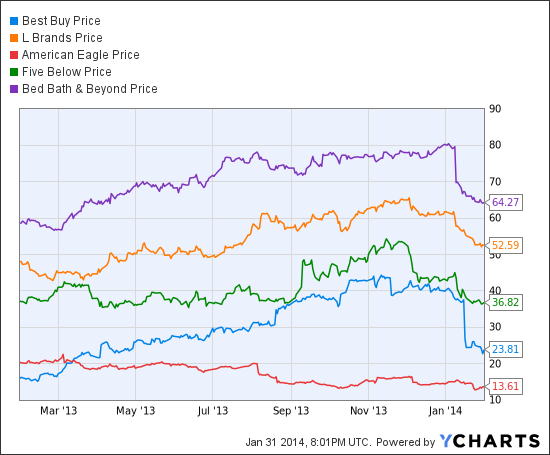 The resulting drop in share price will make some of those shares attractive for value investors. For example, Bed Bath Beyond, a stock in which investors had more than tripled their money in five years, now trades at a particularly big discount on a forward PE ratio relative to TJX Cos (NYSE:TJX), Ross Stores (NASDAQ:ROST) and L Brands. It's cheaper than Macy's now for the first time in years.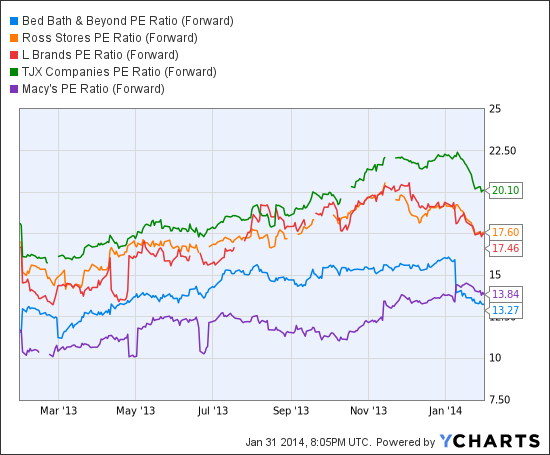 BBBY PE Ratio (Forward) data by YCharts
But value investing can be tricky in retailing, as YCharts explained in looking at American Eagle and Abercrombie & Fitch last month. Financial strength matters. Check the YCharts Pro Rating. YCharts Pro has an Urban Outfitters rating of 9 out of a possible 10 on fundamentals, but the value ratings raise questions. Unleash some financial advisor tools on the stock. Look for evidence that management has quickly rebuilt traffic and earnings following other setbacks. And be very skeptical of excuses.
Disclosure: None