Google (NASDAQ:GOOG)'s 23% YOY revenue growth to $6.7B in Q1 of 2010 is commendable and signals the return of large advertisers. Google network revenue growth (24% YOY) has outpaced Google-owned sites revenue growth (20.2% YOY) on a YOY basis.
So overall the ad revenue stream seems solid and growth looks sustainable despite the problems in China etc.
Solid Growth Trajectory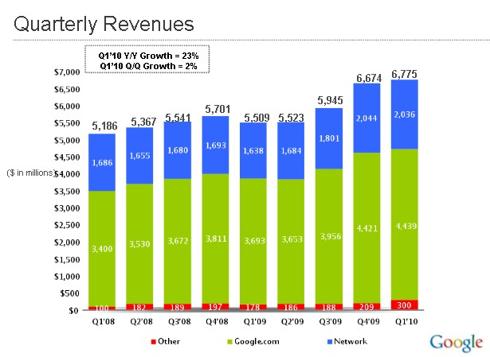 Source: Google Company filings
So the adsense program has generated good growth in the Google networks over 2009 and the first quarter of 2010. What makes it even more compelling is that TAC (traffic acquisition costs) have fallen in the last year and in Q1 too it has fallen to 26.4% of ad revenues from 26.9% a year ago.
TAC Has Fallen Consistently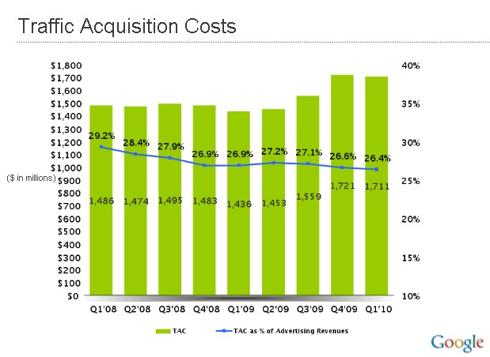 Source: Google Company filings
So why is TAC falling when network revenues are growing at a faster clip than Google-owned sites revenue. TAC is essentially a revenue share with network site owners for displaying ads from the adsense program for any search term on the network site. So the more traffic on network sites compared to Google-owned sites, the TAC should go up. But as the trend in the last quarter shows, there seem to be more factors affecting TAC and it's not as simple as it seems.
Google Sites Vs Network Sites Revenue - Last Three Years
(Click to view enlarged image)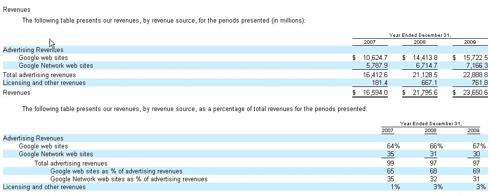 Source: Google Company filings
TAC Costs - Last Three Years
(Click to view enlarged image)


Source: Google Company filings
TAC costs have remained flat in 2009 despite a ~5% rise in network revenues to $7.1B. Clearly Google has paid less to the network site owners despite an absolute increase in ad revenues from network sites. The answer seems to lie in the guaranteed revenue share payments that Google makes to its network partners. These payments are paid based on network partners meeting the desired 'search targets' that is part of the agreement. So effectively, if a partner does not meet its target, the obligations also come down as they can be bought down on a pro-rata basis for not meeting targets. Such agreements are with a select few partners and Google does not reveal any other details for such contracts.
Guaranteed Revenue Payment Obligations Have Plunged In 2009
(Click to view enlarged image)



Source: Google Company filings
(Click to view enlarged image)



Source: Google Company filings
However, from their contractual obligations disclosure for 2008 and 2009, we can see than the guaranteed minimum revenue share payments outstanding has declined from ~$1B at the end of 2008 to ~$133M at the end of 2009. In fact it was~$360M at the end of 3Q09 and that has come down to $133M in a span of three months. If the revenue share payments had been as 'planned' in the end of 2008, the TAC costs should have been around $618M higher in Fiscal 2009.
However, my suspicion is also that Google has re-negotiated such guaranteed payments considering the volatility in ad spending experienced in early 2009. Simultaneously, Google has probably reduced its dependence on large network partners and spread its net wide to attract other small website owners. I'm coming to this conclusion because network revenues have shown healthy growth despite the reduction in guaranteed revenue payment. This reduction in guaranteed payment obligations would have helped Google during the downturn. But now with ad spending returning to normal levels, there could be a question if it's time to woo these large network partners who can contribute a good chunk of the network revenues. If that's the case, then clearly current gross margins are probably not sustainable and could go down as the year progresses.
With investor concerns on costs already impacting its stock price since the quarterly earnings were announced, it would be interesting to see what happens next quarter if revenues grow but TAC as a % of revenue also increases.
Disclosure: No positions