Editors' Note: This article covers a stock trading at less than $1 per share and/or with less than a $100 million market cap. Please be aware of the risks associated with these stocks.
It's becoming more and more difficult to find biotechnology stocks that are attractively valued these days. The NASDAQ Biotechnology Index (NBI), the best "barometer" for this sector, is up 253% in the last 5 years. To put that in perspective, consider that the S&P 500 is only up 116% in the same period of time.
Valuations in the biotech sector are definitely getting a bit frothy, but I think that there is still plenty of value to be found with smaller, obscure companies that have not been covered by prominent analysts. It takes a bit of digging to find them, but they certainly do exist.
Investing like a Venture Capitalist
In this environment, I've adopted a "VC-like" mentality. I've been singling out the companies that offer the biggest potential for percentage-based growth within the next 5 years. My goal is not to smooth out performance, but to give myself a decent chance at a home run in my biotech portfolio.
Since liquidity is not an issue for my investing style, I have also screened out companies that trade on decent volume. Illiquid companies are unattractive to short-term biotech traders, and I do not want them to exaggerate the movements in my stocks.
I also make an effort to find stocks with some institutional backing, but not necessarily from the funds that are only buying biotech stocks for risk-spreading and diversification purposes (like Vanguard or Oppenheimer). I'm looking for companies that were specifically chosen by intelligent money managers, who know how to separate the wheat from the chaff in the healthcare space.
La Jolla Pharma: Obscure Company Relisted to NASDAQ
Although they are now Nasdaq listed, La Jolla Pharma (NASDAQ:LJPC) is a mid-stage company that is not currently part of the Nasdaq Biotech Index. I consider this a good thing, since LJPC shares have not been indirectly accumulated by those who are interested in Nasdaq biotech ETFs. I find that inclusion into the NBI can lead to "artificial" demand for a particular stock, which can lead to random inflation of the stock's price per share.
La Jolla is a company that has legally existed for over two decades and hasn't generated income due to developmental failure, but it's important to understand that the company went through a complete transformation in January 2012. The company was put under new management, and was "reborn" into the existing publicly-traded shell. An excellent article detailing the history of La Jolla and its merits was recently posted by Ross Klosterman.
Immediate Upside Potential in Fibrosis: CKD and NASH
For La Jolla, the immediate upside potential comes from a novel drug known as GCS-100. This drug is a potent inhibitor of galectin-3 - an untapped therapeutic target. Galectin-3 has been implicated in a number of diseases, but the strongest link is seen with a condition known as fibrosis.
Fibrosis is a mysterious condition where scar tissue replaces normal tissue in vital organs. As the condition makes progress, organ function deteriorates. Eventually, fibrosis patients may need organ transplants. Because there is no known way to reverse the course of this disease, slowing the progression of the disease has become the main priority.
La Jolla is focused on developing GCS-100 for two common types of fibrosis: kidney and liver.
Nonalcoholic Steatohepatitis, or "NASH," is a type of fibrosis that is commonly seen in the liver of obese adults. It is currently the topic of much discussion due to the recent Phase II results posted by Intercept Pharmaceuticals (NASDAQ:ICPT). Intercept's OCA (obeticholic acid) seems to be the most promising treatment for NASH to date. Due to the sheer size of the indication (~6 M patients in the United States), many expect this to become a blockbuster drug without any competition. However, a few cardiovascular safety issues have arisen.
It's not clear how well GCS-100 will do in humans, but the drug showed some very promising and statistically-significant activity against NASH in STAM mice as measured by NAFLD (non-alcoholic fatty liver disease) activity scores. STAM mice are specifically designed as "examples" of NASH and hepatocellular carcinoma (HCC), and they serve as a pretty good "hot/cold" indicators for efficacy in humans.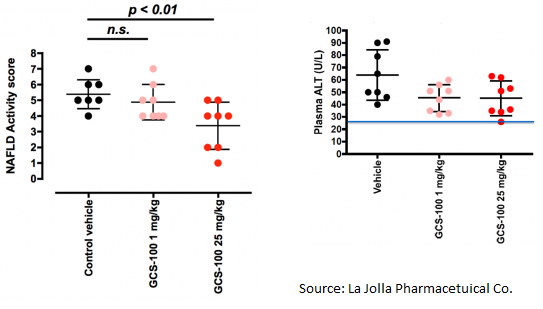 But as interesting as NASH is, La Jolla's kidney disease (CKD) program is at the center of attention as the company continues to enroll patients into a Phase IIA trial. I'm expecting the company to release top-line data from this trial in either late March or April 2014. Since GCS-100 is a drug that can expand into multiple other fibrosis indications based on the success in one, I expect the market to react quite strongly to this release if there is another hint of efficacy in the data.
If the results can firmly establish the safety profile of GCS-100, the probability of developmental success for GCS-100 increases significantly too. If you base the valuation of this drug/company on a risk-adjusted rNPV valuation model, this would significantly reduce the "risk discount" that is added to the discounted future cash flows. This reflects the increased probability of FDA approval for any drug candidate undergoing clinical development.
Based on a fleshed-out rNPV model built by the Milken Institute, a chemical pharmaceutical agent that passes through Phase II testing will increase its chances of success from 20% to 30%. This implies that the value of GCS-100 should increase by about 50% after completion of Phase II, but I think the market would add a lot more than this if they succeed.
It's also worth noting that Galectin-3 is a potential target for cancer immunotherapy, although we will not discuss the potential in this indication with respect to GCS-100 in this article.
GCS-100 and GR-MD-02
There is only one other drug under development that shares the basic mechanism of action of GCS-100. GR-MD-02, the furthest advanced drug in the pipeline of Galectin Therapeutics (NASDAQ:GALT), is a very similar drug that is also being developed as a novel therapy for fibrosis and cancer immunotherapy.
Like GCS-100, GR-MD-02 is in early-stage clinical testing. Both of these galectin-3 inhibitors appear to be tolerable at their optimized doses, although additional long-term safety data will build a stronger case for both drugs going forward.
It's also worth considering that neither of these drugs have really established inherent superiority over the other (in terms of efficacy), which is why I find it very interesting that GALT is trading at a market cap of $284 M while LJPC is trading at $36 M.
Valuation of GCS-100
I believe that investors can use risk-adjusted NPV valuation to estimate what drugs are worth at various stages of development. This requires quite a bit of informed mathematical guesswork, but I think it's a better way to make sense of the inflated "multibillion dollar peak sales estimates" and "market size estimates" that are thrown around by analysts.
In my model, I attempt to find the fair and risk-adjusted value of the first 5 years of GCS-100 revenue.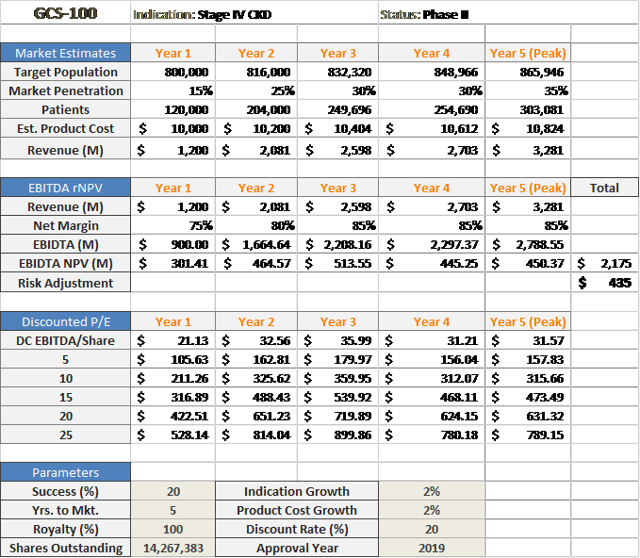 In my model, I came up with a $435 M valuation for GCS-100 in the chronic kidney disease indication alone. This may seem way too high due to the current valuation of La Jolla, but I believe that my discounts were fair. I only assume a 20% chance of success (based on the successful completion of Phase I), and I use a 20% discount rate with my FDA approval goal date of 2019. My market penetration rates are based on the assumption that the drug is marketed/distributed by a larger company (8% royalties factored into net margin).
If we wanted to be more strict, we could quickly come up with a valuation that is similar to the $284 M valuation of GALT.
Galectin & La Jolla Financials
Here is some important financial data for La Jolla and its competitor Galectin.
| | | |
| --- | --- | --- |
| | | |
| Cash & Equivalents | $10.7 M | $9.7 M |
| Series A,B,C Notes (liquid value) | $10.3 M | $6.8 M |
| Research Expense (quarterly) | $948,000 | $1.2 M |
| G&A Expense (quarterly) | $3.2 M | $2.4 M |
| Stockholders' Equity (net worth) | $10.2 M | $1.3 M |
Despite the discrepancy of the valuation between the two companies, the balance sheets and burn rates aren't all that different. The main advantage for Galectin here is that the company has a higher capacity to raise money with at-the-market offerings, although this is only because of the company's market cap. Also note that both companies have issued high-yield convertible debt that may lead to dilution of the common stock.
General Conclusions
- GCS-100 has a high chance of failure - especially at this stage of development. It is likely that my investment in La Jolla will lose me money, but if the drug gets approved the payoff would be enormous.
- La Jolla and Galectin have very different valuations, despite the similarity of their product pipelines. This is the main reason that I'm favoring La Jolla
- Fibrosis is very common. Millions of patients will be treated for fibrosis once an effective, FDA-approved drug is made available. This will generate billions for certain pharmaceutical companies.
- La Jolla is a very risky, spring-loaded investment. It is more likely than not that I lose most of my investment in this trade, but I think I have a reasonable chance at triple or quadruple-digit returns within the next 5 years
-La Jolla stock may be diluted due to convertibles and potential ATM needed in the future to fund Phase II trials
-Liquidity on this stock is not very good right now, and I see this as a big problem for anyone who wants to liquidate a large position quickly
Disclosure: I am long LJPC. I wrote this article myself, and it expresses my own opinions. I am not receiving compensation for it. I have no business relationship with any company whose stock is mentioned in this article.