By David Russell
An interesting headline from the credit markets caught my eye recently: "U.S. junk bonds post $417 million weekly inflows."
Why does this matter to us in the option market? The first reason is that money flowing in the credit market reduces volatility. That's why the VIX drifted lower as the mortgage bubble inflated between 2003 and 2007.
Even more importantly, it confirms that the current recovery isn't merely a stimulus-fueled blip on the radar screen. Real healing has taken place in the world of credit, and that improvement will have knock-on positive effects across the market in coming months.
Having a healthy financial system is a bit like having technology: It makes things possible that are otherwise unthinkable. For instance, before the Internet and cheap communications, businesses held huge amounts of inventory in warehouses because they never really knew what customer was going to want which product. Nor was it known when or where the items would be needed.
Now with devices such as bar-code scanners and cash registers linked into central management systems, a company can control its supply chain all the way from China to Middle America to ensure the right merchandise is in the right place at the right time. Advances such as these are one of the main reasons that companies have been able to deliver huge profit margins despite big drops in revenue.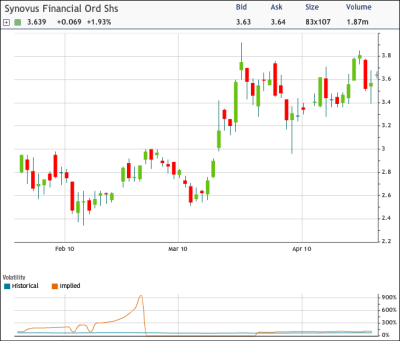 A functioning credit market has a similarly positive impact because it enables things that couldn't have been imagined in March 2009. For instance, if a company wants to borrow money to buy a competitor, that's now possible. If a company is facing a $500 million bond maturity in six months, it no longer needs to trade at $0.25.
A lot of the stock market's gains over the last 13 months have resulted from the return a leverage, which has brought debt-heavy companies such as Ford Motor (NYSE:F), Dana Holdings (NYSE:DAN), and Boise (NYSE:BZ) back from near-bankruptcy levels.
The week ending April 9 was the seventh in a row that money moved into high-yield bonds. Also noteworthy is that bank-loan funds had seen inflows for 19 straight weeks. Junk bonds and bank loans are the mother's milk for takeover artists, so we very well could be gearing up for a whole new cycle of leveraged buyouts.
The other good thing about releveraging is that the process is clearly not over yet. Sure some stocks have rallied back more than 1,000 percent, but plenty more companies are still trading far below their 2008 levels. That's why I think we've seen so much bullishness in regional banks such as Regions Financial (NYSE:RF), Popular (NASDAQ:BPOP), and SunTrust (NYSE:STI).
Look at the recent call roll on Synovus (NYSE:SNV) and the takeover speculation on DryShips (NASDAQ:DRYS). What do these two companies have in common? They're both leveraged, and they're both trading at less than half their price before Lehman Brothers (OTC:LEHMQ) went down.
For much of 2009 the story was tech, which was rallying on true fundamentals. But as a bull market progresses, investors look for lower-quality "me too" names. This is exactly what happened in 2004 when second-rate junk stocks saw big run-ups because all the easy money had been made on higher-quality names.
In 2010, the story is likely to be a hunt for value among companies that are still trading at deeply discounted levels. Investors will look for those to regain some of the lost ground. After all, strength in junk bonds means the "down in quality" risk trade is back on.
Just as the calamity in credit during 2008 took a few weeks to leak into equities, look for these junk-bond inflows to continue manifesting themselves in the stock market.
Potential ideas could also include a company like Georgia Gulf (GGC), which is still about 75 percent below its pre-crisis levels. Others I have liked on the same thesis include Patriot Coal (PCX) and Century Aluminum (NASDAQ:CENX).
Disclosures: Author long DRYS and PCX