US commercial real estate prices as measured by Moody's/REAL Commercial Property Price Indices (CPPI) declined by 2.6% in February, the first month-to-month decline in four months.
Nationwide, prices are now down 41.8% from their peak measured in October 2007 and have come back 3.4% from their October 2009 low.
"From November to January, commercial real estate prices increased by an aggregate 6.3%," said Moody's Managing Director Nick Levidy. "As noted in our previous reports, however, we did not feel that these increases were sustainable in the short term, particularly given current low transaction volumes. "
With continued low volume in February and a larger proportion of repeat-sales sales considered distressed, it is unsurprising that prices have once again headed lower.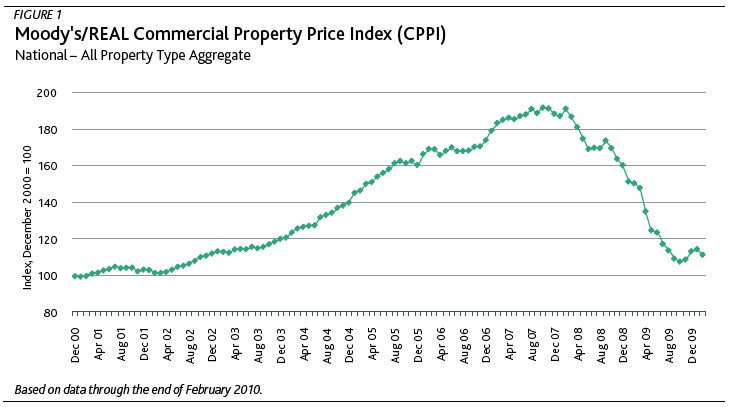 Transaction volume declined in February from January by about 10% as measured by dollars and by nearly 30% by count. Sixty-six repeat-sales totaling roughly $540 million were used in the calculation of the CPPI.
The proportion of all repeat-sales which have been classified as distressed increased from 4% in 2008 to nearly 20% for calendar 2009, and has continued to climb in the first two months of 2010, nearly reaching 25% in January, and just under 32% in February.