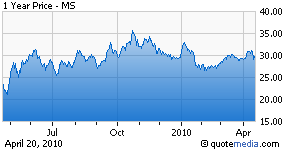 Morgan Stanley (NYSE:MS) is expected to report Q1 earnings before the market open Wednesday with a conference call scheduled for 8 am ET.
Guidance
The consensus estimate is 57c for EPS and $7.94B for revenue, according to First Call. Several large financial companies have reported better than expected Q1 results, and they have said that their trading desks have performed well while credit trends are rebounding. Meanwhile, Morgan Stanley CEO James Gorman told Dow Jones on April 12 that the company's headwinds were mostly behind it.
On a negative note, the SEC charged Goldman Sachs (NYSE:GS) with fraud on Friday for allegedly misrepresenting one of its financial products. There have been media reports suggesting that the SEC could look to file similar charges against other companies. Investors will try to determine whether Morgan Stanley could be vulnerable to similar charges, and the extent to which such charges could damage its business. In addition, Morgan Stanley may lose up to $5.4B on a real estate fund that made bad investments, the Wall Street Journal reported on April 14.