Eleven Biotherapeutics Inc. (EBIO), a clinical-stage biopharmaceutical firm, seeking to develop treatments for diseases of the eye, plans to raise $60.2 million in its upcoming IPO.
The Cambridge, Massachusetts-based firm will offer 4.3 million shares at an expected price range of $13-$15 per share. If the IPO can find the midpoint of that range at $14 per share, EBIO will command a market value of $206 million.
EBIO filed on December 30, 2013.
Lead Underwriters: Citigroup Global Markets Inc, Cowen and Company LLC, Leerink Partners LLC
Summary
EBIO is a clinical-stage biopharm firm, attempting to discover and develop protein therapeutics for diseases of the eye, through the use of its proprietary protein-engineering platform, AMP-Rx. The figure below illustrates the efficiency of AMP-Rx, compared with the traditional process.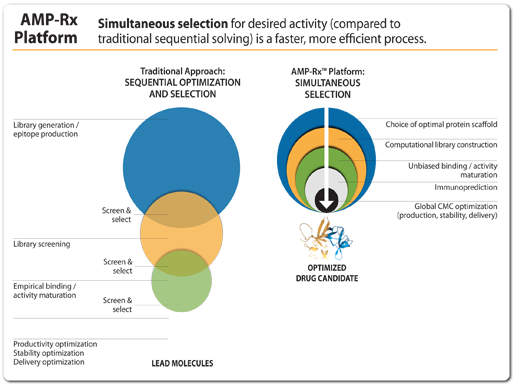 (Source: www.elevenbio.com/technology/AMPrx.html)
The firm's therapeutic approach is based on the use of proteins designed to manipulate the effects of cytokines, cell-signaling molecules found in the body, which can have important inflammatory effects. The firm's most advanced product candidate, EBI-005, is being developed as a topical treatment for dry eye disease and allergic conjunctivitis. EBIO completed a Phase 1b/2a clinical trial of EBI-005 in 2013 for patients with moderate to severe dry eye disease, and plans to initiate a pivotal Phase 3 clinical program to evaluate the treatment. The firm also has several pre-clinical product candidates in development. See the company's pipeline below: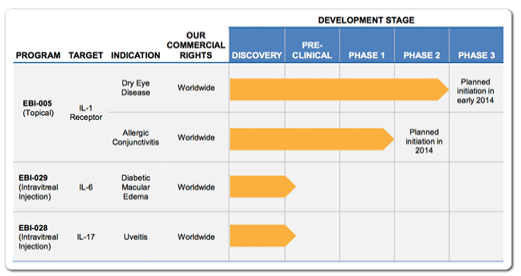 (Source: www.elevenbio.com/pipeline/pipeline.html)
Valuation
EBIO offers the following figures in its S-1 balance sheet for the nine months ending September 30, 2013:
Revenue: $824,000.00
Net Loss: ($12,959,000.00)
Total Assets: $5,051,000.00
Total Liabilities: $11,200,000.00
Stockholders' Equity: ($51,184,000.00)
EBIO's minimal revenues are normal for a clinical-stage firm, and should not be taken as an indication of the firm's potential success or failure. EBIO will not generate significant revenues until it has commercialized one or more of its product candidates.
Competition
In the event that it is approved by the FDA, EBI-005 will face competition from current treatments for dry disease-primarily Restasis and off-label corticosteroids. EBIO acknowledges that some patients with moderate to severe dry eye disease are already effectively treated by current standard of care therapies. In addition, numerous other pharmaceutical and biotech companies are seeking to develop therapies for dry eye disease, including some much better-established and better-capitalized firms, including Shire Plc (NASDAQ:SHPG), Acucela Inc, Otsuka Pharmaceutical Co Ltd, Mimetogen Pharmaceuticals Inc, Bauch & Lomb Corporation, OphthaliX Inc (OPLI), Rigel Pharmaceuticals Inc (NASDAQ:RIGL), and Allergan Inc (NYSE:AGN).
Management
President and CEO Abbie C. Celniker, Ph.D. has served in her current positions since September 2011. She previously served as Executive Vice President, Translational Medicine of Alexion Pharmaceuticals, Inc., President and CEO of Taligen Therapeutics, Inc., Global Head of Biologics of Novartis AG, Senior Vice President of Research and Development Strategy and Operations of Millennium Pharmaceuticals, Inc. and the Vice President Protein Technologies of the Wyeth Research facilities in Cambridge, Massachusetts. Dr. Celniker received a B.A. in Biology from the University of California, San Diego, and a Ph.D. in Molecular Biology from the University of Arizona.
Conclusion
We rate this IPO a neutral to buy for very aggressive investors in the $13 to $15 range given the strong demand for biotechs.
As with all early clinical-stage biopharmaceutical firms, there is significant risk that EBIO's product candidates will never gain FDA approval, or simply never gain traction commercially. This risk is compounded in the case of EBIO by the existence of effective, approved therapies for the same health issues that EBI-005 seeks to address, as well as the numerous more financially-potent competitors seeking to develop similar treatments.
Disclosure: I have no positions in any stocks mentioned, but may initiate a long position in EBIO over the next 72 hours. I wrote this article myself, and it expresses my own opinions. I am not receiving compensation for it (other than from Seeking Alpha). I have no business relationship with any company whose stock is mentioned in this article.