This morning's Eurostat numbers on Eurozone retail sales should be a wake-up call for the European Central Bank ahead of its monetary policy meeting tomorrow. For those numbers were highly suggestive of a stalling in Europe's tepid economic recovery. Of particular concern is the fact that this apparent stalling is occurring at the very time that overall Eurozone inflation continues to decline to a dangerously low level and that unemployment remains close to record levels.
According to Eurostat, in the all-important month of December 2013, Eurozone retail sales declined by as much as 1.6%. Compared to the same period last year, retail sales were down by 1%. The apparent inadequacy of European domestic demand does not bode well for the European economic recovery. Since it must be only a matter of time before European manufacturers have to adapt their production plans to weaker than expected domestic demand.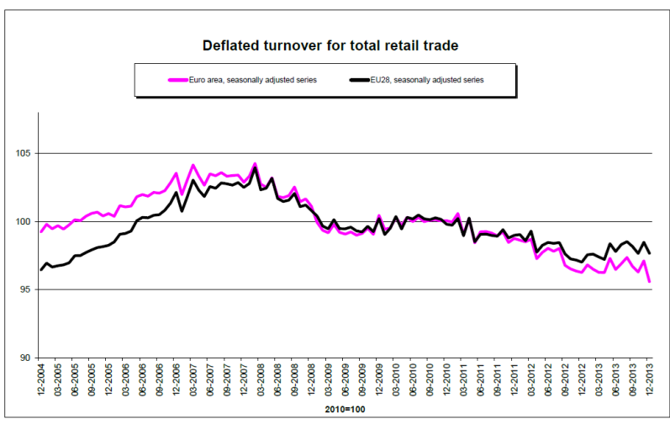 There would now seem to be an overwhelming case for the ECB to at least cut interest rates to their zero bound, if not resort to additional unorthodox monetary policy measures to help boost the Eurozone economy. Overall Eurozone inflation is currently running at only 0.7%, or around a third of the ECB's close to but below 2% inflation target. Further, the ECB itself does not expect inflation to exceed 1.3% by 2015 and a number of highly indebted countries in the European periphery are already experiencing outright deflation.
Meanwhile, unemployment remains at close to record levels, the economic recovery is stalling, and the Euro remains unhealthily strong. In this context, the ECB itself is forecasting that economic growth over the next two years is not going to be sufficiently strong to prevent Eurozone unemployment from remaining at around 11.8% in 2015.
While all indicators would suggest that the ECB should cut rates at tomorrow's meeting, it remains to be seen whether they in facto do so. If they do not, we will get further confirmation that the ECB continues to be fearful of a negative response to its actions in Germany, the ECB's main shareholder. While the highly indebted countries in the European periphery where unemployment is the highest are all clamoring for a proactive ECB, the same is not true in Germany. Relatively buoyant economic conditions in Germany and an inflation rate that is not far from the ECB target fuel strong domestic German opposition to any ECB interest rate move.