MFLEX (Nasdaq: MFLX) is the second-largest manufacturer of "flex circuitry assemblies" in the world. The Anaheim, Calif.-based company, whose full corporate name is Multi-Fineline Electronix Inc, keeps a low profile.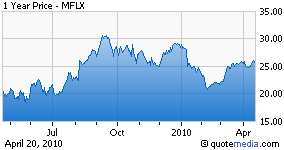 It's a profitable company that's been growing for decades and it's now positioned well in the growing smartphone market. The flexible assemblies, which it manufactures to put into electronic products that can bend and fold, are in high demand for markets such as smartphones.
MFLEX director of marketing Jay Desai told me a few weeks back that the company would like to grow its Pelikon unit, which is a Cambridge, U.K.-based company that the company acquired in 2008. Pelikon makes flexible display technology and a "morphing keyboard" which can change keyboard functions depending on which mode you are in. The best way to understand it is to take a look at this demo.

MFLEX has the opportunity to grow with the smartphone market. IDC data from Q3 2009 indicates that MFLEX technology was in 7 of the top 10 smartphone manufacturers. It's currently looking for some new design wins based on the Pelikon technology.
So what about the stock? It's cheap, given that the company is profitable and has a solid balance sheet. In 2009 it earned $50 million in profits on $764 million in revenue. It' has 141 million in cash and only $11 million in debt on its balance sheet. Its market cap is $650 million, meaning it trades at only about 13 times last year's earnings. The forward P/E is about 12. With a return on equity of 14% and a PEG of .82, it's a bargain stock.

Disclosure: No positions