When I penned my article a couple of days ago about Keurig 2.0 and why it's going to be make or break for Green Mountain (NASDAQ:GMCR), I knew that a ton was going to rest on the company's comments today surrounding what its future plans were. Well, investors asked, and Green Mountain answered - in massive fashion.
By now, you no doubt know that GMCR stock is rocketing over 30% pre-market on news of a partnership with Coca-Cola. It's precisely what the company needed at this juncture in its business and arguably one of the only things that could have kept this company off the hit lists of shorts and critics.
First and foremost, in the gloating section of this article, I do want to point out the disgustingly profitable trade that I recommended just earlier this week for Green Mountain's earnings:
The $81 long straddle is going to cost us $10.90 to buy, and is going to put our break-evens at $91.90 or $70.10 - two levels this stock has run through in the past and should have no trouble getting to based on its earnings report.

Green Mountain has been volatile for the better part of the last year, and we're betting on that continued microscope on the company to push its price in one direction or the other. Green Mountain has been a tug of war for investors on the heels of hedge fund manager David Einhorn announcing that he was going to short the stock based on the aforementioned patent issues, coupled with some questionable accounting.

Again, I think that a good portion of how GMCR fares in the long term is going to be based on whether Keurig 2.0 can provide selection for consumers, ease, and affordable pricing. If it catches on, it'll breathe new life into the company. If it fails, Green Mountain is going to be back to the drawing board while investors likely bail.

Short term, this is going to be my trade this week.
Suffice it to say, Einhorn probably did not like the news today.
If you had placed this trade, depending on what GMCR opens at in the morning, you're going to be netting a profit of somewhere around $2000 (plus or minus about $1000 judging by after hours trading) per contract. We're talking about a 200% return on each contract purchased. Yes, earnings with certain companies are binary and yes, option straddles/strangles are a great way to play them. Not all companies, but the ones we've played this earnings season - Netflix (NASDAQ:NFLX), Facebook (NASDAQ:FB), Twitter (NYSE:TWTR) - have all paid off.
Green Mountain today announced a partnership with Coke (NYSE:KO) for their next generation Keurig 2.0 system. As part and parcel with the deal, Coca-Cola is going to be acquiring a 10% minority stake in Green Mountain. The new collaborative system they are working on is going to be inclusive of both cold and hot drinks, seemingly set up to compete with SodaStream and to give Coca-Cola something it hasn't had in a while - serious growth prospects.
First, let's talk about Green Mountain. This deal exactly what the company needs. Since the company's waning revenue and doubt cast on it by patent issues, the company needed an "out" here with earnings. Many people were hoping for simply details on the Keurig 2.0 system to infuse some confidence into investors. Instead, GMCR kicked all expectations in the rear by announcing this partnership.
Here's the importance that I placed on Keurig's plans
Due to the fact that the original K-Cup is still growing, who is going to be eager to "upgrade" their coffee maker and simply chuck the one they have now, that makes all brands accessible? Additionally, the original K-Cup machines that are in inventory all over the world are likely to sell faster once the "new" version comes out and the original goes on sale.

The company has said it's going to price the new version at a "value" in order to penetrate more markets with it. The question then remains whether or not GMCR will monetize 2.0 immediately or if the first push will simply be a push to get in your front door, with plans of monetizing from it once everyone owns the new system. It sounds uneasy, at best, to me - if you buy Keurig 2.0, you're actually limiting the amount of coffee that you can make. Green Mountain hopes to allow people access to Keurig 2.0 through striking revenue-sharing deals with the company.
Coca-Cola is arguably the most reliable, well known, and safe investment in the entire beverage industry. Having them get behind your growing beverage company is a great way give your company a credibility transfusion, while at the same time making the shorts run for the Pepto-Bismol.
Aside from Coke's investment in the company already showing a massive profit, this deal should be looked at as a positive for Coke. Coca-Cola is a company that is heralded and recommended due to its stability and "no brainer" investment thesis - the business is easy to understand, it pays a nice dividend, and it's about as safe of an investment as you can put your money into. However, one thing that Coke hasn't really done of late is grow through innovation. This stake in GMCR gives Coke an entire new foothold - if they can find an efficient way to monetize in-home production of Coke through certain types of K-Cups, it could be a whole new revenue stream for the company that could continue to push its growth forward more aggressively than any time in the recent past. It has the chance, with a name like Coke behind it, to become a household standard.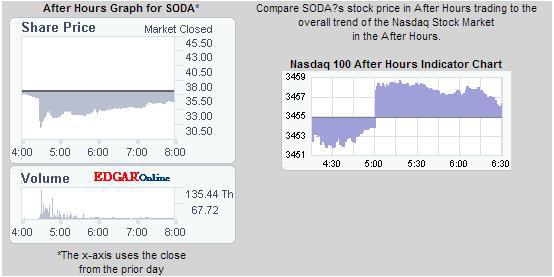 Immediately, the first thing I thought of was, "SodaStream (NASDAQ:SODA) has to partner with Pepsi (NYSE:PEP)." Although SODA investors are clearly spooked and SODA does seem to be on the outside of this deal, I'd bet dollars to donuts that SODA finds a similar partner in a very short amount of time. Pepsi would obviously be the front-runner, in this investor's opinion.
I have to say I'm bullish on this move. I love the Coke name getting behind Green Mountain, I love the idea to venture into cold beverages, and I actually can see this working to the benefit of SodaStream (eventually) as it's possible this move could put cold beverage devices in homes the same way K-Cups currently are.
We'll have to see more as the weeks pass by. What, exactly, is the machine going to look like? What other brands will it work with aside from Coke? Who will SodaStream pair with to compete?
All I know is that, for now, my cautious veil that I looked at Green Mountain through has been lifted, and I'm bullish on GMCR, KO, and SODA going forward from here.
Best of luck to all investors.
Disclosure: I am short TWTR. I wrote this article myself, and it expresses my own opinions. I am not receiving compensation for it (other than from Seeking Alpha). I have no business relationship with any company whose stock is mentioned in this article.
Additional disclosure: I own TWTR puts and calls.