Tuesday morning in China began with the Shanghai Composite index dipping to within a tenth of a percent of its low for the year, capping a 7% loss for the index in two days. Although the Rising China Stocks index had previously decoupled from the Shanghai index for most of the year, U.S. listed Chinese small caps have recently fallen nearly in lockstep with their large cap counterparts, losing six percent of their value since Friday.
The RCS index drop was fueled by a double whammy of negative news: the SEC's announcement that it would investigate Goldman Sachs (NYSE:GS) for fraud, coupled with the Chinese central government's announcement of new fiscal measures to curtail property speculation. If Shanghai holds at or above its previous lows then it seems likely the RCS index won't slide much further. If the Shanghai index breaks below the 2,939 level then it may signal further rough times ahead for U.S. listed Chinese small caps.
Although every industry sector of the RCS index was down on Monday, two sectors, energy and pharamaceutical stocks, fared better than most, as indicated in the chart below.
[Click to Enlarge]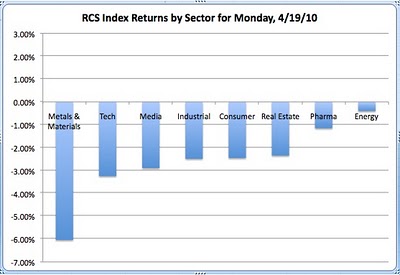 When markets turn around, the sectors that have fallen least during a downturn are often the ones that are quickest to recover. The same holds true for individual stocks. The best performing energy stock on Monday was Longwei Petroleum (OTC:LPIH) and the strongest pharmas were Sinobiopharma and Biostar (NASDAQ:BSPM). All of these stocks bucked the trend and posted gains on Monday.
I've been writing for a few weeks now that the RCS index was looking ready for a retracement. The question of the moment is whether the current reversal will persist and turn into a large scale correction, or whether selling pressure will abate. Barring any additional negative news, I anticipate this downtrend will turn out to be a short-term breather and that Chinese small caps will soon regain their positive momentum.
Disclosure: I hold positions in BSPM.OB and LPIH.OB