Not much good can be said about American Capital Agency Corp. (NASDAQ:AGNC) for 2013. The company faced extreme volatility related to the unstable interest rate environment, which negatively impacted both its book value and dividend. However, American Capital seems to have finally been able to turn things around in Q4. Shares are up over 12% YTD and may be heading even higher.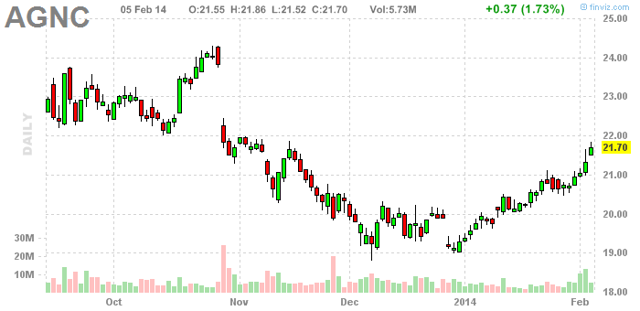 Q4 2013 Overview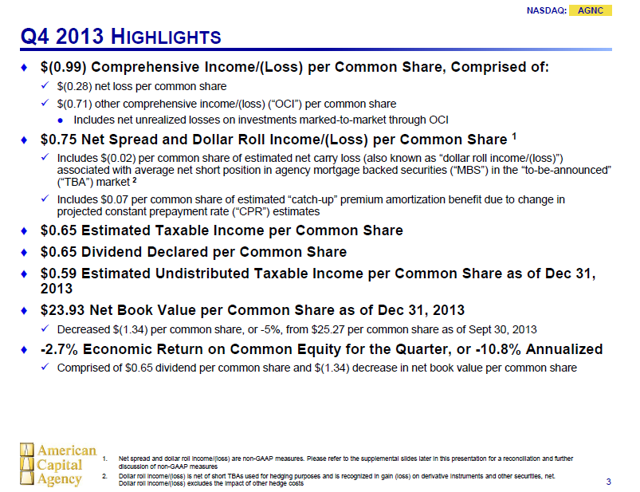 On February 3, American Capital reported its Q4 2013 results. For the quarter, the company reported a total comprehensive loss of $366M, or $0.99 per common share. This consists of a $0.28 net loss per common share as well as $0.71 per share in other comprehensive income/(loss), or OCI.
American Capital generated roughly $0.75 per share in net spread and dollar roll income in Q4, up 30% from $0.58 in Q3 2013. This increase was almost entirely due to an improvement in American Capital's net interest rate spread, which improved to 1.57% in Q4, up from 1.20% for Q3 2013. This net spread was also the largest since 2012.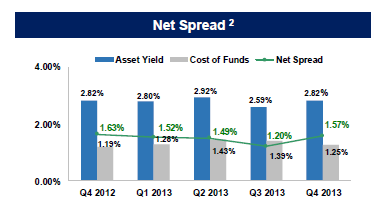 However, the increased spread does have a downside, namely a lower book value. For the quarter, American Capital's book value per share declined to $23.93, down 5.3% from $25.27 in Q3 2013. American Capital's book value is now 25% lower from its Q4 2012 peak of $31.64 per share. At current prices, American Capital trades for about a 10% discount to its Q4 2013 book value.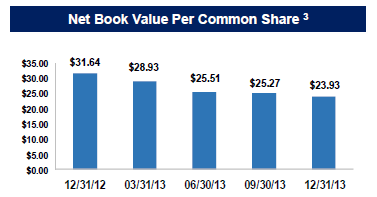 How is American Capital turning things around?
On the surface, it appears as if American Capital reported yet again another poor quarter. However, these results do not tell the full story. American Capital has been aggressively de-risking its portfolio and repositioning its capital returns towards share buybacks rather than reinvesting into new MBS.
As I noted in a previous article, American Capital is selling its highly liquid MBS portfolio to fund share buybacks. During Q4 2013, the company bought back over 28.2M shares for about $600M, good for about 7% of the common shares outstanding. In addition, American Capital's existing share repurchase authorization was increased by $1B to $2B.
American Capital is funding these purchases mostly via deleveraging its portfolio. The company is selling its MBS at par and buying back massive amounts of its stock at under book value, basically buying dollar bills at 80 cents on the dollar. This has the effect of both reducing leverage and some modest accretion to book value.
Strangely, during the Q4 conference call, American Capital noted that besides buying back its own stock, the company also purchased nearly $400M of other agency mREIT stocks. Below is American Capital's reasoning for these transactions:
In addition to buying our own shares, in December and January when mortgage REIT stocks were near their lows we purchased approximately 400 million of other agency REIT stocks. While it may seem very strange that we would support the stocks of our peers, our actions are indicative of our desire to generate value for our shareholders by extracting value from the agency MBS market both directly and in this instance indirectly.

You can think about the investment decision in this way, regardless of how much stock we buyback we will own significant quantities of agency MBS in our portfolio. Does it make sense only to hold agency mortgage securities directly or should we sell some and buy similar MBS assets in REIT equity form at around 20% discount.

In asset price terms, that is like buying a highly liquid agency MBS 2.5 points in price lower than where you can sell them. To us the choice was straight forward as the almost 20% discount more than compensates us for the incremental fees and reduced transparency into this subset of the portfolio.
Basically, American Capital seems to believe that buying shares of its peers at a 20% discount to book value is a better buy and offers higher returns than buying similar amounts of MBS. This seems like a very smart decision by American Capital as it essentially boosts returns while not necessarily increasing risk all that much. Do note that the company has not disclosed the names of the stocks it has purchased.
Book Value is likely above year-end levels
Also note that American Capital's reported year-end book value of $23.93 per share is likely way below its actual current book value. This value is only a snapshot of the prices on December 31 and does not represent the current situation. Interest rates have moved lower in 2014, with the 10-year now down to about 2.67% from over 3% in Q4.
As shown below, MBS yields often closely follow the 10-year. With rates now lower, MBS prices should therefore be higher. It is very likely that YTD, American Capital's book value has recovered from the decline seen in Q4 and may actually be slightly higher.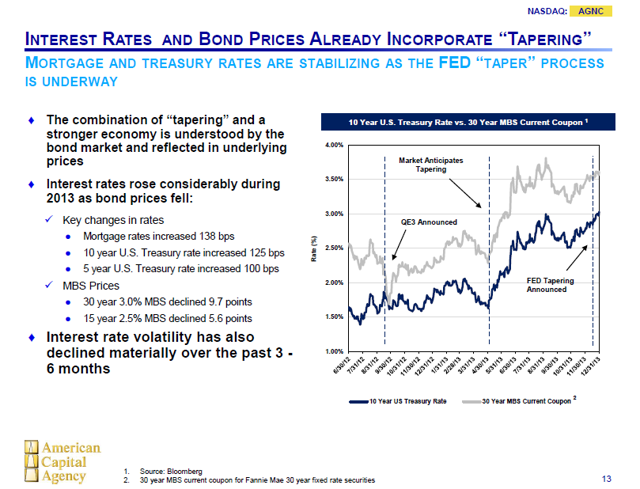 Dividends may rise short-term
It is also interesting to see that American Capital generated quite strong net spread income in Q4. At about $0.75 per share, American Capital may now actually be in a position to increase its dividend from the current $0.65 per share level.
However, this will likely only be a one quarter phenomenon. As noted above, interest rates have fallen greatly YTD. As such, American Capital's net spread may again come under pressure in Q1.
Conclusion
Overall, American Capital reported a strong quarter. The company was able to repurchase massive amounts of stock while also seeing its critical net interest spread increase for the first time in many quarters.
Due to its large discount to book value and current 12% yield, American Capital seems like a buy at current prices. As noted by a recent JPM upgrade, American Capital is now likely trading at about 85% of its current estimated book value while its current dividend of $0.65 per share seems increasingly secure.
Disclaimer: The opinions in this article are for informational purposes only and should not be construed as a recommendation to buy or sell the stocks mentioned. Please do your own due diligence before making any investment decision.
Disclosure: I am long AGNC. I wrote this article myself, and it expresses my own opinions. I am not receiving compensation for it (other than from Seeking Alpha). I have no business relationship with any company whose stock is mentioned in this article.