When it comes to financials, Western Digital (NYSE:WDC) and Seagate (NASDAQ:STX) look pretty similar. In the last quarter WDC shipped 63.1 million HDDs at an ASP of $60 for revenue of $3.97 billion and operating profit of $478 million. STX, for its part, shipped 56.6 million units at an ASP of $62 for revenue of $3.53 billion and operating profit of $508 million (Source: WDC presentation; STX presentation).
For this, WDC gets a market capitalization of $19.6 billion and a forward P/E of 9.7 times earnings (for the year ending in June 2015). STX has a market capitalization of $16.4 billion and trades at a forward P/E of 8.8 times (for the year ending in June 2015). Both companies also have similar revenue growth expectations for the year ending in June 2015 as well, with revenues expected to grow slightly more than 1% over that timeframe.
These companies are thus very evenly matched, WDC is only slightly more expensive and both sell a commodity product, hard drives.
While I am not going into the merits of investing in the hard drive business, I will however say something: There's a powerful reason to favor WDC over STX.
The reason
A couple of weeks ago, online backup provider Backblaze published a study on HDD failure rates. Backblaze had already published similar studies in the past, but this time Backblaze actually separated failures by brand.
And therein lies the problem. Seagate drives saw much larger failure rates than either Western Digital or Hitachi.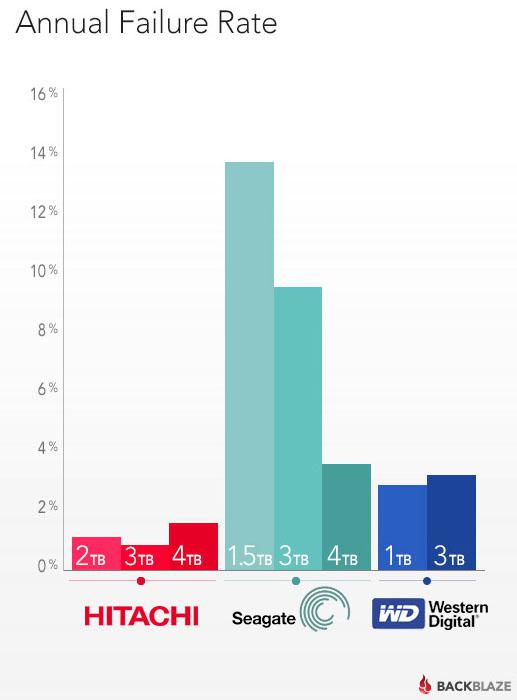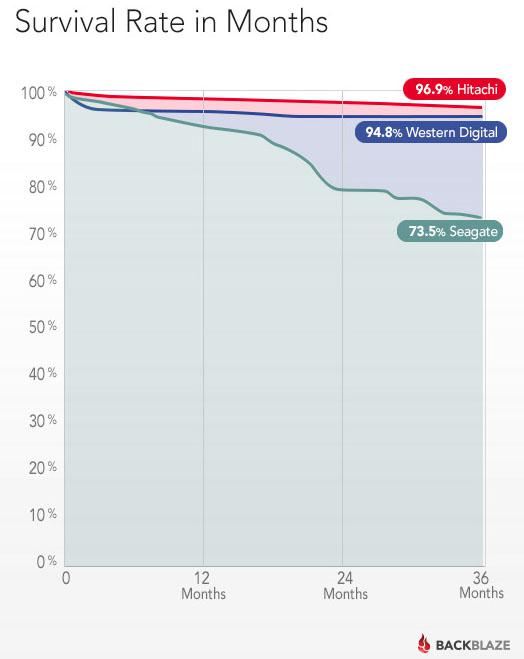 This tremendous difference might have been influenced by the use of retail drives or even the positioning of the drives. But still, this is the info that exists, and such info is likely to inform HDD buyers in the next few quarters.
As such, one would either expect volume or price pressure to affect Seagate. Since ASPs are very similar between STX and WDC, it's highly likely that HDD buyers will favor WDC (or Hitachi) drives at nearly the same price. So either STX accepts lower volume without affecting its prices, or STX will be forced to sell at a discount to make up for its perceived lower reliability.
Both of these consequences would affect STX's revenues and/or operating profits. It might also amount to nothing, but given the very close valuation the risk is enough to warrant favoring WDC over STX.
Seagate had no reaction to this study, no press releases were issued refuting its conclusions. As I said it was possible to ascribe the reliability problems to such factors as the fact that retail drives were used or the position they were mounted in. Still, what remains is the fact that this study was seen by many buyers and might influence their buying decisions in the next few quarters.
Conclusion
In a very visible study, Backblaze identified significant reliability problems with STX HDDs. This is likely to drive either STX volumes down, or to force STX to sell at a discount. Due to this, and since STX trades at a very similar valuation to WDC, it makes more sense to hold WDC, without this obvious problem, than to hold STX, with this obvious problem.
Disclosure: I have no positions in any stocks mentioned, and no plans to initiate any positions within the next 72 hours. I wrote this article myself, and it expresses my own opinions. I am not receiving compensation for it (other than from Seeking Alpha). I have no business relationship with any company whose stock is mentioned in this article.