Introduction
Last year, Advanced Micro Devices (NASDAQ:AMD) launched a new set of consumer graphics cards codenamed Hawaii. The refresh was a huge success, as it offered excellent performance and much more favorable price-to-performance ratios than its rival, Nvidia (NASDAQ:NVDA). The new lineup also added a highly-anticipated feature called Mantle, which is a low-level, console-inspired API that promised strong improvements in performance for supported games. With Mantle's premier over the weekend with Battlefield 4, we have seen game changing results. For this article, I would like to discuss, without being too technical, Project Mantle, its results, and what it means to AMD as well as the future of gaming altogether.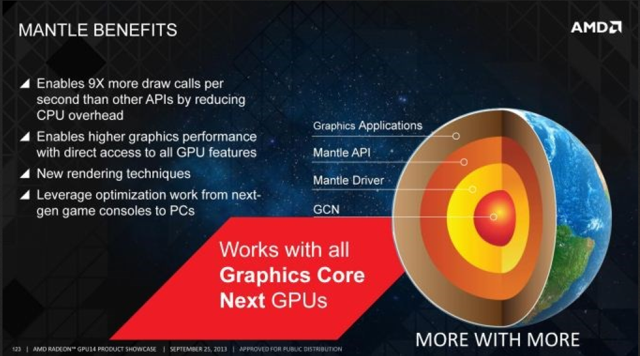 Project Mantle
When developers create games for the PC, they suffer from large amounts of overhead caused by the current Application Program Interfaces ((APIs)) on the market such as DirectX. Essentially, the overhead acts like an extra layer of communication that they must go through in order to harness the power they need from the CPU and GPU. This bottlenecks performance. The situation is much like trying to communicate with somebody through the use of a translator, which is effective but slow. These issues are less problematic in gaming consoles leading to better optimization of the hardware, making it one of the reasons the consoles are so successful and last so many years. The rate at which developers have learned how to improve video games have outpaced the release rates of APIs currently on the PC market, which led to the start of Project Mantle.
In close collaboration with the video game developing company DICE, AMD create a low-level, high-performance API called Mantle that would allow developers to get better results from AMD's Graphics Core Next (GCN) architecture that is used in its new graphics cards. This is done by allowing full access to GPU functionality, reducing the bottleneck of commands sent to the GPU, and using the CPU more efficiently. In short, Mantle acts as a developer-friendly and effective way to improve performance by getting more juice out of the same hardware. The result is free performance that basically puts AMD's graphics cards a generation ahead.
The Results
Although performance boosts vary from system to system due to the various combinations of hardware available, the improvement is visible and obvious. Based on some results from AnandTech, Hotwire, and ExtremeTech, we have witnessed performance gains of at least 7-10% and as high as 30% in some configurations.
Real-time strategy games can be very CPU-intensive, so to demonstrate the CPU benefits of Mantle an engine called Nitrous was developed, where we saw Mantle improvements by nearly 300% in a non-production game called Star Swarm. The Nitrous engine allows for up to 5,000 independent AI-driven physical objects, where currently the highest available limits are around 500. This makes the game very demanding on the CPU, and with Mantle enabled the results are very positive. Below is an independent benchmark by ExtremeTech that shows results across various system configurations. The R9 290X is AMD's leading Hawaii Series graphics card, and the AMD A10-7850 is AMD's high-end APU, Kaveri. (Note: The Nvidia GTX 770 is only there for reference, as it is not capable of supporting Mantle)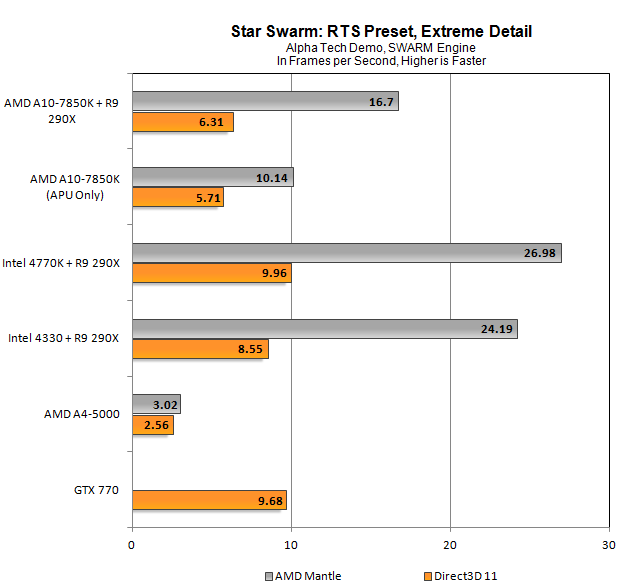 What gamers were really excited to see is the Mantle support that arrived as a highly-anticipated update to Battlefield 4 over the weekend. Again, another benchmark chart from ExtremeTech shown below demonstrates that Mantle does a great job in boosting performance across various configurations. Focusing on the four top charts below that use playable hardware, there is an average improvement of about 15% and as high as 28%. This increase in performance has nothing to do with any hardware modifications and is entirely from a free software update.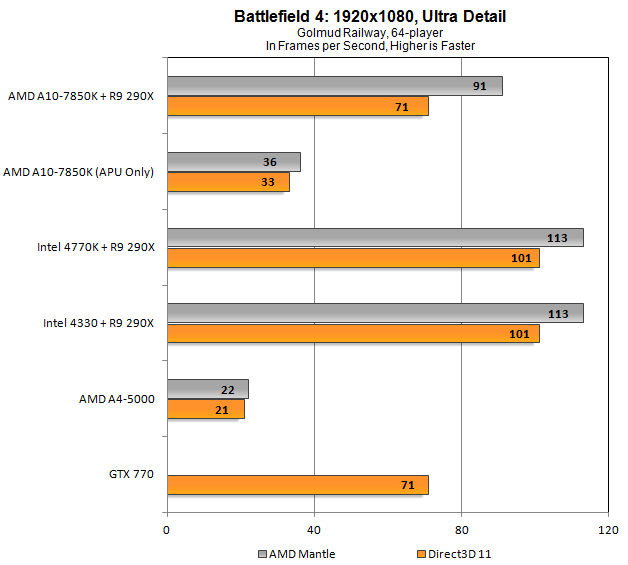 Conclusion
Only time can tell the true success of Mantle, as it entirely depends on consistent performance boosts and adoption rates by developers. DICE, a major company in the world of gaming, is on AMD's side all the way and we're expecting all of their future games to support it. In total, there are three engines and 20 titles in development based on AMD's announcement in January. This is a great start and offers a lot of potential for upside presence in the future.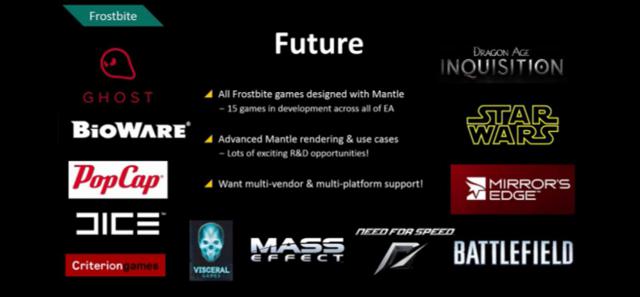 Screenshot taken from AMD's "2013 AMD Developer Summit" Presentation on October 31st, 2013
Mantle is an exciting new technology. It's essentially free performance for owners of AMD hardware and puts the company at an even greater competitive advantage. With developers already realizing AMD's growing presence in the gaming community, especially from the new gaming consoles, I would not be surprised to see more Mantle products in the future. Although we are not entirely sure what Mantle will become, we know that it only works, and only works for AMD's Graphics Core Next architecture, which is good news in AMD's recovery of market share.
Disclosure: I am long AMD. I wrote this article myself, and it expresses my own opinions. I am not receiving compensation for it (other than from Seeking Alpha). I have no business relationship with any company whose stock is mentioned in this article.