Natural gas inventories are very low and going lower. Natural gas rig counts also are near record lows. Near term gas prices are way up, as is the gas ETF (NYSEARCA:UNG) and some gassy E&P equities are rising somewhat. Let's look at these two factors and see what they indicate beyond the front month.
NATURAL GAS INVENTORIES
Since abnormal cold weather began to dominate North America in early November, natural gas inventories have plummeted by a record amount. Price spikes and volatility have increased as cold patterns and severe weather threaten to push inventories to operational minimums by the end of heating season in late March.
Using current weather forecasts, and best estimates of supply and demand beyond mid-February, my projection for end-of-season inventory is currently about 1 Trillion Cubic Feet. That's 700 BCF below last year, and well below the five year range: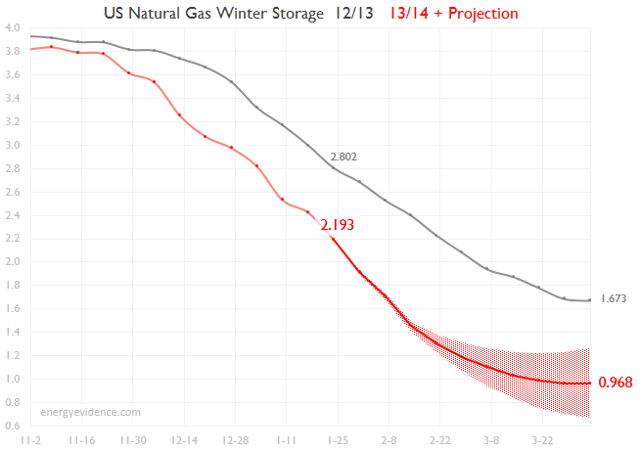 Significant uncertainty remains in mid-term weather, and the actual ending inventory could still vary by several hundred BCF. (Memorably, March 2013 withdrew about 400 BCF from storage).
The severe weather also affected production, and lost volumes have been slow to recover. This (and perhaps other factors) have led to several weekly inventory withdrawal records, with the most recent EIA report showing inventories more than 400 BCF below the 5 year average. It would end more than 800 BCF below in late March, if my projection comes close.

The gas injection season typically runs from late March until mid-November, roughly 250 days. If U.S. inventories began that injection season 800 BCF below last year, that is 3+ BCF per day in additional storage required to return inventories to comparable levels.
Canada must also be treated as part of an integrated North American gas system, and Canadian inventories are also being quickly drained by increased domestic demand and higher exports to the U.S. Alberta is the production and storage anchor in Canada, and Transcanada reports storage withdrawals this season that are drastically greater than last year. Last year by this time, about 95 BCF had been withdrawn. This year that has been exceeded by 116 BCF as of February 3rd.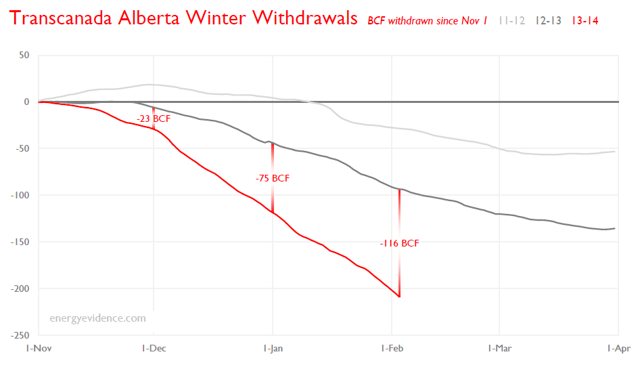 The combined North American shortfall is likely to indicate a need for 4 BCFD in additional injections this year.
Natural Gas Rig Counts
Baker Hughes shows U.S. natural gas rig counts at a low level as of last Friday (January 31), with little sign of recovery. I've broken the count history out by rig type, because the horizontal count is most important. Those are down 52 rigs to 260 in the last year.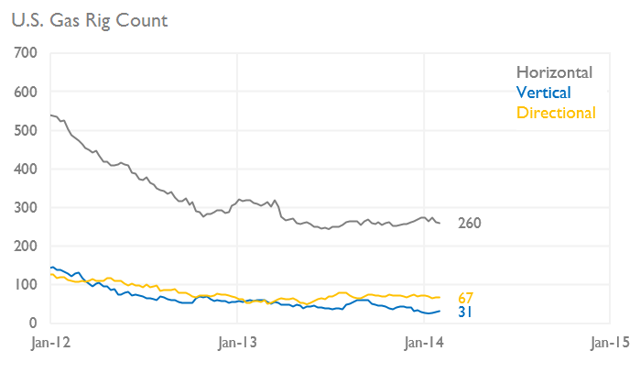 In the past, increasing rig productivity has made fools of those who looked for an imminent crash in production as rig counts fell. But there may be a limit to those gains, and there still may be a rig count so low that it cannot sustain production growth.
Now, I am on record previously as claiming that gas would be unlikely to recover above $4 in 2014 without exceptional weather. I recommended against initiating positions in dry gas producers like Ultra Petroleum (NASDAQ:UPL) and Encana (NYSE:ECA) because better entry points were likely. We have encountered the cold weather, which has erased a tremendous volume of gas from inventory and supported prices. But that does not necessarily mean that there are not other bullish structural changes behind the gas recovery.
The pillar of the bearish thesis was, and is, production growth. It is well known that recent EIA data show that gas production has not been growing in shale basins other than the Eagle Ford and Marcellus. That growth has been enough to lift production overall, at least through November. The release last week of the EIA Natural Gas Monthly showed gas production at new highs for November.
After converting to BCFD and backing out Alaska gas volumes, I get these results below for Lower 48 Production. Gross production was up to a new high, about 3.1 BCFD above last November. After deducting field use and transport and stripping, dry production hit a new high of 67.3 BCFD, up 1.6 BCFD over November '12.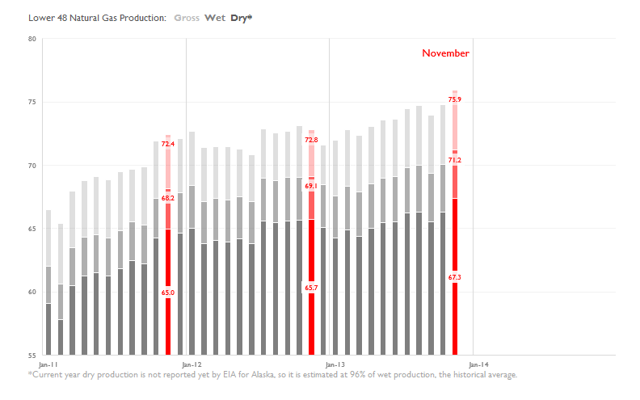 The point is simply that production has not stabilized yet, despite the low rig count. There are complicating factors to be sure, including the large inventory of wells WOPL (waiting on pipeline).
Rig Productivity
Let's look at what a rig can do, and how dynamic the answer has been over the last year. Baker Hughes publishes a quarterly Well Count Report. It shows the number of wells that were spudded in the quarter, by basin, and the average rig count. It is a glimpse into rig productivity. I graphed the results for the basins that produce a significant amount of natural gas: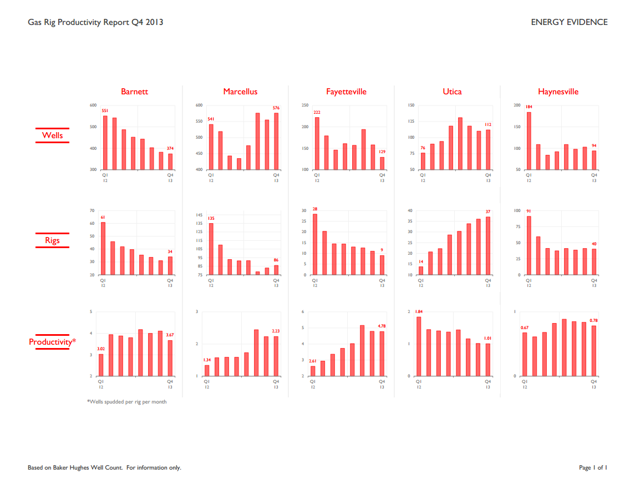 A pdf version with higher resolution can be viewed here.
It is noteworthy that new Marcellus spuds reached a high in Q4 2013, despite rig counts having fallen dramatically in two years (from 135 to 86), with the average rig spudding 2.23 wells per month now.
Other basins do not show much improvement in rig efficiency, like the Haynesville and the Barnett. The Utica also is probably still in an experimental mode, though well spuds were still very solid, at 112 in Q4. With a fast rising rig count, the Utica is likely to follow a rapid development and production path like the Marcellus did.
What these charts do not tell us is the volume of gas in each well. We have seen that increase substantially in several basins in the past. Is it still going on, or have more fields transitioned into lower EUR downspacing and drilling less productive acreage?
We can begin with some exceptionally clean data in the Fayetteville. An older, heavily drilled formation with one primary operator, Southwestern Energy (NYSE:SWN). Here is a slide from the most recent presentation (1/14/14 p.12):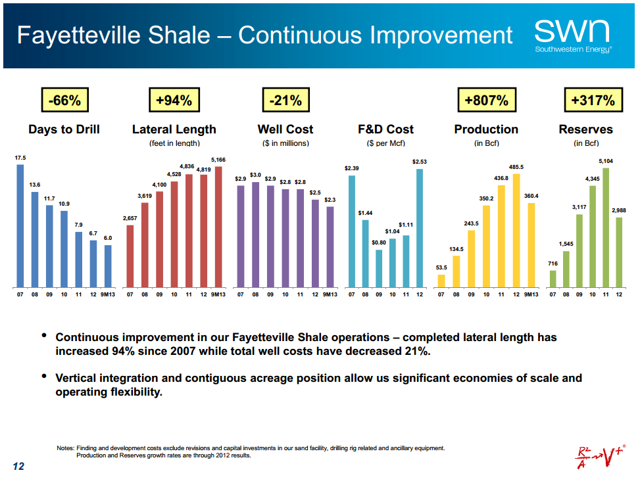 Southwestern shows more than a 10% improvement in drill time in the most recent 9 months, along with falling costs and increased lateral length. Production is on pace to nearly match 2012 (I estimate down about 3%), despite dropping many rigs. Elsewhere in their presentation they indicate that most of their highest IP Rate wells have come in the last year (they don't disclose any estimated EURs).
The Fayetteville is a smaller and older basin that probably is not seeing production growth, but it is still making huge strides in rig productivity and overall well economics.
The Marcellus is a more complex area to analyze. Every driller is still indicating improvements in cost, speed, and reserves, but those metrics vary by operator, and there is a clear migration toward the wet regions in the Southwest.
Here is what Baker Hughes reports most recently for Marcellus rig counts. The horizontal count is in gray, at 74. There were also 12 other rigs working (7 directional, 5 vertical).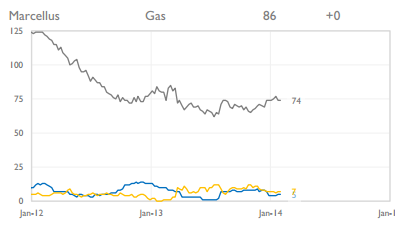 There were also 32 horizontal rigs working in the nearby Utica. Interestingly, the Utica rig count was almost half oil. That does not square with the reported output from the Utica so far. Here are the oil and gas rig counts from the last Baker Hughes report on 1/31/14:

The Utica is located almost entirely in Ohio (for now). The State of Ohio DNR reported production recently for Q3 2013. Here is what it indicated for the 13 counties currently producing. The red portion of each bar indicates the Gas+NGL portion, and the grey segment is oil. Clearly the production was predominantly gassy in all the major counties, with Carroll County by far the largest producer and 80% gassy.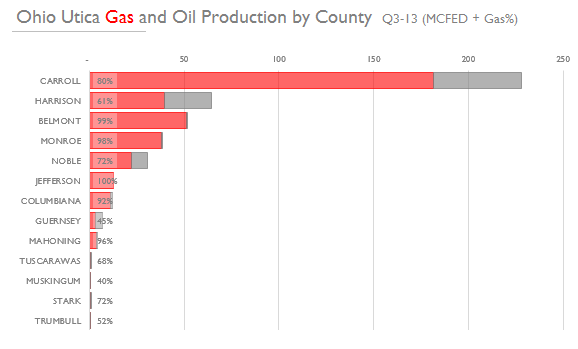 Perhaps operators will find more oil and less gas in the future, but clearly the decision to classify so many rigs as Oil is hopeful at best. But the prodigious gas flow rates are omnipresent, whether we call these misclassified rigs, or just associated gas production.
The IP rates of many of these wells have been record setting, and they may easily outperform the Marcellus (though certainly the Utica is not as large in aerial extent).
The forward strip is now high enough to test the thesis that $4+ gas is attractive for drillers with superior acreage.
Gas can certainly keep rising before the end of winter, as the severity of the inventory crunch becomes better understood. But the longer dated strip is notably flat, despite the common knowledge that LNG exports are imminent, inventories are at record lows, coal plants will be decommissioned in droves, and hydro power will significantly underperform this year due to droughts in the west. Industrial demand and net imports are also expected to show a bullish move in '14.
Some producers have rallied, but we have yet to see much opportunity to hedge in 2015 and beyond, and if the storage and distribution system survives the winter intact, drill sites and rigs will not be the weak link as the industry gears up to meet the many sources of incremental demand.
Producers no longer face much prospect of a near term price collapse, but we can expect to see inventories recover quickly when winter ends. The strip is telling this story, and investors are still wise to wait. These prices will damage demand and attract rigs quickly, and a single season of high prices will not translate into equity appreciation that rewards investors adequately.
Disclosure: I have no positions in any stocks mentioned, and no plans to initiate any positions within the next 72 hours. I wrote this article myself, and it expresses my own opinions. I am not receiving compensation for it. I have no business relationship with any company whose stock is mentioned in this article.