Stocks turned bearish on our trading models around Jan. 24th and were confirmed on Jan 29th, triggering a quick analysis on why the market may be turning: "Going long SDS (Ultra Short S&P) published on the 30th". Prior to that, whether the sell-off was done or taking a break ahead of a second cascade sell-off was a question answered on Monday February 2nd. Having been bearish ahead of the turn, upon breaking below critical support at 15,500 on the DOW suggested increasing bearish exposure once prices blew below the 200-day SMA. This breakdown brought with it signs of panic selling.
A proprietary model, built using Tom DeMark's published formulas in the 1980s to work with my charting package, was difficult but not impossible. Some minor adjustments have been introduced to act as "qualifiers" since this is a forward-looking (i.e. contrarian) indicator. The model anticipates reversals using a countdown method but without qualifiers, can trigger a buy signal during an unfinished cascade sell-off. The modifications are to prevent premature entry by avoiding false positives. No matter how much of a market technician you are or how much of your trading is derived from technical analysis, without a total understanding of key global macro pressures, central bank behavior, international GDP trends, US unemployment, and of course reading Seeking Alpha regularly, long-term performance will disappoint.
Behavioral finance is more important today because the majority of market volume is attributable to algorithmic trading. Because algos tend to exert herd-like behavior, employing contrarian strategies is more effective. Herd behavior applies in every speculative activity, even the Super Bowl. I had the fortune of being in Las Vegas for a meeting during the World Championship of American Football. I was so focused on the meeting, I completely forgot the game was taking place the same weekend. Upon arriving, I learned Denver was favored and many I passed by exhibited euphoria like behavior on the assumption that Denver would inevitably crush Seattle. People were placing bizarre parlays that gave up an additional 10 points just to win $400 for every $100 bet.
I never bet and I certainly don't gamble, but this was a classic situation of betting against the herd. The public was too optimistic about Denver, which showed up in the bookmaker's odds as a 3 1/2 point favorite, making Seattle the underdog. Normally, I wouldn't care but this was Vegas and the house rarely loses, especially when it seemed everyone was euphoric about Denver's chances of winning. Vegas has incredible bookmaking capabilities, often showing a level of accuracy that makes one wonder. Yet here was a situation where it appeared the house was positioned to really clean up. Then a stranger "advised me" to bet on Denver using the 10 point parlay (Denver would have to win by 14 points for the bet to pay out $4 for $1). That's when I put a small bet on Seattle and headed home. It was when I got back to Southern California that I heard the final result.
I wasn't surprised, but more importantly, it proved the validity of Behavioral Finance in speculative activities. Vegas took in such enormous profits from the game because of the lopsided betting that we'll probably see a positive effect on casino EPS in the coming quarter.
The actual model used to calculate short-term downside targets is proprietary, but everyone has access to charts. Below is a simple weekly of the Diamond's (DIA) displayed in logarithmic scale. The three broken lines which appear to be trendlines are in fact standard deviation lines. The indicator above the stock with a down sloping yellow trendline was the first bearish convergence that alerted us to a pending sell-off. The white horizontal trendline is at 147.67. This correlates and intersects with the lower boundary, which has been validated several times since 2011. For those who felt 17,000 on the Dow was too rich, 14,500-14,750 should seem like a bargain suddenly. Moreover, until this uptrend has been reversed irrefutably, the proper course is to continue buying on major sell-offs. Sharp, sudden corrections are typical of a bull market. If prices then fail to breach recent highs, our strategy will change. Ultimately, this is a great time for short-term traders to take advantage of a sudden spike in volatility.
Protecting large portfolios without buying complex ETFs like the Ultra Short S&P (SDS), which tend to be over manipulated like most derivative based ETFs with double or triple leverage, can be accomplished using the Volatility Index ETF (VXX). Posting a spike of over 7% on a single day indicates panic was prevalent in the market since this correction is now in its 3rd week. When the market broke below 15,675 and failed to recover early in the day, selling picked up on rising volume and the Dow accelerated straight for the 200 day SMA. Having broken that, we saw volatility spike as large institutions began to put on crude but quick hedges. Once last week's low was taken out, we moved beyond panic and began to see blood on the streets.
Whether the long-term rally is intact or not is a question one shouldn't ponder yet. Just stay with the trend and be smart. The strength of that bounce is difficult to predict at this juncture, but traders should exploit this volatility for every penny before it drops off again. But I repeat, AVOID levered and inverse ETFs. These are designed to rob you blind. There's enough empirical data out there for you to do your own research and see how manipulated these ETFs are during the trading day. Most are priced in the last few minutes of trading but volatility during the day is caused mostly by predatory and arbitrage algorithms conducting price discovery.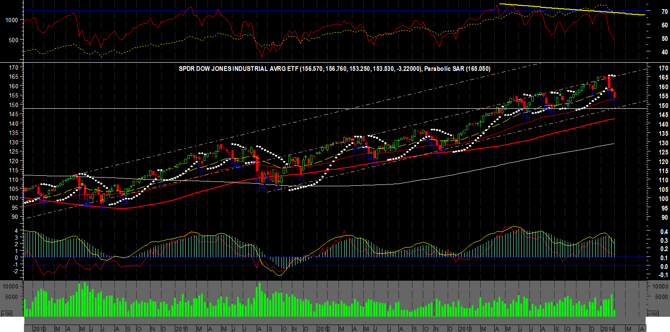 Weekly DIA with Standard Deviations
Disclosure: I have no positions in any stocks mentioned, and no plans to initiate any positions within the next 72 hours. I wrote this article myself, and it expresses my own opinions. I am not receiving compensation for it. I have no business relationship with any company whose stock is mentioned in this article.