You have to go back a long way to find the last time MasterCard (NYSE:MA) had a 10% drop in its share price. It didn't happen at all in 2013. Recently though, it has.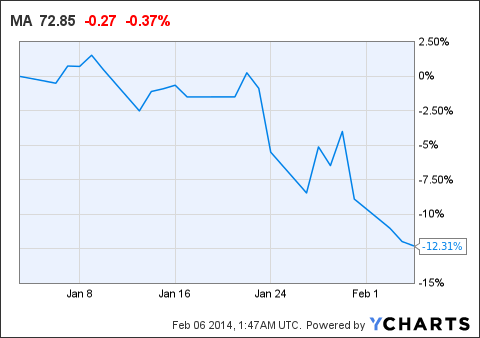 Recent Financials
Recent earnings were a bit of a disappointment to some, as EPS missed by $.03 and revenue missed by $20 million. Net margins were eaten into a bit during the quarter, due to both more incentives and rebates from MasterCard. Due to increased investments, operating costs increased 11% YOY. When including 1 time items, that number jumps to 21%.
Still, there was a 14% increase in volume to $1.1 trillion, and processed transactions rose 13% to 10.4 billion. Further, net revenue growth was 13%, net income growth was 15%, and EPS were up 19% for 2013. The flight to plastic is still in full effect.
Geographically, the company generates over half of its revenues from the United States and western Europe, but a significant portion of its growth has been coming from emerging markets. Fortunately, the shift to electronic payments is fairly immune to economic cycles, but it is not untouched by it. Asia Pacific, Middle East and Africa Gross Dollar Value was up 20%, while Latin America was up 17%.
Potential
The potential for long-term growth is still intact. CEO Ajay Banga pointed out in 2010 how 85% of the world's transactions are still in currency format. Since then, near 9% growth a year has been seen in non-cash payments.
33 countries compose 85% of the Earth's GDP. Countries such as Australia, Canada and the United Kingdom are nearly cashless. But many other large countries, such as Brazil and India, have many individuals still without even a bank account, and the middle class is growing rapidly.
Prerequisites necessary in order to make the move to cashless transactions, involving technological innovations, are needed in some places. But many others are available markets. Governments also have incentives to help the process of transitioning to non-cash payments, as by some estimates cash usage costs societies 1.5% of their GDP.
Of all the non-cash payment options, debit and credit cards remain the most popular. While their growth is healthy and in double-digit territory, it is surpassed by what it is being seen in electronic and mobile payments. Through 2014, industry experts expect E-payments to grow at 18.1%, and mobile payments to grow at 58.5% (note that some claim that due to a lack of centralized data collection, these numbers could be inflated by a factor of up to 50%).
MasterCard is not absent of getting involved in these trends, as Masterpass demonstrates. As mentioned in the Q4 earnings call, they are now live in 5 markets with Masterpass, and many more are in the pipeline. More than 30,000 total merchants are on board. Major global retailers such as J.Crew, Brooks Brothers and Ticketmaster are among the major global retailers already accepting it.
Share Repurchases and Dividends
Over $750 million was spent to repurchase close to 10 million shares during the quarter. So far during the first 3 weeks of 2014, 4.2 million more shares at a cost of $351 million were repurchased. 41 million shares at a cost of $2.4 billion were bought back during all of 2013. This is after earning $2.76 billion in 2012. $3.3 billion remains in the approved budget for future stock repurchases.
MasterCard spends nearly all of its earnings returning value to shareholders. Due to the nature of its business, including no debt, it can afford to. In conjunction with its announced 10 for 1 stock split, MasterCard also increased its dividend 83%.
Conclusion
With such a large amount of opportunities, MasterCard can experience substantial growth even if it only captures a small fraction of available customers. The emerging middle class over the next decade will be in the hundreds of millions, creating huge profits for the industry.
MasterCard is not super-extravagantly priced. But, currently at a bit less than 29x trailing earnings and with a forecast 12 month forward PEG ratio of 1.35, the stock is definitely not cheap, either. Following the Buffett adage, "It's far better to buy a wonderful company at a fair price than a fair company at a wonderful price," that doesn't disqualify it from being invested in, though. Part of the problem with waiting for the perfect entry point with a stock like MasterCard is that often doesn't come, and investors are left on the sidelines watching a stock they were interested in, but didn't purchase, rise greatly.
This recent correction is the first over 10% since the 2nd quarter of 2012, and nothing has changed regarding the outlook of the company. Based on a slight miss in numbers in an otherwise excellent quarter, the price decrease isn't really justified, but it is giving MasterCard a healthy breather, and a chance to pick up some extra shares.
Disclosure: I am long MA. I wrote this article myself, and it expresses my own opinions. I am not receiving compensation for it (other than from Seeking Alpha). I have no business relationship with any company whose stock is mentioned in this article.