Cicero Capital Partners LLC is an alternative asset manager founded by Bob Grunewald, Joel Houck and Chris Small. Bob Grunewald previously led the financial services private equity investment practice at American Capital. Prior to American Capital, Grunewald was head of Specialty Finance investment banking at Wachovia Securities.
We recently had the opportunity to ask Bob about his single highest conviction holding.
For starters, would you tell us a bit about your fund?
Cicero Capital is a multi-strategy investment manager focused on long/short U.S. equities and selected fixed income securities with a focus on the financial services sector. We analyze opportunities across asset classes to uncover value throughout a company's capital structure. We also engage in short selling and option strategies as a means of enhancing returns and managing its overall risk profile.
We believe our deep-rooted financial services sector expertise coupled with strong institutional relationships provide unique insight into financial services companies. We leverage the unique combination of public and private equity investing experience of our Partners to uncover value through intensive fundamental analysis. Adding a private equity approach to valuing an entire company creates opportunities to purchase pieces of these businesses in the public equity markets at deep discounts to their intrinsic value.
What is your highest conviction stock position in your fund right now - long or short?
Oriental Financial Group (NYSE: OFG) is one of our highest conviction names - a long position. OFG is a niche Puerto Rican bank with 21 branches and a focus on the mid and high net worth market.
Back in 2004, at the height of loan growth and bank valuations in the Puerto Rican market, management intelligently scaled back loan growth. Over the last 10 years, OFG only grew its loan portfolio by 7% annualized versus 15%+ for its Puerto Rican bank peer group. This has allowed OFG to successfully manage the current credit challenges. We like management teams, particularly in financial services, that are willing to make these types of contrarian moves.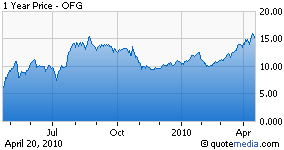 OFG emphasized its asset management business and now has the leading 401K and IRA business in Puerto Rico. This business generates 23% of revenues and continues to grow as OFG takes market share from its weaker rivals. With many of its rivals weakened, OFG is also rapidly growing its core deposits, up 30% in the past year.
To what extent is this an industry pick, as opposed to bottom-up assessment of this particular stock?
We believe in bottom up, fundamental analysis. While recently the market seems to be blindly chasing every bank stock, we continue to believe that a careful analysis of every investment opportunity is critical. With the banks in particular, we search for investments that not only look undervalued based upon normalized earnings and book value metrics, but that also have outstanding management teams and attractive franchises.
Can you describe OFG's competitive environment?
OFG is one of the strongest capitalized Puerto Rican banks and has the least exposure to credit risk. Approximately 80% of OFG's investment portfolio is in agency mortgage-backed securities (MBS), where they have no credit risk and pay no taxes on the interest income. The bank recently raised $100 million in common equity to increase their tangible common equity ratio to 6.4%, among the strongest in Puerto Rico.
Overall, the Puerto Rican banking sector has been hit hard by a weak economy over the last five years. Three of the eight main Puerto Rican banks are under a Cease & Desist order from the FDIC and the FDIC has hired investment bankers to sell these platforms to more stable and better capitalized institutions. Given OFG's strong capital position, we expect it to be a solution to the FDIC's problems and serve as a consolidator.
Can you talk about valuation? How does valuation compare to the competitors?
The bank currently trades at 1.25X adjusted tangible book and 12X 2010 estimated EPS, but we estimate that it trades at 8X our 2012 normalized earnings number. If we assume it acquires Eurobancshares (OTC:EUBK), one of the three banks under C&D, in an FDIC assisted deal, we believe 2012 earnings would exceed $2/share. Applying a conservative 10X multiple to pro forma 2012 earnings gives us a price target in excess of $20. This provides over 40% upside from current levels.
Most of OFG's bank competitors are still working through significant credit problems and while some may look less expensive on a price to book basis, we believe they are actually expensive on a burn down price to book basis and have considerably less franchise value.
What is the current sentiment on the stock?
The company has received some positive attention lately, particularly as a result of the recent capital raise. The stock is up 46% this year. However, we think the market is more fixated on bank stocks that on the surface trade at deeper discounts to book. Despite the recent run up in the stock price, considerable upside persists, especially if it acquires EUBK through a FDIC assisted transaction. We do not believe the current price reflects the likelihood of an acquisition.
Does the company's management play a role in your position?
Yes, we are impressed by management's early moves to reduce loan growth, position the bank in the asset management area and proactively raise capital to potentially take advantage of FDIC assisted takeovers. OFG is also the only Puerto Rican bank to hold quarterly investor conference calls, which speaks to their transparency with investors. This is something we believe to be very important, especially in today's market environment.
What catalysts do you see that could move the stock?
We believe an FDIC assisted takeover of one of the troubled Puerto Rican banks is likely. The result would be a significant market share increase, a shift in the bank's investment portfolio to a more bank like 50/50 mix of securities and loans and a 30% plus increase in earnings.
What could go wrong with this stock pick?
The Puerto Rican market remains mired in a deep recession, with little visibility on improvement. OFG will need to continue to be diligent on credit quality and growth will need to come from market share expansion.
Thank you very much for sharing your thesis, Bob.
Disclosure: Cicero Capital Partners is long OFG
Read more High Conviction Picks »
If you are a fund manager and interested in doing an interview with us on your highest conviction stock holding, please email Rebecca Barnett.