There are a number of big movers today, with some of the names featured in today's update expected to be high beta names and others total surprises. The market may have received its first indication that social media users are beginning to be tapped out on various social media apps, with little extra time to devote to further engagement. There are a number of apps out there which are popular and many of them are now beginning to add features from other popular apps. The easy growth may be behind us here, but there are still other names we have to listen to this quarter to see where that story stands.
Although we do have the claims numbers and some other good data out today, the real economic numbers everyone is waiting for is due out tomorrow morning; the monthly job numbers. Today's market should see lower volatility as traders prepare for tomorrow's report.
Chart of the Day:
Twitter certainly did not do the Nasdaq Composite any favors with its quarterly report, but other tech companies did their part, such as Akamai. With futures indicating that the market is set to open higher it looks like 4,000 will continue to show support this session, although if the claims numbers come in weak all bets are off.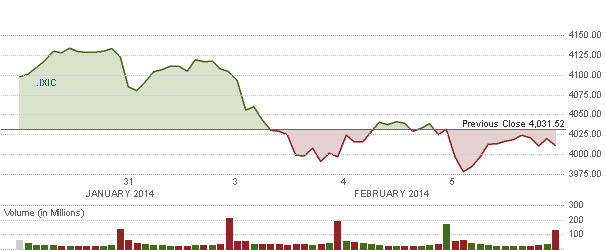 Source: CNBC
We have economic news today and it is as follows:
Challenger Job Cuts (7:30 a.m. EST): Est: N/A
Initial Claims (8:30 a.m. EST): Est: 335k
Continuing Claims (8:30 a.m. EST): Est: 2993k
Trade Balance (8:30 a.m. EST): Est: -$36.0 Billion
Productivity - Preliminary (8:30 a.m. EST): Est:2.4%
Unit Labor Costs (8:30 a.m. EST): Est: -0.5%
Natural Gas Inventories (10:30 a.m. EST): Est: N/A
Asian markets finished mostly higher today:
All Ordinaries -- up 1.20%
Shanghai Composite -- CLOSED
Nikkei 225 -- down 0.18%
NZSE 50 -- up 0.11%
Seoul Composite -- up 0.88%
In Europe, markets are trading mostly higher this morning:
CAC 40 -- up 1.04%
DAX -- up 0.99%
FTSE 100 -- up 0.80%
OSE -- up 1.10%
Green Mountain Receives A Helping Hand ...
We have long avoided shares of The Coca-Cola Company (NYSE:KO) due to the lack of diversification and the company's dependence on soft drinks to drive growth, but late yesterday the company entered into an agreement which could be a game changer moving forward. After the market close it was announced that Coca-Cola would enter into a strategic partnership with Green Mountain Coffee Roasters (NASDAQ:GMCR) to develop a machines to make single serve cold drinks. Shares of Green Mountain Coffee Roasters soared on the news of the 10-year development agreement, which includes Coca-Cola taking a 10% equity stake in the company for $1.25 billion.
Green Mountain Coffee Roasters will test all-time highs on the back of the Coca-Cola deal announced after yesterday's close.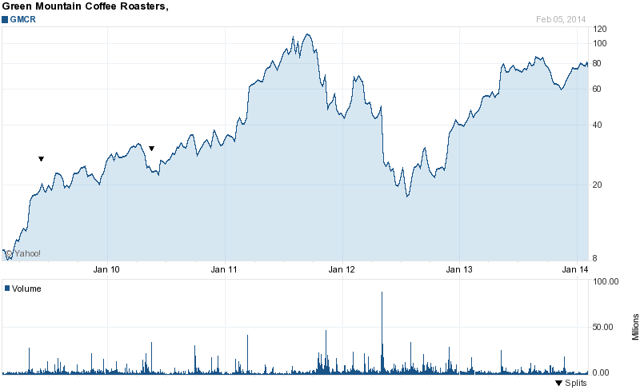 Source: Yahoo Finance
Under the agreement, Green Mountain will have access to Coca-Cola's brands and receive capital to help complete the development of the single serve device. Investors saw it as a huge win for Green Mountain, with shares rising over $36/share to finish the after hours session at $117.33/share while Coca-Cola shares rose a bit over 1% in after hours.
The big loser from this deal is SodaStream International (NASDAQ:SODA), which in the past has been a rumored takeover target of Coca-Cola's key rival. Investors really did not like the fact that Coca-Cola threw their weight behind this soon-to-be competing device, and shares of SodaStream fell 3.60% after hours. SodaStream will obviously face pressure from the competing device in the future, but they will also need to add to their stable of brands in order to keep customers from migrating to the k-cup ecosystem.
Akamai Surges ...
Shares in Akamai Technologies (NASDAQ:AKAM) surged higher by almost 18% in after hours trading as investors cheered the company's quarterly results. Akamai beat on both the top and bottom lines, but the bigger news seemed to be in management's guidance and comments regarding the future of their business and their largest customer. Regarding the company's guidance, management stated that the company could see revenue growth of 21% moving forward.
If pre-market trading holds up, Akamai shares are set to open at a new 52-week high after last night's strong quarterly results and guidance.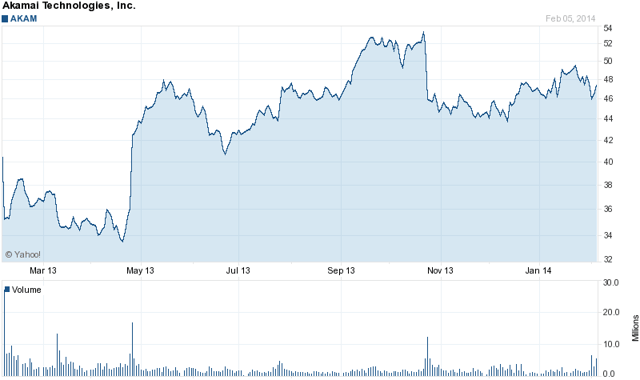 Source: Yahoo Finance
Although there had been fear that Akamai could lose its largest customer, it appears that the client in question has decided not to build their own network and instead continue to outsource that work to Akamai. With this good news, Akamai might end up being one of the better tech performers for 2014.
Twitter Disappoints ...
Investors reacted negatively to the first ever quarterly results from Twitter (NYSE:TWTR) as a publicly traded company. Although the company saw strong revenue growth and a non-GAAP $0.02 EPS figure, investors did not like engagement measurement that the company reported or the growth in users. User growth came in at about 241 million whereas many were expecting the company to report total users somewhere in the 248-250 million range. The data point that the company uses to measure engagement with their users also lagged and actually saw a decline for US users.
Truth be told, this was going to be a difficult quarter to please the market, with the huge run-up in share prices and the recent market turmoil. Although the user numbers disappointed, Twitter did show solid growth in its ability to monetize its users and also saw ad rates increase dramatically; highlighting that advertisers are finding the platform valuable. With shares down 20% after the report we would not be buying now, but possibly after another handful of analysts downgrade the stock or reduce their price targets.
Disclosure: I have no positions in any stocks mentioned, and no plans to initiate any positions within the next 72 hours. I wrote this article myself, and it expresses my own opinions. I am not receiving compensation for it (other than from Seeking Alpha). I have no business relationship with any company whose stock is mentioned in this article.