Starbucks Corporation (NASDAQ:SBUX) is currently trading at a low point reaching around $70.00 per share, down from a high of roughly $80.00 per share. This is mostly driven by the difficulty with the coffee crop in Brazil at the moment. There was a Wall Street Journal article from over the weekend that indicated that this trouble with coffee would continue, and clearly this is not a good thing for a company that derives the lion's share of its revenue from selling cups of coffee. However since supply issues generally represent a temporary problem, the decline in share price might offer an opportunity for purchasing shares for the investor with a long-term horizon.
Here, from a chart created by the Wall Street Journal, is how coffee futures are working currently: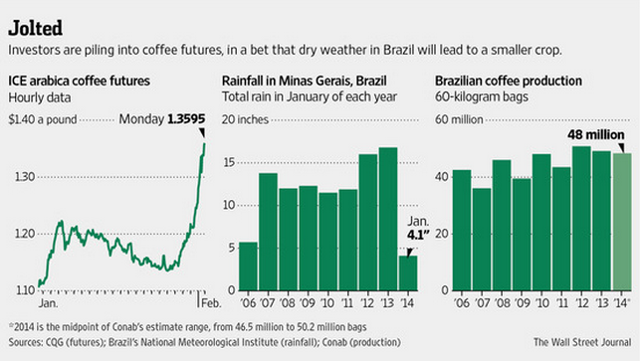 Bloomberg examined the coffee crop issue and how it impacts supply:
Volcafe, the Winterthur, Switzerland-based coffee-trading unit of ED&F Man Holdings Ltd., said that Brazilian output may drop to 51 million bags this year from 57.2 million in 2013, partly because of hard pruning by farmers.
Naturally this expected decrease in supply and increase in the coffee futures has corresponded with a decline in share price for Starbucks: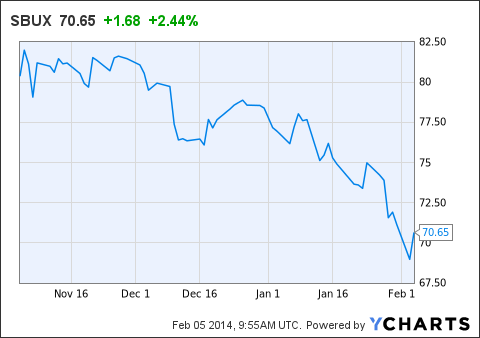 SBUX data by YCharts
For those familiar with investing in Starbucks this is of no real surprise. Trouble with the coffee prices is nothing new to Howard Schultz, the CEO of Starbucks, as he discussed it roughly 15 years ago in his book entitled Pour Your Heart Into It. Within this book, Howard Schultz explains how during the early 90's the supply of coffee plummeted and severely impacted the share price at that point in time. However Starbucks survived and thrived afterwards and we can only imagine that they will continue to do this again after the share price suffers more due to trouble with the supply and resultant high price of coffee.
I have read in the past that Starbucks is overvalued and often times various standard earnings based metrics for valuation are applied in order to demonstrate this. The P/E Ratio for 2013 was 29.18. The P/B Ratio for Starbucks is currently at roughly 10.93. Some have argued that these metrics indicate that SBUX ought to be considered negatively as it does not offer a strong value proposition for the investor.
Generally I would have to agree with the assessment that a company with a high P/E Ratio and a high P/B Ratio is overvalued based on the metrics. However in the case of Starbucks this might not be true. Starbucks has routinely been traded at a premium to such metrics as the P/E ratio. Furthermore we have to consider that Howard Schultz adds a sort of Celebrity CEO Multiplier effect to the price in a similar way that other major CEO's have (an example would be Steve Jobs of Apple).
Celebrity CEOs generally have several characteristics. A) They are rather good at being CEO and have a consistent long-term track record of bringing their companies to profits, B) they have books or many interviews and public appearances which give shareholder's a reason to believe in their abilities, and C) they have an uncanny way of explaining things which gets at the very heart of the matter at hand. Look at how Schultz explained the issues currently impacting retail:
Holiday 2013 was the first in which many traditional bricks and mortar retailers experienced in-store foot traffic give way to online shopping in a major way. Customers research, compare prices and then bought the brands and items they wanted online, frequently using a mobile device to do so.
He referenced Amazon's (NASDAQ:AMZN) impact on retail and how it has caused retail to falter even during the busiest time, the holiday season. Schultz also explained how this holiday season saw an increase in gift cards which was in part due to the shift from foot traffic to online shopping. He then continued on to explain how Starbucks was uniquely situated to capitalize on this fundamental market shift.
Starbucks was prepared for both of these shifts having invested over many years in the creation and development of proprietary world class digital and mobile payment and card technology and expertise.
Schultz might be right and he certainly backed his assertions up with some nice numbers. But Schultz might also be wrong, the importance here, and the reason shareholders generally like him is because he controls the narrative. Many other CEOs whom are in retail are simply not giving the types of answers and statements concerning their earnings that shareholders wish to hear.
While Starbucks might be considered expensive from the perspective of an investor whom only perceives the metrics as an indicator to buy or sell, one also needs to consider that Starbucks generally trades at a premium and most likely for good reason.
Coffee Prices are going up, Starbucks will not see the same earnings during 2014 that it saw in 2013 when coffee prices were rather low. However with some careful timing, a strong purchase of Starbucks can be made at a discount due to the coffee trouble in Brazil. This trouble will most assuredly resolve itself within the next several years, thereby rewarding the investor whom purchased based on true competitive advantage versus seasonality factors.
Disclosure: I have no positions in any stocks mentioned, but may initiate a long position in SBUX over the next 72 hours. I wrote this article myself, and it expresses my own opinions. I am not receiving compensation for it (other than from Seeking Alpha). I have no business relationship with any company whose stock is mentioned in this article.