Argos Therapeutics Inc. (OTC:ARGS), a biopharmaceutical firm that aims to develop and commercialize personalized immunotherapies for cancer and infectious diseases, plans to raise $60 million in its upcoming IPO.
The Durham, North Carolina-based firm will offer 4.3 million shares at an expected price range of $13-$15 per share. If the IPO can reach the midpoint of that range at $14 per share, ARGS will command a market value of $247 million.
ARGS filed on December 30, 2013.
Lead Underwriters: JMP Securities LLC, Piper Jaffray & Co, Stifel Nicolaus & Company Inc
Underwriters: Needham & Company LLC
Summary
ARGS is a biopharmaceutical firm in the process of using its proprietary technology platform, Arcelis, to develop fully personalized immunotherapies to treat cancer and infectious diseases. The platform uses biological components from a patient's own cancer cells or virus to personalize therapies. See Argos' product pipeline below.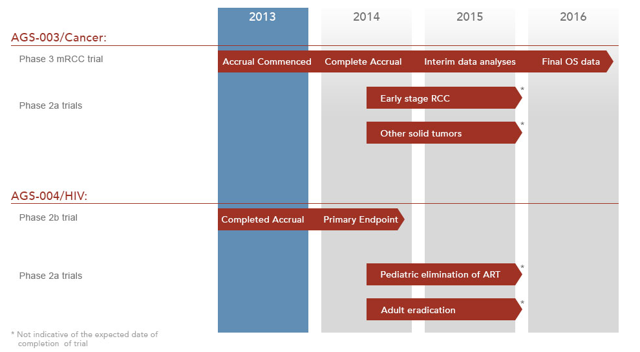 (Source: www.argostherapeutics.com/platform-and-p.../)
The firm's lead product candidate, AGS-003, is being developed to treat metastatic renal cell carcinoma; in phase 2 clinical trials, patients using AGS-003, in combination with sunitinib, survived for a median 30.2 months, as opposed to a median overall survival of 14.7 months in patients treated with sunitinib alone or other targeted therapies. ARGS is currently enrolling patients for a phase 3 trial of AGS-003.
The firm's second Arcelis candidate, AGS-004, is being developed for the treatment of HIV; a phase 2b trial for the candidate has been funded by the National Institutes of Health under a $39.3 million contract. ARGS plans to use the proceeds of this IPO to fund further trials of its candidates and to lease and equip a commercial manufacturing facility.
Valuation
ARGS offers the following figures in its S-1 balance sheet for the nine months ended September 30, 2013:
Revenue: $3,705,942.00
Net Loss: ($15,900,641.00)
Total Assets: $21,012,625.00
Total Liabilities: $1,462,208.00
Stockholders' Equity: ($67,775,717.00)
ARGS's lack of revenues and significant losses are to be expected of a pre-commercial biopharm firm. The firm will not be able to turn a profit until it has begun to commercialize its candidates.
Competition
ARGS must compete with firms offering alternative treatments for the conditions that it is seeking to develop treatments for. Major pharmaceutical firms already offering treatments for metastatic renal cell carcinoma include Bayer Healthcare Pharmaceuticals Inc., Onyx Pharmaceuticals Inc. (NASDAQ:ONXX), Pfizer Inc. (NYSE:PFE), the Roche Group, GlaxoSmithKline plc (NYSE:GSK), and Novartis Pharmaceuticals Corporation (NYSE:NVS).
Management
President and CEO Jeffrey D. Abbey has been with ARGS since 2002 and has served in his current positions since February 2010. He previously served in various other positions with ARGS, including Vice President of Business Development and Chief Business Officer. Before joining ARGS, Mr. Abbey served as Vice President of Business Development and Finance at Internet Appliance Network and as a partner at Eilenberg and Krause, LLP, a corporate law firm. He received an A.B. in mathematical economics from Brown University and an M.B.A. and J.D. from the University of Virginia.
Conclusion
We rate this IPO a buy and expect the deal size to be reduced which will decrease the supply of offered shares.
While all clinical stage pharmaceutical firms carry an element of risk (trials might not succeed, FDA approval might never come, and doctors might never use the treatments developed enough to make them commercially viable); ARGS appears a far better risk than most. The firm's phase 2 trials of AGS-003 speak for themselves, having more than doubled the median survival time of past patients in similar condition, and the support of the National Institutes of Health for AGS-004 is also encouraging.
The firm's plan to use a portion of the IPO to help establish a commercial manufacturing operation leads us to believe that ARGS will position itself well to take advantage of the commercial potential of its treatments in the event that they are approved.
Disclosure: I have no positions in any stocks mentioned, but may initiate a long position in ARGS over the next 72 hours. I wrote this article myself, and it expresses my own opinions. I am not receiving compensation for it (other than from Seeking Alpha). I have no business relationship with any company whose stock is mentioned in this article.