During my couple of decades as an investor/trader in the stock market, I have seen press releases and I have seen "press releases". On February 5, 2014 a press release came out from a penny stock company called Resource Ventures Inc (OTCPK:REVI) stating "that in the interest of the Company's expansion plans into the medical marijuana and industrial hemp industries, they have secured the consulting services of Hemp, Inc.'s (OTCPK:HEMP) subsidiary, The Industrial Hemp and Medical Marijuana Consulting Company, Inc. (IHMMCC)".
I need to stop here for a second, and give you a quick background on what's been going on recently with marijuana-related bulletin board microcaps.
Now we all know that lately there has been so much sinister action in Marijuana-related stocks due to the fact that now Marijuana is not only legal in Colorado and Washington, but cannabis has become a cottage industry complete with 420 sampler tours and shops where customers can buy pot brownies or candy in those two states. Furthermore, New York and Florida could soon join the 20 states and the District of Columbia where medical marijuana is legal, according to the National Conference of State Legislatures.
All of this has recently caused bulletin board stocks (OTC pink sheets and even some grey market, which is worst of worst of breed) to zoom up for no apparent reason except for the fact that the company put some press release that has the word "marijuana" or "hemp" in it.
Okay, now we are back to the press release that caught my eye (and believe me, I read quite a few on daily basis as part of my research). What made me completely stop and re-read it 3 times was this second-to-last sentence in the press release. It reads:
Having Hemp, Inc.'s consulting company lead Resource Ventures, Inc.'s path in the industry allows the company to take advantage of the explosive growth and stock feeding frenzy that is currently occurring in the industry sector.
I honestly could not believe that an "official" press release would actually contain such words. What exactly are they implying? I asked myself, is this for real? So I decided to learn a bit more about Hemp Inc. and why it maybe so important that it caused REVI's stock price to jump almost 700% just in one day.
About Hemp Inc.
Per Yahoo Finance, "Hemp, Inc. focuses on supplying services, products, and information related to the medical marijuana industry or to those who have an affinity for the medical marijuana industry. The company is designing a Website to offer news, issues, entertainment, and education on medical cannabis issues; developing proprietary software for transaction processing, MIS, loyalty program, and social network management; and producing video content that deals with current events as they relate to the industry and is available in high definition over the Internet. Its products include nutraceutical products designed to improve concentration and joint flexibility, increase awareness and energy, and improve overall wellness, as well as to supply hemp and blue-green algae protein; and skin care products for men and women. The company was formerly known as Marijuana, Inc. and changed its name to Hemp, Inc. in June 2012. Hemp, Inc. was founded in 2008 and is based in Las Vegas, Nevada."
In the same press release that I mentioned at the start of this article, it is also stated that:
Hemp, Inc. focuses on the vast market created by the quickly emerging, and growing, multibillion dollar industrial hemp industry. Hemp, Inc. is not involved in the cultivation or marketing of medical marijuana.
If you go to Hemp Inc. website, there is indeed pretty much nothing about medical or marijuana there either. It's all about hemp. Now, if you go and look up what exactly hemp is, the short definition is "Hemp can grow about 18 feet tall. Hemp fiber from the stalk is similar to flax, the source of linen, and can be used for fabric, rope, paper and even as bedding for animals. Hemp seeds crushed for oil and flour are found in nutrition bars, chips, beer, salad dressing and other foods. Hemp oil is sold by itself as a nutrition supplement. Soaps, shampoos, moisturizers and other body care products contain hemp oil as an ingredient."
Check out Hemp Inc.'s website. It basically lists Hemp related stories and there is a forum for feedback. That's it!
While there, you should see some of the recent feedback that has been left. During my research, I also found a recent photo of the Hemp Inc. CEO, Bruce Perlowin.
Hemp Inc. Financials
I will make this short and sweet. As of their last filing (2013 Q3), their Total Current Assets are listed as $273,342 (out of which $2,200 is in cash and cash equivalents). Yes, I did not mistype. That's two-thousand and two hundred dollars of cash. Their total assets are reported at $2,640,128. Their current liabilities exceed their current assets more than 4 times. They have a total (if all are exercised /diluted) of nearly 4 billion shares.
You can find all of their filings by going here.
Hemp Inc. Stock Chart
Rather than talk about it, here is what HEMP has done during the last few weeks: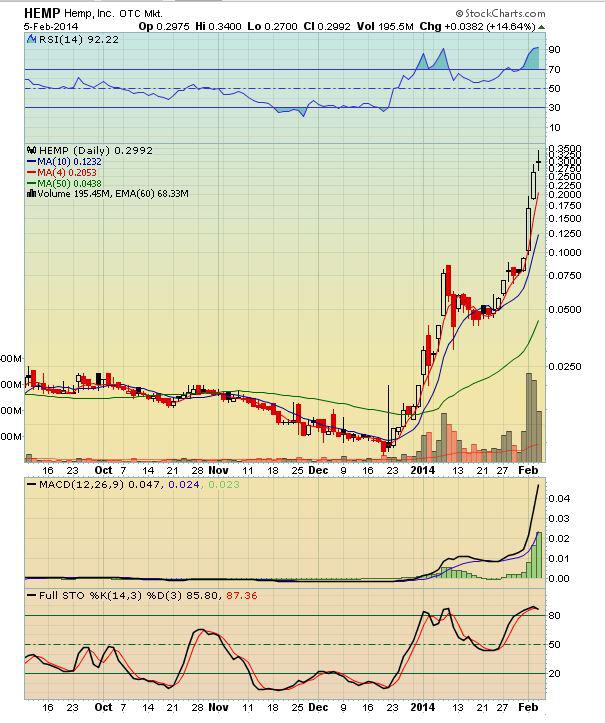 It's RSI is in major overbought area (over 92 on a daily) and the Stochastics are about to turn negative with an impending cross.
Here below is a historical price for HEMP for the last six weeks: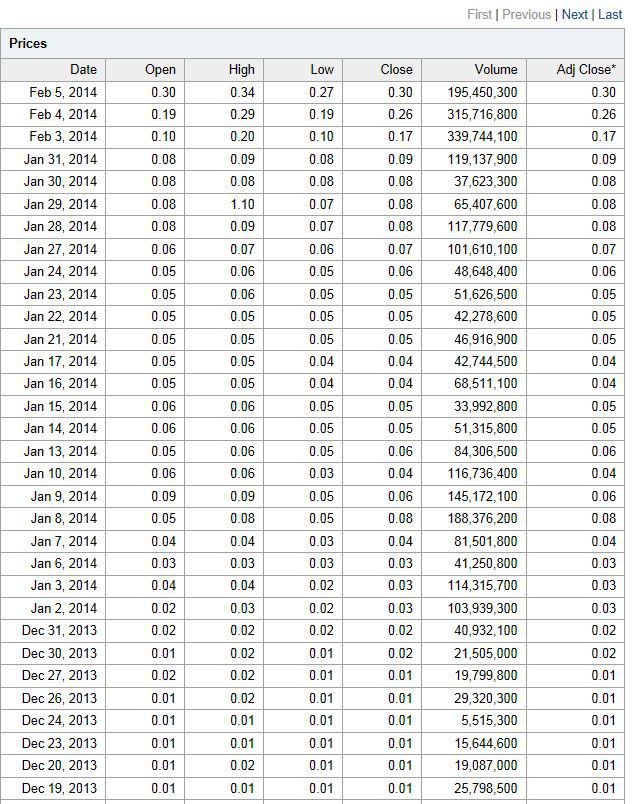 You can find more historical prices here.
As you can see, HEMP stock price has run-up from a low of .01 to a high of .34, and closed at .30 as of February 5, 2014 market closing. That's a gain of over 33x (or 3,300%).
(To be fair to HEMP, that $1.10 price print, shown both on the chart and the historical price chart (on January 29, 2014), was a bad print)
Conclusion
It seems that folks are very much excited the recent news that the United States will allow some states to legally start growing hemp. That is nice but does it mean that companies that are in debt, don't have money to grow anything to suddenly end up with market valuations of $360+ million as per Bloomberg quote?
When one deals with OTC stocks, anything can happen. But let's be realistic. Do you think that HEMP has done something to deserve such a rocket-launch of their stock price? Do you think they may raise much needed cash by further diluting shareholder value? Do you think that stocks like that just keep going up and up and never come back down? To the best of my knowledge, Hemp Inc. has just two employees, and before this run their stock had never traded above .14 in their history (and that was just for one day in February 2013).
I have nothing personal against this company, but when common sense is used, I just can't imagine Hemp being able to hold these stratospheric stock price levels. Just make sure you are able to find a chair to sit on when the music stops playing the "stock feeding frenzy "song.
Disclosure: I am short HEMP. I wrote this article myself, and it expresses my own opinions. I am not receiving compensation for it. I have no business relationship with any company whose stock is mentioned in this article.