Advanced Micro Devices (NASDAQ:AMD) is in the process of executing a multi-year strategic transformation that will enable it to shift its revenue generation towards high growth business segments. The company is increasing its focus on the semi-custom, dense servers and professional graphics businesses. It has set the objective of generating 50% of its revenue from high growth businesses by the end of 2015. This transformation is being carried out in the wake of changing dynamics in the PC market. However, despite the declining growth of the PC market, AMD has not abandoned its traditional desktop and notebook business. This report, predominantly qualitative, is an update on the significant ongoing developments regarding AMD and its future prospects.
Financial Highlights
2013 proved to be a turnaround year for AMD. The company managed to post operating profits in contrast to the losses suffered in 2012. These revenues and profits are driven primarily by the graphics and visual segment of the company. The semi-custom business, including Microsoft's (NASDAQ:MSFT) Xbox and Sony's PlayStation console sales, helped the company in posting an operating profit for the year ended 2013. AMD also managed to reduce its OPEX from $6.5 billion in 2012 to $5.2 billion in 2013 which aided its profitable performance. Revenues declined as compared to the previous year (see table below) but the noteworthy fact is that the gross margin of the company improved which, along with the management of OPEX, resulted in an operating profit. The shift towards semi-custom and professional graphics increased the gross margin to 35% as compared to 23% in 2012. All in all, the strategic shift is proving to be positive for AMD.

As far as the last quarter is concerned, AMD's performance was positive in terms of revenues and profit. It managed to post a sequential revenue growth of 9% and 38% on a year-on-year basis spurred by the console sales. Computing segment revenues decreased by 9% sequentially whereas graphics and visual segment revenues were up 29% to $865 million, driven by the increased shipments of game console semi-custom SOCs; and the R7 and R9 series of GPU products. The cash position stayed flat during this period and the company has a healthy cash and cash equivalent balance of around $1.2 billion. The graph below summarizes the quarterly performance of the company in terms of revenues. It indicates clearly that the revenues are shifting towards the graphics and visual segment and the intersection denotes the point in time where the graphics and visual revenues surpassed computing revenues (Note that these are the quarterly revenues, not the yearly revenues). The revenue trend describes the story of the strategic shift and in our view 2013 has been a positive year for AMD as it has successfully executed its change of strategic focus. The financials of AMD have improved in 2013 and they will continue to do so this year if the company is successful in generating equally high margin revenues. We will explore this "if" in the segment that follows.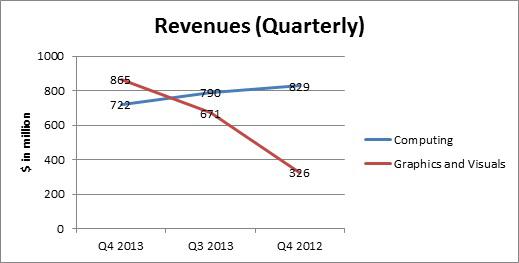 Recent Developments and Future Outlook
There are certain developments in the AMD camp that are worth exploring. MANTLE API and the first ARM server processor are in the spotlight at the moment. We will analyze both of these along with some other developments that can affect the future prospects of the company.
AMD's management has emphasized its strategic shift in earning conference calls, including the most recent one. Essentially the company is trying to identify new avenues of growth as the PC market is expected to decline at a rapid pace in the future. Currently AMD's focus is on dense servers, professional and gaming graphics and, most importantly, on the semi-custom business.
Servers Market
The smartphone and tablet market growth entails an increase in processing, networking and storage demand. This is where data centers, cloud computing and servers come in. The server market is expected to grow as a direct result of the increasing requirements of data centers and cloud computing. We have mentioned the growth statistics of smartphones, datacenters and cloud computing in several of our previous pieces. All statistics indicate the healthy growth prospects of these business segments. AMD has launched many servers in the past and has recently introduced the first 64bit ARM based server processor and a development platform. The AMD Opteron A-Series processor, codenamed Seattle, will sample this quarter along with a development platform that will make software design on the industry's premier ARM-based server CPU quick and easy. The ARM processors consume much less power and in the past, compact CPUs with a lower cost and higher volume have always been successful. A statistic shows that 8 billion ARM CPUs were shipped last year. Moreover, the ARM server is expected to capture 25% of the server market by 2019. AMD, being the first established server vendor to offer ARM 64bit technology, is in a position to dominate the future server market. Last year's deal with Verizon is an example of AMD's strong competitive position in the server market. We believe that AMD's server offerings will be partially responsible for its future growth.
Semi-Custom Market
AMD processors are featured in the products of major gaming console manufacturers, i.e. Sony and Microsoft. This is indicative of the fact that AMD is directing its resources toward the semi-custom business. Sony and Microsoft have sold around 7 million consoles until now and AMD earns about $110 per console. The console sales are not going to slow down in 2014 because the PS4 and XBOX have still not been launched in some markets (most of these are emerging markets). Hence, AMD is set to gain from console sales in 2014 and beyond. Moreover, because of GCN and MANTLE API, AMD is likely to secure more design wins from console manufacturers. We believe that AMD will stay the console and semi-custom market picture for a long time.
Professional Graphics and Gaming Graphics
On this front, AMD announced the FirePro S10000. Its graphics hardware is featured in Apple's latest MacPro and it is also collaborating with Adobe (NASDAQ:ADBE). The company recently announced that it has delivered significant optimizations in the graphics processing pipeline to increase performance for powerful creative features and workflows in the newest version of Adobe Photoshop CC. The latest version of Photoshop CC brings new OpenGL pipeline support in AMD APUs and GPUs to enhance the responsiveness and display quality for new, high-value features including:
Perspective Warp - OpenGL performance provides virtually instant feedback for this new feature that enables users to selectively adjust the perspective of portions of an image in relation to other elements that remain untouched.
3D Printing - OpenGL performance enhances the experience of working with the powerful new 3D printing capabilities in Photoshop CC by providing rapid visual feedback (as 3D models are enhanced as well as accurate), WYSIWYG previews, fast mesh repair and 3D print preparation.
These developments indicate that AMD is taking professional graphics seriously and will have a competitive position in this arena during the year. Apple's (NASDAQ:AAPL) MacPro sales will also boost the company's revenues to some extent.
As far as gaming graphics are concerned, the launch of MANTLE and early performance reviews point to a competitive advantage in favor of AMD. AnandTech and HotHardware have used almost-final Mantle drivers to achieve frame-rate gains of at least 7-10% in Battlefield 4, rising to 30% with some configurations. This means that the CPU's performance is improved with MANTLE and some low-end PCs will be able to run games that they couldn't before. MANTLE support will give notebook APUs the ability to run certain games and once the consumer realizes that, AMD APU's will be preferred by casual gamers and the company may gain some ground in the PC/notebook market. The MANTLE support in ATI standalone graphics cards will naturally make them a preferable choice over the NVIDIA cards. In short, the gaming graphics business of AMD is set to grow in 2014.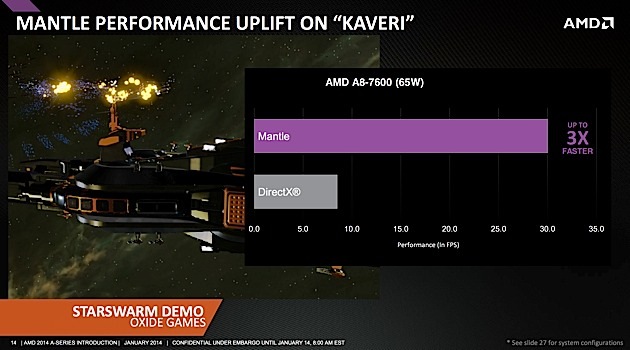 The picture depicts the potential of MANTLE in comparison with DirectX. The performance boost is almost 3x in this particular example. With everything else being equal, enabling Mantle increased the demo's frame rate by nearly 300% - from an unplayable 13 fps to a pristine 44 fps. If the developers start developing games with MANTLE support, AMD will achieve a very favorable position in graphics.
Traditional Business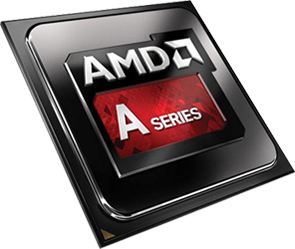 AMD's CPU business has been overshadowed by Intel in the past few years. The declining growth of the PC market added more problems to the desktop and notebook processor business. Even though the company is shifting its focus towards other high-growth segments, it is not giving up on the desktop and notebook business.
AMD recently released its Kaveri APU that features up to 12 cores of compute, HSA (Heterogeneous System Architecture), GCN (Graphics Core Next) and MANTLE API. The differentiated features of these have been discussed in an earlier piece. In short, they can enhance the CPU and GPU performance. It matches up to Intel chips that cost a lot more, the top Kaveri desktop variant costs just $173 compared to $242 for a Haswell Core i5. The graph below shows the performance of AMD as compared to Haswell. On paper, AMD's Kaveri is outperforming Haswell but the game performance is close enough. The price performance of AMD A10-7850 is better and it will be preferable to the consumer. Hence, the desktop and notebook business is not a dead end for the company.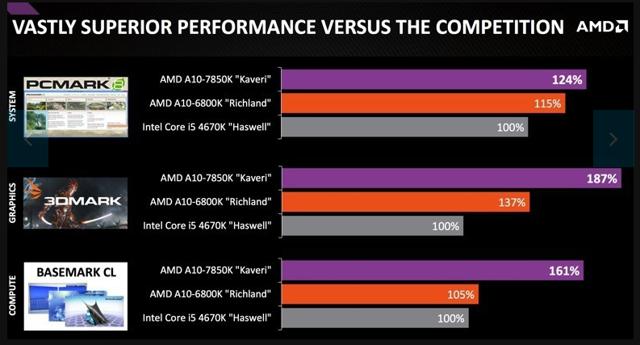 On the other hand, AMD's management claims that its low power chips like Mullins and Beema are 250% better in terms of graphics when compared to the Intel's Baytrail. The power consumption of these chips is also relatively lower than the previous versions. All in all, AMD is not giving up to Intel in the desktop, notebook and low end arena. The specifications of AMD's recent launches indicate that it will be resilient in this segment too.
Conclusion
The strategic shift of Advanced Micro Devices is under way. 2013 proved to be a successful year in terms of this shift as the company's revenue stream started to move towards its graphics and visual segment. The year 2014 holds promise for AMD because of its dense server offerings (including ARM based x64 server processors). The semi-custom business will also generate revenues this year due to the anticipated sales of consoles and Apple's MacPro. The company's offerings in the professional graphics market are improving and it has a wide product portfolio for servers and workstations. MANTLE API is a boost to gaming graphics, as it improves performance significantly and the company is also showing resilience in the PC market. Overall, AMD is set to grow in the coming years mainly because of its servers and graphics business but one cannot simply ignore its presence in the PC/notebook market because it has some competitive products there. In our view, AMD is a good investment opportunity because of its successful shift toward profitable business segments and excellent offerings. The company seems to be executing its plan efficiently and is certainly a buy.
Disclosure: I have no positions in any stocks mentioned, and no plans to initiate any positions within the next 72 hours. I wrote this article myself, and it expresses my own opinions. I am not receiving compensation for it (other than from Seeking Alpha). I have no business relationship with any company whose stock is mentioned in this article.
Additional disclosure: Equity Flux is a team of analysts. This article was written by our Technology analyst. We did not receive compensation for this article (other than from Seeking Alpha), and we have no business relationship with any company whose stock is mentioned in this article.