Hillshire Brands (NYSE:HSH) has been a good performer since I wrote my last narrative, with shares up about 16% relative to the SPY which increased 4.5% over the same time frame. While I am happy with the stock price performance on a relative basis, the real source of "alpha" that comes from investing in a name like Hillshire Brands is that I believe investors take on less risk relative to the broader equity markets. This is for two reasons: (1) the consumer staples business is less subject to the gales of competitive destruction than say, technology firms and (2) Hillshire is led by qualified management with extensive experience in the consumer staples sector.
Therefore, I don't expect Hillshire Brands to provide envy-creating returns on an absolute basis, but by investing at the right price investors increase the chances of earning high, risk-adjusted returns. Hillshire is also a sleep-well-at-night type of investment, which provides less active investors an opportunity to pick their spots for "alpha" opportunities. To that end, with the stock up 16% since October 3, 2013 relative to the 4.5% return of the broad market, does Hillshire still represent a compelling asymmetric opportunity?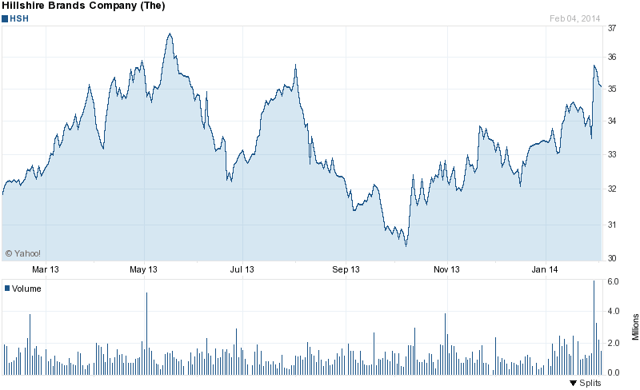 The Business
By way of a quick background on Hillshire, I have included some comments from my original column:
Hillshire Brands is a year old spin-off from Sara Lee and the owner of a collection of iconic meat brands including Jimmy Dean, Hillshire Farm and Ball Park. As such, Hillshire refers to itself as a meat-centric company (about 90% of sales), which I would call an accurate assessment. The remaining 10% of sales comes from Hillshire's bakery business.
Hillshire reported Q2 FY 2014 results on January 30, 2014, indicating that FY 2014 EPS should be at the higher end of the earlier guided range of flat to down mid-single digit percentages in EPS relative to FY 2013. Based on the first half-year performance, I'm expecting EPS to be in the $2.20 to $2.40 neighborhood, indicating a forward P/E ratio of 15x. This metric, along with the fact that the business trades at 10x TTM EV/EBITDA indicate that Hillshire is getting closer to fair value absent any material change to the business, or attractive acquisition candidate.
Part of the support for the EPS figure comes from management buying back $20 million worth of stock in the quarter as part of a 2-year plan to retire $200 million of its own equity, or about 4 to 5% of the total shares outstanding (based on current market prices).
The other part of toeing the EPS line is strong cost containment for controllable expenses. However, input costs remain difficult and out of the control of management, particularly with respect to beef and sow. This is fine in a deflationary environment where the company doesn't pass through 100% of the savings (and acts as a tailwind to earnings), but can be a drag on earnings in an inflationary environment because the company cannot recapture all of the increased costs through higher prices to end consumers. To that end, CEO Sean Connolly had this to say on the most recent conference call (transcript courtesy of Seeking Alpha):
But in general, our principle on pricing is that we expect to fully recover the inflation we face with pricing over time. And the way it works, the way it's always worked for us is pretty straightforward, where in deflationary times like last year, earnings tend to get a boost because we don't pass through 100% of the cost relief. But in inflationary times earnings tend to be pressured because we don't fully recover 100% of the cost increase in any given year. That said, we aim to cover as much of it as we possibly can, which means if the input cost inflation is broad-based, then we will look to make our pricing similarly broad-based.
Because of the pricing issues with respect to input costs for its products, I suspect management is thinking about ways to mitigate this issue. One way is through M&A activity. Becoming a vertically-integrated player in the entire value chain may be one alternative as Hillshire thinks about strategic ways to allocate its capital.
CFO Maria Henry noted on the conference call:
The acquisition environment remains very good. We're very positive on what we're seeing in the market. We're seeing a lot of attractive opportunities for us of various sizes. As you know with M&A, we can't exactly predict the timing but we absolutely do intend to be an acquirer. If you think about what we've done on capital allocation overall, I think we've been very consistent. Our first priority is investing in the business. We took our dividend up coming into this year. We announced that we intend to do $200 million of share repurchases over 2 years through fiscal '15. And so we've got a very attractive balance sheet that gives us a lot of flexibility and access to the debt market to react very quickly when we do have an opportunity to move on some M&A activity, where we see things that we can bring into our portfolio to help advance our growth agenda, our margin expansion agenda, as well as reduce the overall volatility of our portfolio over the long term. So nothing to update you on today, and it's hard to predict the timing. But we are actively looking at opportunities. We see a lot of good things and happy that we have the flexibility to be in a position to move quickly when something is actionable.
Reading between the lines, it appears like Hillshire has lined up a couple of targets and is likely in the process of finishing up its due diligence. To that end, I expect that Hillshire will announce some sort of meaningful transaction before the end of 2014, taking into account the attractive borrowing environment we still find ourselves in today.
Conclusion
The price to value gap has narrowed with respect to Hillshire Brands. For investors seeking to raise a little cash, I think the current price is offering investors a way to do so in a relatively volatile market.
Having said that, I continue to think that Hillshire is a good investment opportunity although I don't see any real need to allocate capital at the current quote. The market may well provide a better opportunity in the coming months as it digests the financial news from around the world, and if input cost pressures begin to rear their head more than anticipated. To me, Hillshire is a hold at the current price, and a wait and see candidate. It's a good business that today trades at more or less fair value.
For investors looking for another, more aggressive protein play, I would suggest Maple Leaf Foods (OTCPK:MLFNF) (shares should be bought on the TSX exchange) which is undergoing a significant restructuring but appears to offer more potential upside.
Disclosure: I have no positions in any stocks mentioned, but may initiate a long position in MLFNF over the next 72 hours. I wrote this article myself, and it expresses my own opinions. I am not receiving compensation for it (other than from Seeking Alpha). I have no business relationship with any company whose stock is mentioned in this article.