Facebook (NASDAQ:FB) fourth quarter results were released on Jan 29 2014. In short, Facebook hit a home run in every category. Investors were rewarded with continuing momentum as the stock moved from the mid $50's range into the $60's where it now sits as of today.
Analysts clamored to raise targets en masse. The stock has been holding up well in recent down markets as a result of its strong ER and the support of analysts and investors. The big question that will begin to emerge after the euphoria has worn off is, can Facebook continue to grow at the rates expected by investors? The answer to this question can be addressed by what i will call The Four Horsemen of Facebook Growth.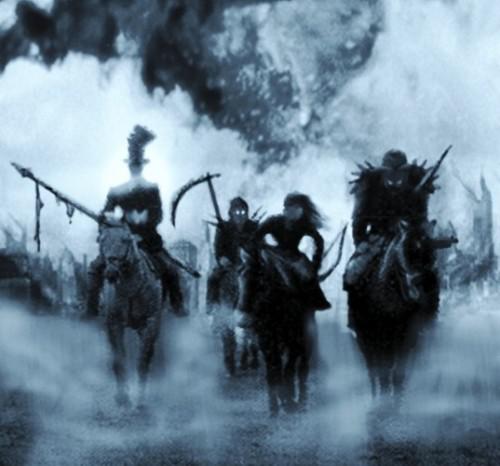 Instagram
Much has been said about Facebook losing the "teen" user base when in fact the opposite could be said. Instagram has doubled its user base over the last quarter and the demographic of Instagram users is widely known to be teens. Instagram is reportedly at 180 million MAU's compared to Twitter's (NYSE:TWTR) reported 253 million MAU's. Instagram has recently rolled out video ads on its platform as the first step towards monetization. One of the first ad campaigns was with Michael Kors (NYSE:KORS) and the results were simply amazing. The team at Facebook is well equipped to grow Instagram into a large user base that will be carefully monetized so as not to diminish the overall user experience. By enriching the user experience with the addition of video and group messaging last quarter, Instagram has the potential to overtake Twitter in active MAU's if it can continue to grow at its current pace.
Facebook Paper
On Feb. 3 2014 Facebook launched a stand alone newsreader app called Paper in the US market . Paper is in test mode for iOS users only for now. Paper has received glowing reviews for great design and flow. Some view Paper as kind of a back door redesign of Facebook. By making it a stand alone app users can make the switch gradually rather making a radical redesign on the main Facebook app. CEO Mark Zuckerberg has stated he wants to make Facebook the place where people get their news. Paper starts with your Facebook newsfeed but also allows you to add other custom sources and interests, all displayed in a stunning and visually pleasing format. Facebook understands the way we would prefer to consume information and in Paper they deliver a great format for doing so. Its a one stop app for all of your News and Information needs and a brilliant move by Zuckerberg to continue growth and stay ahead of the curve.
Redefining Search
Mark Zuckerberg has stated that Facebook plans to redefine what we think of in terms of internet search. This is a direct challenge to the dominant search powerhouse Google (NASDAQ:GOOG). Facebook has the largest database of personal information on the planet. The 10 year plan as stated by Zuckerberg, is to use this data to make searches more relevant to the user. Rather than just spitting out results that it hopes are the most relevant like Google does, Facebook's graph search will allow results to become more personalized and relevant to the user. Zuckerberg has a very clear vision of how this will play out. By using their research into artificial intelligence and voice recognition, Facebook plans to build a "superintelligent" search engine.
Delivering the Web
Today, two thirds of the planet are still not connected to the internet. Facebook has plans to change that. By working with partners in an effort called Internet.org, Facebook is becoming the gateway to the web in many parts of the world. Facebook is also partnering with network carriers to offer free WiFi in developed nations. By using your Facebook login you'll be able to access free WiFi just about anywhere. Facebook is slowly weaving itself into the very fabric of the Internet. By becoming the go to tool for logging in to sites with "Login with Facebook" to facilitating the ease of mobile payments with Autofill ,Facebook is everywhere. Making the Internet convenient and easy to use and facilitating its overall growth, Facebook is cementing its place as a cornerstone of the web.
These "Four Horsemen" provide assurances that Facebook will continue to grow both in the short term and in the long term. Facebook has seen some spectacular growth in the last year as you can see in the chart below. Investors should stick with a proven winner, especially one that has a plan and history of execution.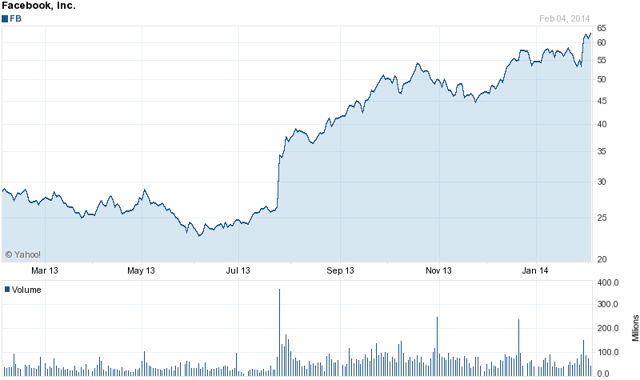 Image source: Yahoo Finance
Disclosure: I am long FB. I wrote this article myself, and it expresses my own opinions. I am not receiving compensation for it (other than from Seeking Alpha). I have no business relationship with any company whose stock is mentioned in this article.