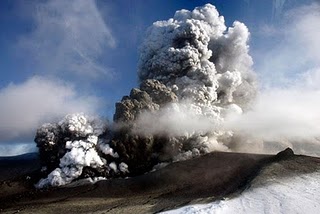 You probably missed this because it has gotten so little attention, but apparently a volcano has been erupting in Iceland disrupting all manner of air traffic in and around Europe. Ok, no more sarcasm.
For quite a while now I have been writing about things like toll roads and airports as infrastructure investments. Recently I concluded that toll roads are more like utilities than true industrial stocks as they are usually characterized, but are still a legitimate form of infrastructure investing.
Investing in publicly traded airports seems like a similar thing. Airports are part of the infrastructure theme and I think a similar type of utility as toll roads. Obviously the volcanic ash has impacted flights and airline stocks and, to a lesser extent, some of the airport stocks I keep tabs on.
The chart below (click to enlarge) captures Copenhagen Airport, which has symbol KBHL in Denmark and CPNGF on the US pinks; Aeroports de Paris, symbol ADP in Paris and OTC:AEOPF on the pinks; Fraport, symbol FRA in Frankfurt and FPRUF on the pinks; Auckland Airport, AIA in NZ and OTCPK:ACKDF on the pinks; Macquarie Airports, MAP in Australia and MGPYF on the pinks and the Claymore Airline ETF (NYSEARCA:FAA).
The actual chart may not be of much use, but anyone interested can take the symbols, make their own charts and draw their own conclusions.
I would expect FAA to be down more than the airports but it looks to me like a couple of the airports are down the same as FAA. MAP is down about as much as FAA and, while you might think it odd that an Antipodean airport would be down in line with the airlines, MAP has a lot of exposure in the UK.
It is debatable whether an erupting volcano is a black swan event or not but airport traffic does not get disrupted like this very often so, in terms of short term shocks, it is possible that this is as bad as it gets. Obviously airports would be vulnerable to fewer commercial flights and fewer cargo flights caused by an economic slowdown or perception of a slowdown which would be more gradual than a volcano.
During the worst of the bear market most of the airports went down more than the S&P 500 except for Fraport, which went down the same, and Auckland, which although it did go down a little less it had a large portion of its decline before the S&P 500 and did worse than the NZ 50 benchmark index. Interestingly, Port of Tauranga (POT in NZ and PTAUF on the pinks), which is a sea port operations company, turned out to be a much better place to hide than any airport I've looked at and most toll roads.
I think there can be a place for this sort of thing in a diversified portfolio (toll road or airport, but probably not both) but they are very difficult to trade. Many don't trade much in their home markets let alone here on the pinks. Anyone can judge for themselves whether they think there is enough volume to get out of the size they would normally buy. I disclosed a while back owning a Chinese toll road personally and for one client for whom it was suitable but that it would not be a good buy for all clients because I have no faith that I could get out of a full across the board allocation. I own no airports anywhere as I prefer the toll road idea, but even then it is very difficult to access for now. Who knows when or if this will change, but I do find these to be of interest and so I'll keep tabs on them for now.