Chipotle Mexican Grill Inc (NYSE:CMG) announced its 4th quarter and full year 2013 results on Thursday January, 30th, 2014. The results announced have boosted the stock share price because the revenue beat market expectations. Delving into details will give us insight into the company's excellent performance and its 2014 growth prospects. Let's have a look at each metric step by step.
Traffic Jump Bolsters Chipotle's Top Line
During the 4th quarter of 2013 Chipotle reported revenues of $844.1 million reflecting an increase of 20.7%. This tremendous revenue growth was driven by a rise in customer traffic to established restaurants and the opening of new restaurants throughout the United States of America. Chipotle is regarded as the fastest growing burrito chain and claimed comparable restaurant sales experienced an increase of 9.3% during the last quarter. This sale increase beat analysts' expectations by 260 basis points as analysts expected an increase in same store sales of 6.7%.
Chipotle's Base Expansion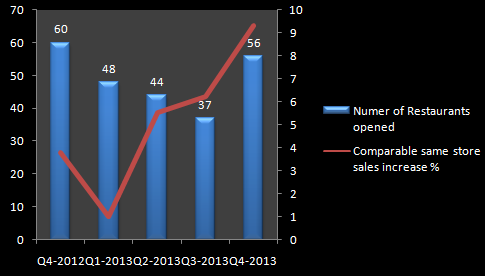 Source: CMG Press Release
Revenue Growth
For the full year 2013 results, the company's revenue was $3.21 billion climbing up by 17.7% with a comparable same store sales rise of 5.6%. If we take a look at the company's 5 year revenue trend it is evident that it is growing at a steady rate despite the saturated market in the USA and the presence of big players like McDonald's (NYSE:MCD) and YUM Brands Inc (NYSE:YUM). In 2013 McDonald's experienced a decline in same store sales of 1.4% despite its base of 14000+ stores. On the other hand Chipotle recorded a 5.6% same-store sales increase with a total number of 1595 stores.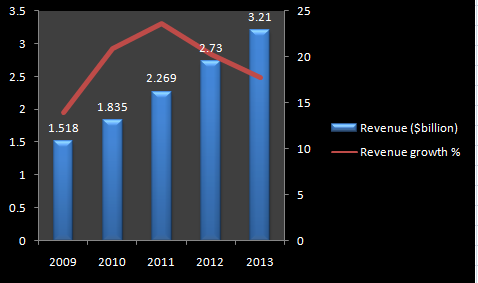 Source: Investor Presentation
Margins and Bottom Line Continue to Grow
During the fourth quarter of 2013 the restaurant level margin was 25.6% and expanded by 100 basis points. Lower marketing costs and enhanced sales levels contributed to the margin that was adversely affected by a 22% rise in food costs. Net income for the quarter increased by 29.8% and reached $79.6 million. The net margin for the quarter increased by 60 basis points while EPS also soared by 29.70%.
On an annual basis, the operating margin fell by 50 basis points to 26.6% and higher costs of food remained the reason behind the decline. Cost of food is a major expense that comprises 33.4% of sales and it experienced an increase of 20.5% y-o-y. Net margin for the full year remained flat and EPS soared by 19.65% because of a 1.8% decline in share float of the company.

Source: Earnings Release
Shareholder's Return
Chipotle Mexican Grill does not pay dividends so that means investors receive their returns merely from share price appreciation. As far as investor return is concerned, during the previous year Chipotle's stock experienced a price appreciation of 76.97% as the price escalated from 302 at the start of year to 532.78 at the end of 2013. With this level of stock price appreciation, Chipotle surpassed YUM Brands and McDonald's who showed price returns of 12.58% and 7.67% respectively.

Source: Y-Charts
Chipotle's stock soared in value by 13% in after hours trading on Thursday January 30th after the company announced its thrilling 4th quarter 2013 results.
2014: Another Prosperous Year for Chipotle Mexican Grill
In its 2014 outlook Chipotle claimed it would add 180-195 new restaurants and would experience an approximate 4-6% rise in the comparable store sales. This is a smart move by the company since through this expansion the company can accommodate increasing customer traffic to its stores and bolster its revenue pipeline. However, the company's 1595 stores is far less than that of McDonald's 14000+stores but the differentiating aspect is that Chipotle owns of all of its stores. On one hand the complete ownership of the stores gives the company power and authority over the quality of the food and service but on the other hand it exposes the company to various risks. Opening new stores will strengthen Chipotle's footing in the US market but once it reaches a saturation point, 15000 to 22000 restaurants, then it should consider international expansion.
According to the 2014 Restaurant Industry forecast by the National Restaurant Association (NRA), the restaurant industry is expected to increase to a record high level of $683.4 billion in 2014; the 5th consecutive year of real growth. Apart from this, the US consumer confidence interval is forecasted to be 81.47 up from 80.40 indicating the rising optimism of consumers. According to analysts, restaurant traffic is positively correlated with consumer confidence. This scenario leads us to predict that 2014 will be another prosperous year for Chipotle if it maintains restaurant traffic and bolsters its top line.
Everyone wants to be the "Next Chipotle"
Competition is a major threat that can hinder the company's ongoing success. In a finite consumer market Chipotle is competing with every other casual dining chain including quick service restaurants like Five Guy's Burgers and Fries and Jimmy John's. There are thousands of local, national, and international brands and fast food restaurants competing with Chipotle across the USA. A matter that needs serious consideration is fact that these QSR's are striving to be "the next Chipotle" as they are trying harder to duplicate Chipotle's success by adding restaurants at a rate faster than the company to earn more market share in the fast food market. The increasing competition can enormously impact Chipotle by shrinking its growth prospects and stock price contraction.
Realizing the impact of the growing competition, Chipotle is using entertainment and new concept pizza to diversify itself. Chipotle has plans to spread awareness of sustainable food by its new comedy series called "Farmed and Dangerous" to be aired on Hulu next month. Through this series and a previously launched mobile game Chipotle aims to extend its brand awareness using various mediums of entertainment.
Apart from this Chipotle has another plan in store for rapid expansion. It acquired an ownership stake in Pizzeria Locale a casual pizza brand in Denver. This new acquisition will leverage on Chipotle's business model and enable customers to get their pizza two minutes after ordering it at the counter. Maintaining the right to become a majority owner underscores Chipotle's belief that the new concept will grow to a national level. This diversification will definitely help Chipotle to continue growing in the long term.
The Road Ahead
Chipotle Mexican Grill has managed to perform excellently in 2013 and expects to continue the trend into 2014 and beyond. The company's expansion plans including opening new restaurant outlets in USA. This will enable the company to cater to the growing consumer demand for American-Mexican cuisine. However, the company should try to expand from the US arena and concentrate on the enormous growth opportunities in the developing world once it has reached the saturation level in the USA. I would say the impressive growth in the top line and same-store sales tempt me to rate this stock as a buy. Even at a level of $500 this stock should be in the portfolio of an investor eager to invest in growth stocks as it is a long term growth story.
Disclosure: I have no positions in any stocks mentioned, and no plans to initiate any positions within the next 72 hours.
Business relationship disclosure: The article has been written by a Blackstone Equity Research research analyst. Blackstone Equity Research is not receiving compensation for it (other than from Seeking Alpha). Blackstone Equity Research has no business relationship with any company whose stock is mentioned in this article