The erstwhile journey of Crocs Incorporation (NASDAQ:CROX) began in the year 2002, when it launched its unique shoe series; referred to as "clogs" that was made from croslite - an extremely lightweight material. They were soft, convenient, non-marking, slip-free and odor-resistant. The brand that started from a single model in six varying colors was an instant hit amongst the masses. And today it consists of more than 11 models in 18 different color combinations and simultaneously, has diversified itself into other segments like apparels and accessories. However, the picture has not been so rosy for Crocs, ever since its inception. The clogs which were a huge hit at the time of its launch lost their popularity in the market and the company had to face a severe setback. But the company revamped its products and broadened its product line, as a result of which it was able to make a fervent resurrection. The company disposes its products in more than 90 countries, operating distribution centers on a global scale and manufacturing plants in Mexico and Italy. Crocs sell through retailers, such as Dillard's (NYSE:DDS), Nordstrom (NYSE:JWN), and Dick's Sporting Goods (NYSE:DKS), as well as through about 250 of its own stores and kiosks worldwide.
Revenue earned by the company across different countries is shown in the following chart:

Buy Out Plans
Crocs is planning to repurchase the common stocks with the funds it has received from the investment made by Blackstone. It received $200 million after Blackstone invested in the company's preference stocks. The company expects to begin the repurchase in the running quarter. The buyback will reduce publicly traded common stock by about 30 percent. Crocs will benefit from the assets of Blackstone and can carry on with its much needed restructuring plans.
Industry Peer Analysis
Crocs has taken a bite out of the footwear industry. But now it is facing stiff competition from big global players like Nike (NYSE:NKE), Adidas (OTCQX:ADDYY) as well as companies like Deckers (NASDAQ:DECK), Foot Locker (NYSE:FL), Skechers (NYSE:SKX), etc. Considering the US markets of Nike and Adidas together, both have a market share of approximately 83%. So, the remaining 17% is for other players and Crocs is striving hard to maintain its market share.
However, if we take into account the financial performance of the company compared to its competitors, it is sustaining quite well. Crocs has a P/E ratio of 18%, while that of the industry is 21%. Comparison of P/E ratio of different companies is shown below:
| | |
| --- | --- |
| Company | Price-Earning Ratio |
| Crocs | 18% |
| Nike | 24.2% |
| Adidas | 35.4% |
| Deckers | 25.6% |
| Skechers | 28.7% |
| Industry Average | 21% |
Source: Morningstar
From the above analysis we can infer that Crocs is having a P/E ratio which is lower to its immediate competitors, hence, it can be interpreted that the company is under-valued and the stock prices will augment bounteously in near future.
Also, if we contemplate on the price movement of the stocks in the past three months, the picture seems to be more promising for Crocs:

Figure: Stock price movement (Source: Morningstar)
We can observe that Crocs is performing much better than its competitors, this certainly indicates that it will attribute to investor-favoritism in the forthcoming days.
Innovative Practices
Now when the demand for the unique clogs is declining gradually, the impending challenge for Crocs lies in its inherent ability to survive in the market and emerge with flying colors. The answer arrives in the form of innovations and expanding product lines. The company has now entered into apparel and accessories business and has developed new line of footwear. The company is embarking on an advertising campaign that highlights new styles while paying homage to the original. Crocs is well-versed with the ideology that growth- results from constant innovations.
The company's shoe collection has mellowed immensely by leaps and bounds from its ubiquitous colorful slip-on shoes to mainstream fashion. There are now about 250 styles of Crocs, which feature insoles made from Croslite, the cushiony material that makes up the entirety of most clogs and sandal styles and for which the company holds a patent. This makes the Crocs shoes absolutely stylish as well as precisely comfortable.
Rather than concentrating more on wholesale foray it is now riveting more on direct retail and online sales. Direct retailing would not only increase the profit margins but also facilitate the company to nurture candid relations with its esteemed customers and monitor their ever-changing needs and demands.
Exploring Ample Opportunities
The global footwear market is experiencing a stable growth rate owing to the prevailing dynamic fashion trends. This market has exhibited sustainable development owing to driving factors such as rising demand for innovative designs, growing awareness about healthy and active lifestyle, rising population and disposable income levels, and rise in retail culture.
According to a new market survey report published by Transparency Market Research "Footwear Market - Global Industry Size, Market Share, Trends, Analysis, and Forecast, 2012 - 2018", the global footwear market was worth $185.2 billion in 2011 and is expected to reach $211.5 billion in 2018, growing at a CAGR of 1.9% from 2011 to 2018. In the overall global market, Asia Pacific is expected to maintain its lead position in terms of revenue till 2018. Asia Pacific is expected to enjoy 30.1% of the global footwear market revenue share in 2018 followed by Europe. Since Crocs has already infiltrated into the Asia Pacific and European market, it can enjoy sustainability in the upcoming future. However, one thing to keep in mind is that fashion industry can never remain stagnant and so are its products.
Another gleam of optimism for Crocs is the declining cost of raw material. Recently, synthetic rubber prices have been on a downtrend since the second quarter of 2012, which will help to increase the gross margin.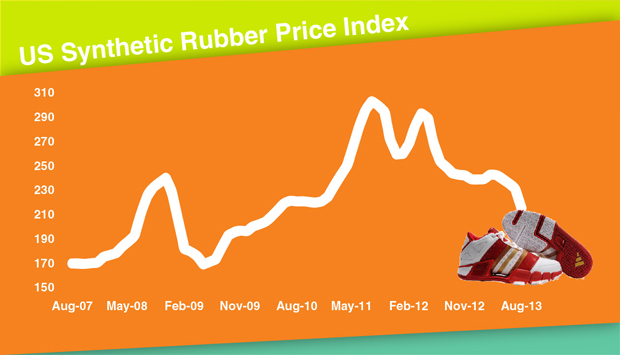 Figure: US Synthetic Rubber Price Index (Source: Bidness Etc)
A Definite Buy
After a review of various factors affecting industry, competitive analysis and future prospects, Crocs can be referred as a sure pick. The stocks are faring quite well and are expected to perform much better. Consistent revival and innovation strategies have prevented Crocs from being a laggard. Efforts to improve financial performance, grab market share and partnership with Blackstone is expected to bring good news for the company. Hence, investors must remain calm and hold the stocks for better returns as it is approaching its target price of $16, as predicted by Imperial Capital.
Disclosure: I have no positions in any stocks mentioned, and no plans to initiate any positions within the next 72 hours.
Business relationship disclosure: The article has been written by Analysts at EurEx Consulting. EurEx Consulting is not receiving compensation for it (other than from Seeking Alpha). EurEx Consulting has no business relationship with any company whose stock is mentioned in this article.